weworemasks.com interview: p.o.s. (march 20, 2009)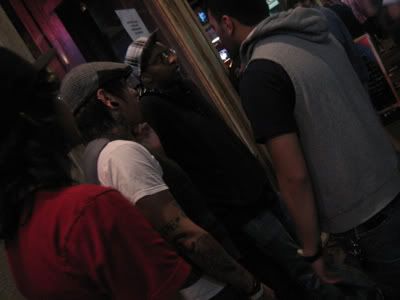 so weworemasks got the chance to sit down with stefon alexander, more commonly known as doomtree head P.O.S. we happened to run into him the day before the scheduled interview and got to chatting, so that was definitely cool.
we basically ran through a quick 10-minute interview about the new record, its artwork and hipsters and neon jeans, among a few other things. it should make for a good read.
read the interview after the jump.
-grizzly
Roshan Bhatt, weworemasks: So what exactly do you do, sir?
Stefon Alexander, P.O.S.: I'm P.O.S. and I'm a rappin' ass rapper. I'm from Minneapolis.
WWM: How'd you like SXSW this year?
SA: Oh man, this was easily my favorite SXSW. This was my third one, with the most productive and the one with the most shows. I had a lot of time to just piss off too, so that was good.
WWM: Did you get a chance to catch any other sets? Who'd you like?
SA: Astronautalis and Busdriver were dope, Riverboat Gamblers put on an incredible show. Dredg was really great, too. I saw so many great shows, man.
WWM: Yeah, I heard you were up on stage with the Bouncing Souls yesterday. How'd that go?
SA: Yeah, it was a lot of fun because they just called me up on stage, and I sang the song, "Argyle" with em, so it was really cool. I made a song with Greg on my second record called "De La Souls," and based the chorus off of a song of theirs, and they liked it so that's pretty much how that came about.
WWM: Nice. Your album Never Better is finally out and has had some time to set in, how has the reception been so far?
SA: Man, so far it's been like 98% positive and everything else has been a bit confusing. I feel like it's been a really good coma from the record, so it's been great.
WWM: The packaging for the album is incredible. How'd you guys come up with the concept behind all the inserts and who executed the actual work?
SA: A guy named Eric Carlson (www.tiredandtrue.com ) did the work. I gave him the record and we both sat in a room and did a bunch of sketches. We just ended up going through his sketchbook and picking whatever we loved from it. We chose like 35 pieces and narrowed those down.
We mainly wanted the art to be interactive. We wanted have the lyrics and the art and have it to where you can make it your own. The theme of the album is to get off your ass and do something productive or do something fun. Do something you care about. Any allusion to doing something yourself was incorporated into the artwork.
WWM: Well, it's definitely a good incentive to get people to buy the album.
SA: Absolutely. At the same time, we launched the make it better web site (http://www.rhymesayers.com/neverbetter/), which was cool if you got the digital version, you could make your own artwork. Basically, it was to put out anything to help you have your own version of the album.
WWM: Continuing with the digital age, how do you feel about blogs – namely those that put your songs up for download and what not.
SA: I really don't care. It's all good with me. I feel like if you sell 7500 records, then maybe it's gonna hurt a little bit. My last record sold about 30,000 and this one's sold a lot more off the bat. I don't really care to know the numbers, though. The label will call me up and ask me if I want to know the numbers, and I'm just like, "No sir."
I'm a musician and an artist. I'm not trying to be in the business. I'll do this regardless whether or not people are listening.
WWM: What do you think of the new mixtape generation of young MCs and rappers? Are you into any of them? Artists like Blu.
SA: Blu is dope, dude. Blu's really good. I like Charles Hamilton and Wale; I just like a lot of those dudes. I wonder if they're looking at me the same way. But I'm not trying to compete with anybody. I'm doing stuff nobody else is doing. And that's not on some ego shit. That's just something I feel like I'm strongest.
WWM: Was the recording process for Never Better much different than previous sessions?
SA: Nothing that much different, really. Lots more live instrumentation. We did a better job about it. We spent way more time on it.
WWM: You're one of the staple acts on Rhymesayers. How does it feel to be one of the label's stars?
SA: It's hard to feel like a star on a roster with Atmosphere and Brother Ali, because they're both so successful. I just wanna carve my own and cut my own path on it. I love the label, and it's down the street from my house, so yeah.
WWM: What's up with the Doomtree crew? What's in store for 2009?
SA: Sims is working on an album. Dessa's got an album coming out this year. I'm going to try to make an EP with Lazerbeak and get crackin' at the next Doomtree collective album.
WWM: Your sound is obviously more abrasive than your average hip-hop artist. What are some of the main influences going into that more aggressive approach? I know you grew up on punk rock and stuff.
SA: I did. I grew up listening to a lot of hardcore and a lot of quality punk rock. A lot of the influence comes from the energy and experimentation that comes from that type of music. I'm not trying to bite them, I'm just using them to mold my own creativity. My favorite bands are the ones that don't sound like anybody else. Shit like At The Drive-In, Fugazi and late Refused, stuff like that. You can try to sound like them, but you probably won't. And that's how I try to be with my hip-hop.
WWM: Definitely. What's your least and most favorite thing about being in the music industry?
SA: I would say that the best thing about the music industry is the fact that it has always been my dream to make music for a living. That's it. The worst part of it is that it's a fucking industry. Motherfuckers are dumb and mean, and they'll follow trends before they follow what's good. I don't know how many pairs skin-tight neon jeans I've seen dudes out here wear. I'm not hating on those dudes, but I'm definitely saying it's something going on now. It's just a trend and it's not a good one. There's always room for hipsters, but the quest for people to be cool isn't pushing boundaries and isn't helping anything.
WWM: What do you imagine doing after you stop making a living out of music or making music in general?
SA: I don't see myself stopping making music all the way. I'd imagine I'll stop trying to be a career rapper. I'm gonna be 40 one day and no one wants to hear or watch a 40-year-old rapper. My goals were to make music and get a job teaching. I just gotta find a place where they don't mind tattooed fingers.
WWM: Word. That just about wraps it up. Thanks a lot for your time, Stef. Any last words?
S.A.: You know it. rhymesayers dot com, doomtree dot net, and hi!