weworemasks presents: the music of how i met your mother volume 1+2 (2009)
so thanks to the unemployed boredom of aj, this post exists. i recently let him borrow seasons 1-3 of how i met your mother, and in about two weeks, he blazed through em. he made note of the fact that the music featured on the show is at times very impressive, and took that concept a bit further when he realized he had many of the songs. thus, an idea was born.
how i met your mother is easily the best sitcom on television right now. equal parts comedy and love story, narrated by none other than bob saget. the casting (with the exception of alyson hannigan, at times) is perfect, as nearly every character captures a group dynamic perfectly. out of four seasons, i can count the bad/sub-par episodes on one hand.
a unique thing about this show is the fact that it's geared towards males. yes, it's a love story. however, ted's struggle to find love (or whatever, cmon!) is not only appealing and awe-inducing to the females, but most dudes i know can easily relate and silently sob to it.
enough yapping about the show. on to the music. i'll pass it off to sunbear.
—
in what seems to be the most self referential moment of the series, our lovelorn protagonist, in a moment of egotism, asserts his independence from his former lover, declaring – "there'll be no startling confession of love, no sweet indie rock song that swells up just as we're about to kiss, none of that crap. got it?". in fact, how i met your mother is full of that crap (the indie rock swells and startling confession of love).
from the sentimentality to the cheerfully comic moments, the music of how i met your mother is meticulously selected, and orchestrated precisely to the emotion of the moment; enhancing by familiarity with the songs and their lyrical content. whether it's an innocent 2 minute lunch date set to big star's 'thirteen' or the glammy flash of barney's hair metal filled 'get psyched mix' (tracks 7-15), the music of how i met your mother serves more than to compliment a scene: it touches upon the very essence of music evoking a feeling, a sensation, perfectly encapsulating that moment that you will reminisce over; a soundtrack to your life.
::tears::
hit the jump for the mixtapes.
-sunbear/grizzly
the music of how i met your mother brought to you by weworemasks.com:
volume one:
volume two: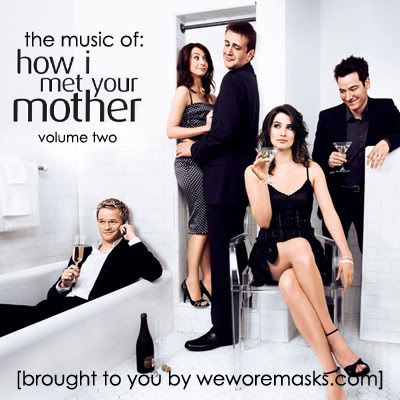 how i met your mother on the web.
don't forget to buy seasons 1-3 of how i met your mother on amazon (and 4 when it drops). it comes highly recommended.
-sunbear/grizzly