album review: rx bandits – mandala (2009)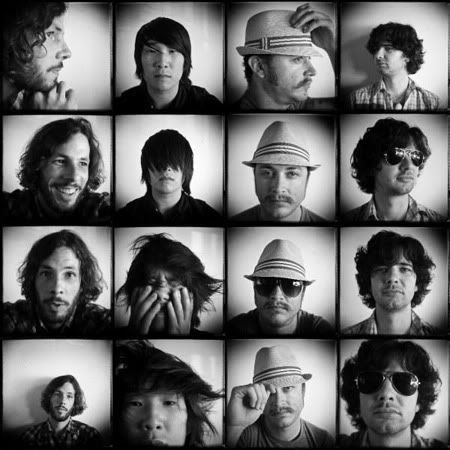 so for the past few weeks, you've seen all the hype this blog could possibly conjure up for what was set to be one of my personal favorite band's upcoming release. rx bandits are loved across the board here at weworemasks, and with good reason.
after getting the chance to interview the guys and catching dates on their current US tour (cough, sidebar, cough), this is where the hype comes around full circle.
hit the jump for the review.
-rx grizzlies


Artist: RX Bandits
Album: Mandala
Record Label: Sargent House Records
Release Date: July 21, 2009

To be frank, RX Bandits have been completely enveloped in their own universe for the past five years, releasing some of the most forward-progressing and innovative music that the underground has to offer. When it came time to record and release Mandala, their sixth studio effort, they knew exactly what was going to come out of those writing sessions.

Mandala is the third release that the band has recorded live, something their fan base has acknowledged as a band principle, especially taking into consideration the fact that their live show is highly reflective of their studio sessions. Between the release of 2006's …And the Battle Begun and Mandala, the group lost a vital component; the horn section. Saxophonist Steve Borth and trombone player Chris Sheets left the band to pursue other interests, leaving the RX Bandits a quartet. However, the band's creativity 'bubble' was blown wide open with this, considering that they didn't have to write around a horn section anymore.

"My Lonesome Only Friend" is one of the most straight-forward rock songs the band has written, with one of the most memorable choruses on the album. The high energy synthesizers of "It's Only Another Parsec…" will pick up the horns' slack, while the reggae and ska-stylings of "Bury it Down Low" will take you back to the RX Bandits of yesteryear.

RXB have always maintained a level of intricacy on songs, often having tracks with multifaceted time signatures, as prevalent on "Hearts That Hanker for Mistake," one of the album's best jams. On "Mientras La Veo Sonar," the Bandits attempt a little salsa-ditty, complete with verses in Spanish – and it feels just as natural as other material.

After producing …And the Battle Begun on their own, the band decided to bring back longtime producer Chris Fudurich for Mandala, and with good reason. Fudurich's spotless work behind the boards executes the highs and lows of their sound perfectly, especially embracing the fact that they record analog, as opposed to today's norm of digital.

Not only are the RX Bandits some of the best modern musicians around, they have managed to withstand a huge personal blow and flip the script to continue progressing and improving as a band. It's hard to imagine this band taking any real steps backwards or creating bad music in general, but that's probably just the bias speaking. Just let Mandala do all the convincing.
Grade: B+
preview tracks from mandala:
rx bandits – bring our children home or everything is nothing
rx bandits – hope is not a butterfly, no net its captor…
the making of mandala:
[vodpod id=Groupvideo.3074738&w=425&h=350&fv=]
-rx grizzlies
note: for the record, i love sargent house records. i bought a copy of mandala at rx's houston show, and it was cracked. with no questions asked, the management sent me another copy. i really appreciated that. the following statement may sound like i'm tooting my own horn, but i'm not. because after all, we're just small-time bloggers in world of stereogums, pitchforks and dope boys.
anyway – note to all record companies: i suggest being nice to the bloggers now, because that's where the music industry's going now. with that being said, send hugs in an envelope to sargent house.