weworemasks.com's sxsw recap (2010)
sxsw is a lovely time of year where all of our friends from various cities in texas decide to congregate in austin for all of it's lush atmosphere (think about it) and an endless lineup of flavor-of-the-year bands. all three bears, along with our videographer of the week josh, @klainep and grizzly's main squeeze would become the wolfpack to scour the streets of austin in hopes of catching something memorable and damaging our livers.
this year, we'd spend a lot of time at rachael ray's showcase (a first), walking (typical) and waiting in hopeless lines. we faced our share of challenges this year, but the bears prevailed and left austin alive with most of our parts in tact. as if this 3000 word recap isn't enough for you all, then we will have full sets (yes, full!) of theophilus london, japandroids, fang island and local natives coming soon. stay tuned for those.
now grab a PBJ or PBR and enjoy the tales from beyond the bears.
-sunbear y grizzly
[DAY ONE]
our allegiances lay with the levis/fader fort, having learned last year that it was the place for good music, free drinks and the always accommodating blogger's lounge, so we quickly queued up to grab our wristbands. the 30 minute line was swift and as we would later learn, the shortest line we would wait in for the entire festival. once inside, we were promptly greeted by our old friend southern comfort and his bosom-buddy, brisk iced tea.
the first band i caught was best coast, who was one of many surf and sun bands to invade sxsw. without an album under their belt, it was hard to provide my undivided attention to the crew, as the looming shadow of an open bar called our names. i mean, we just got here, what did you expect? for a little 'get to know you session,' head over to this interview to get the scoop on best coast.

you know, i think it's pretty sad documenting your life on an iphone. get a real camera!

panda displays how 'the first drink is the hardest.' in his defense, it was 1:30 p.m.
a quick text from the lovely nikki jean, who we had seen perform the previous night in houston, informed us of a show she was having at the light bar, a mere 10 blocks away. we bears don't have to be told twice by a pretty lady to be somewhere on time. an impromptu shift of scenery would eventually take over the next three hours of our afternoon, which we had no problem with.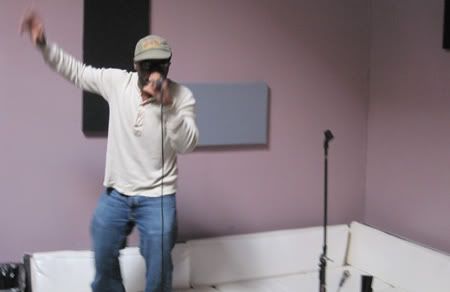 after hauling ass from the fader fort to the south by so next showcase put on by URB at the light bar, we weren't so pleased to find ourselves sandwiched on a sunny rooftop betwixt hundreds of hip-hop fans eager to catch mini sets from up and comers. after accidentally catching freddie gibbs (yawn, how's this guy a freshman again?), we heard an announcement for 88-keys invading the downstairs area, so we retreated back downstairs. 88 came out with his hands up ready to rock the small and incredibly intimate crowd. following in line with his humorous antics on the death of adam, 88 played a short and sexually charged set in front of the crowd, bringing out izza kizza and closing with the crowd pleaser, "stay up (viagra)" to everyone's appeasement.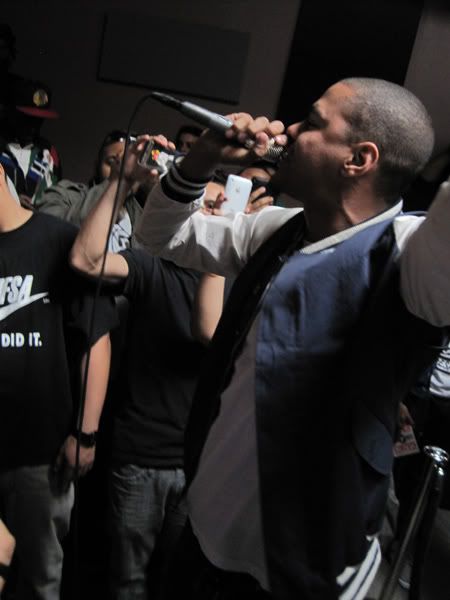 j cole is the man. the minute he came out swinging was the minute i was kicking myself for not dropping the cash to catch his houston show in early february. in the allotted time, cole managed to fly through hits off of the warm up, making sure to pay extra attention to "last call" and "lights please," the latter of which would get panda pretty riled up. i can not stress anymore: j cole is the future of this rap shit. he has a dominating stage presence, and not due to the fact that he's a tower. the man has his stage show on lock, and his music has been unbelievably consistent.
donnis would take the stage next. aside from knowing about his xxl 2010 freshman status, i know very little about the rapper – other than the fact that his on stage demeanor and overall swagger resembles that of a certain clifford 'tip' harris circa 2005. i'm with the whole act, if not for novelty purposes. his music is hardly something to write home about, but i'd be lying if he didn't ignite that floor. bringing out kidz in the hall during his set to send over a live co-sign couldn't have hurt either.
our wonderful friend kendall (the token black guy of 2010′s sxsw/wwm soirée) informed us of an xx show at austin's french legislation museum, possibly our only chance to see the much buzzed about london band, considering they would be performing at showcases for publications such as the village voice and what have you. so off we were like the fellowship of the ring, to our next destination.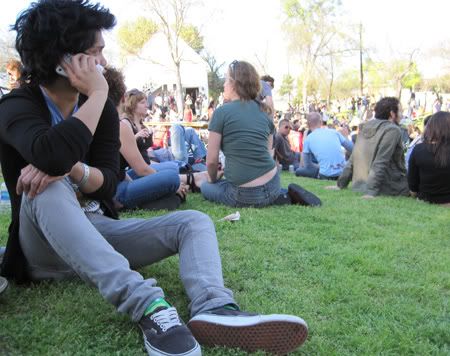 upon arrival to the beautiful french legislation museum, we quickly claimed our territory on a grassy knoll beneath a flower tree to give our legs a much needed reprieve. if there's any advice i can give to future sxsw goers, it is this: be in shape. venues hosting the hottest acts do not care how far apart they are from each other. they only know you will walk the 3 miles to get there with little more than a free beer or two to offer your sweaty ass. after watching the strangest austinite doing an LSD induced dance for our amusement, we scrambled beneath the big tent to catch the xx. let me clarify: the back-ass end of the tent, behind the whole of austin waiting to see the xx's set.
the xx were hardly seen by us as they approached the stage to thunderous applause. regrettably, not only was the sound within the venue terrible, but the fact that the 6 o' clock sundown made for a very awkward performance from a band whose music relies so heavily on it's nocturnal ambiance to truly flourish. halfway through the set the sound was corrected and the sun less a presence, making for an improved performance atmosphere. note to the xx: the laws of vampirism should apply to your band.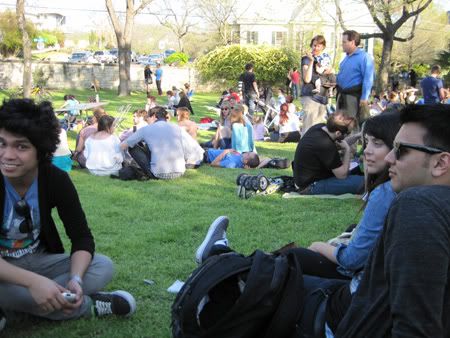 needing a much needed pick-me-up after the general disappointment with the last venue, we once again found ourselves at the levis/fader fort, closing our night out with mayer hawthorne and the pains of being pure at heart. the opening acts were forgettable save for houston's own twank star who had the entire venue eating out the palm of his hand with his dynamic stage presence.
sipping heavily on the endless supply of soco yet again, we were more than excited to see mayer hawthorne for a second consecutive night, and did the man ever bring a much needed energy and liveliness to the fader fort. playing to a crowd mostly unacquainted with his material, mayer's motown sound and overall charm quickly turned the entire venue into a dance party. the upbeat tunes from a strange arrangement were in play once again, along with his cover or n.e.r.d.'s "fly or die." the place was packed and mayer walked away with a whole new set of fans that night.
though half of the fader fort had cleared out by the time the pains of being pure at heart took the stage, that didn't deter the new york quintet from playing a raucous and rowdy set to the dance happy sxsw-goers. playing their whole catalog, as they only have a single album and ep, the pains' sound was much more rollicking than their album presents: sounding more like the ramones than my bloody valentine on stage. their energetic set though would be the last bit of good the bears would experience for our first day. read on….
it seems that the indie gods decided to balance out the universe, what with all the debauchery being had by the bears at their first day of sxsw: upon return to panda's car, we would find that the passenger side window had been smashed out, glass everywhere, and a malfunctioning door latch. who was there to blame? no one was in sight, save for the several hundred headstones within the cemetery panda had parked next to. we seriously doubt the tenants of said cemetery saw the culprit, or anything but the underside of a closed casket. even if they did, i'm sure there's a 'no snitching' policy that goes without saying. dismayed, we cleaned up the mess as best we can and made our now sober way back to hotel nisha. (shout out to grizzly's cousin – the beloved middle child.)
first night fail if i've ever experienced one.
[DAY TWO]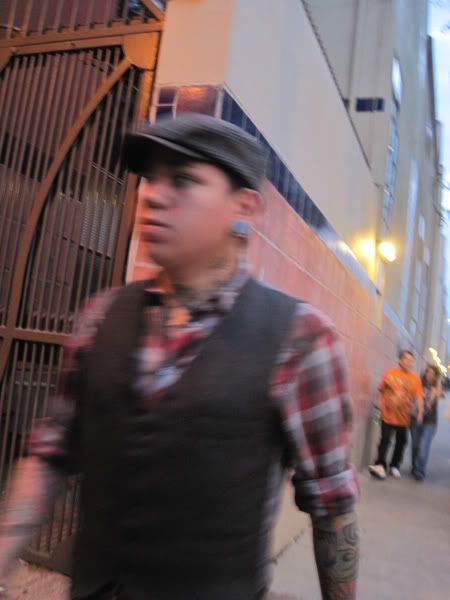 getting a head start on the sxsw festivities, sunbear and out new videographer josh, headed out to the loft at malverde to catch theophilus london's set. the venue was mostly outdoor on a second story patio overlooking the streets of austin, quite possibly the swankiest of venues we would see in austin. theophilus wasted no time in getting has dance on, a live drummer in tow. opening with a new song from his upcoming i want you mixtape that i'm going to call "life goes on without you" straight into the much hyped"flying overseas," theo had the place bumping, and man, could the guy dance. a "humdrum town" and several charming songs later, one of which he pulled a lucky lady from the crowd, his set ended all too soon to a hugely positive reception and a confused cry from an attendee, "yo man, what's yo name?" it's theophilus london, son. tell your friends. our lovely friend josh was on hand to record the whole set which can be viewed here.
josh and sunbear once again trekked another hundred miles to catch a japandroids set at emo's outside. if there's anything to be said about japandroids, it's that they are loud! squeezing as many songs into their 30 minute set as they could, the vancouver duo blitzed through their set, pummeling drums and banging away on guitars, and quite possibly the most passionate set we would witness at sxsw.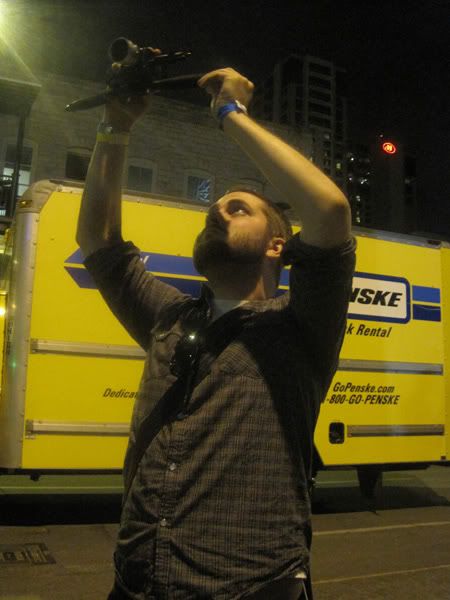 panda, grizzly and mona would eventually join the sxsw festivities for friday. and what better way than to head to purevolume and attempt to get loaded on free vodka (sweet tea infused, mind you) and send childish text messages to the purevolume house projector screen. as we so gently deemed the PV house "the fader fort's retarded cousin," we managed to throw back a handful of drinks before being ejected back on to the street. having little else to look forward to on friday evening besides steel train, we decided to man up and head to a sports bar by the name of the blind pig to partake in the march madness festivities.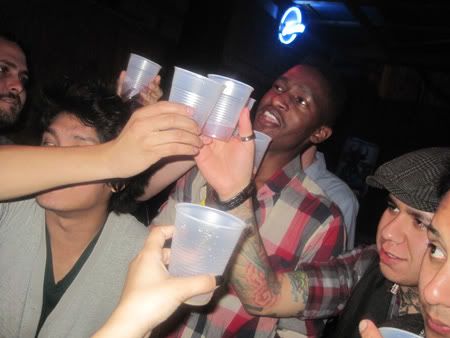 before a shot.

after a shot.
march madness is a wonderful time of year that just happens to clash with another wonderful time of the year. this year was the first sxsw that we've ever managed to compromise with masculinity and allow the ncaa to get in with the bears. a first, and a proud first if i must say. after catching the 2nd half of the michigan state/new mexico state game, we were lucky enough to get coverage of the university of houston/maryland. grizzly's alma mater would eventually get their overzealous asses handed back to them, but hey – we made it to the tournament this year.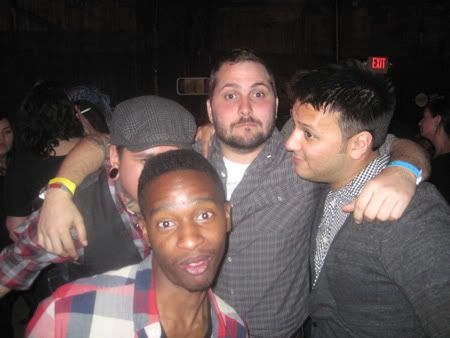 our friend kendall, whose love for the black eyed peas and photo-bombing never goes unnoticed.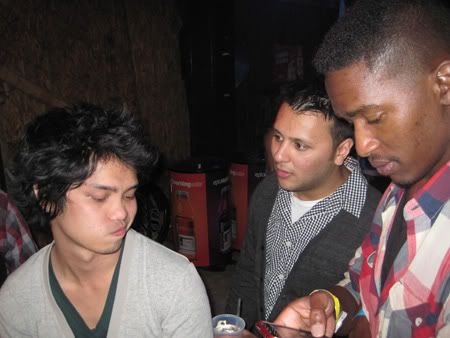 my "friend" sunbear, who is an asshole and a prude for turning down my advances.
after enough vodka and whiskey to feed carmine, texas (look it up, people), we felt it was a good time to be able to head back to the purevolume house to catch a late night set from our buddies in steel train. the line didn't seem so long, but after waiting an hour and moving about 2 feet, sideways, we slowly grew anxious and began to lose steam. we'd eventually find ourselves in line buying overpriced pizza-by-the-slice for our crew in line. $4 for a slice of pizza – y'all serious?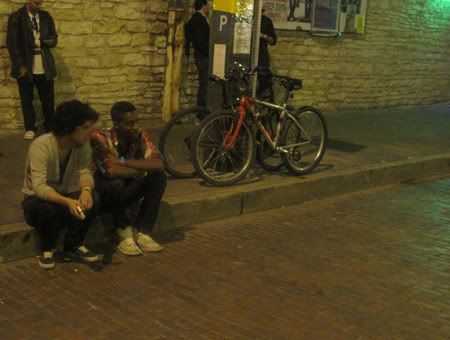 as the temperatures dropped into temperatures that we didn't bring proper attire for (yes, i'm talking the high 40s. it's cold for us!), we began to find ways to pass the time. @klainep and sunbear decided that they needed alone time and went on a date…

…while grizzly and panda up and shredded the night away on a texas shaped guitar. upon plucking those strings, we decided it was as good of a time as ever to call the day two bust quits.
[DAY THREE]
an early start ensured our entry to the always popular rachael ray party at stubbs, where we were treated to an endless supply bloody marys, margaritas, pina coladas and strawberry daiquiris as we awaited music and a classy buffet. sunbear fell in love with a bartender and margarita mix as we waited for the local natives to take the stage.
having had played about 6 shows prior to this performance, the local natives were all business as they took the stage of stubbs' indoors. kicking things off with gorilla manor opener "wide eyes," the natives displayed an earnest, sophisticated sound that was for all it's live qualities; quite brilliant.
sounding somewhere between the harmonies of fleet foxes and the chamber of grizzly bear, the local natives were simply stunning with their complex compositions and refined sound. the bulk of gorilla manor was played, as was their stunning talking heads cover of "warning sign." easily the most technically impressive band we'd see.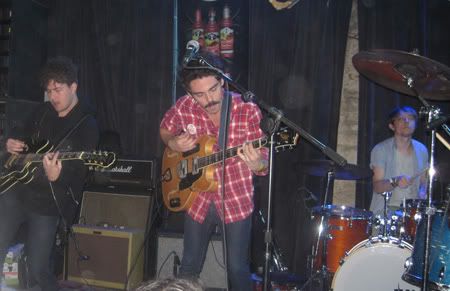 while the food wasn't nearly as impressive as we'd imagined, we forget sometimes that rachael ray cooks within the confines of 30 minutes, it was certainly tasty and rustic. from pulled pork and feta sandwiches, to meatball subs and spinach quesadillas the food was miles better and healthier than anything we had already consumed whilst at sxsw. i mean, we were running on alcohol and pizza at this point. and what better music to wait in line for food for than dr. dog and andrew wk?
on the one stage we had the earthy, innocent beatles-inspired rock of dr dog. on the other stage, the party man himself: the savior of rock n' roll, andrew wk. nothing needs to be said about andrew wk's set. it's everything you'd imagine it to be and more. outrageous, hedonistic, celebratory. all of these words and more summed up with a single phrase: "party, party, party." no gucci mane.
sunbear decided to stay outside and bear witness to the threesome of jakob dylan, neko case and kelly hogan under the moniker of "the three legs". if anything, it's getting spooky how much jakob dylan is starting to sound and sing like the elder dylan, a raspy whine accompanied by the powerhouse vocals of neko case and kelly hogan, vocal giants in their own right. supporting an upcoming solo album produced by the increasingly popular t-bone burnett, jacob dylan and the three legs were a welcome surprise to the days festivities.
the whole of stubbs was buzzing with anticipation for she & him, or more specifically, to catch a glimpse of zooey deschanel. a quick "thanks for coming" from rachael ray herself and we were all systems go for unabashed cuteness from ms. gibbard. i'm not going to pretend that the rest of the band existed or even m. ward for that matter, zooey was freaking adorable. all wrapped up in a chic navy coat and red dorothy parker hat, blue eyes-a-blazing: she was the definitive image of a cherub.
sadly, the biting weather affected her singing and keyboard playing to a slight degree but who cares? songs off both she & him volumes were played, as were the crowd pleasers "in the sun" and "this is not a test." there wasn't a single moment throughout the set where someone in the audience wasn't proclaiming their love for zooey or complimenting her for being…herself. and who could blame them?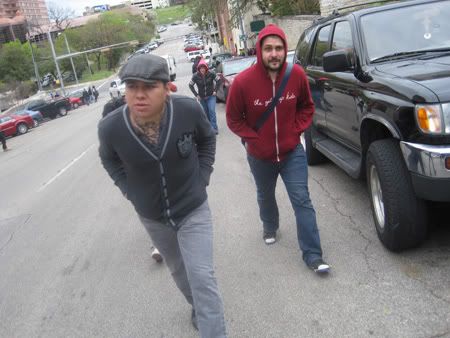 the inclement weather forced us to retreat back to our hotel where we played a game of naps. upon waking we layered ourselves in ridiculous amounts of clothing (not to mention, our rotating pool of clothes that we seemed to share. try and pick out the shirts in the pictures, i dare you.) and set off again for the fader fort in hopes of catching the much hyped bone thugs n harmony set, hoped being the operative word in play. not only was the line for fader fort long, but there was the low forty degree weather to contend with.
hearing sleigh bells from outside the venue didn't make things any more enjoyable either, we simply wanted in. as luck would have it we, and about 200 others would be turned away from the fort which had reached capacity. utter bullshit. but a tweet from the sargent house gods informed us of a fang island show several blocks away in a shit-hole club. need more be said?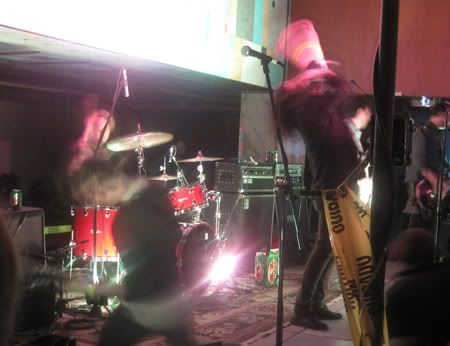 shit-hole would be doing a service to the primo bar. that place was diiiiiirrrrrrrtttttttyyyyyyy. like seriously, i pissed into a stone trough about as deep as a lunch tray, that's how shitty the bathrooms were. and the shit didn't end there either, oh no. we were subjected to the band chinese stars and their ridiculously hyper fans. our ears were raped and it certainly wasn't consensual or enjoyable: that's what rape is. if you dare look up what this band is about or what they sound like, be our guest. i liken it to stuffing a warbling cat though a meatgrinder.
grizzly note: THEY DIDN'T EVEN HAVE LIQUOR AT THIS BAR. A LONE STAR WAS $3.00. Y'ALL SERIOUS?
our anticipation ran high as fang island set up in the corner of the venue. sunbear and grizzly could hardly contain their excitement, as they had been hearing spectacular reviews of fang island's live show via twitter all throughout sxsw. the fang island five took the stage donned in their own band shirts and a fantasia inspired, blue and white starred robe. the next thirty minutes could only be described as infectiously rousing, as well as mad posi. fang island's music is first and foremost uplifting to an extreme degree that it's practically life-affirming. the band's myspace describer their sound as "everyone high-fiving everyone" and i couldn't agree more. from the technical and intricate guitar lines the three guitarists craft to the odd time signatures and overall scatterbrained compositions of the rhythm section, there was nothing to do but lose yourself to the impressive technical qualities of the band and their exuberantly joyous sound. the band had left us awe-struck.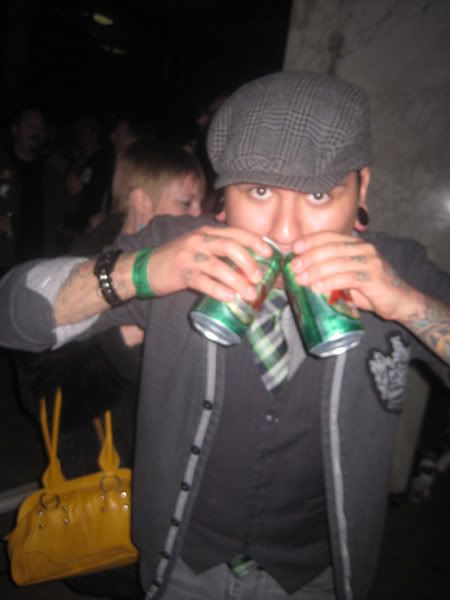 looking for a blowout way to end our sxsw festivities we eschewed a perez hilton party and a poorly-promoted mos def performance to grab our spot in line for the vice magazine party. and what a party it was. hosted in an abandoned floor of an office building in downtown austin, the drinks were plentiful, the hipsters in effect and the bands were rocking. first up was brooklyn's cheeseburger. the stooges-gone-goofy antics of the five piece were a perfect party-time soundtrack to our drinking and dancing. cheeseburger filled every new york city punk rock band archetype, from the self-inflated sense of selves ("this is gonna be the best song you'll ever hear"), to the onstage beer guzzling: this was a boozy party band and we were definitely in the boozy party mood.
these pictures are proof that double fisting drinks is not a choice for weworemasks, it's a way of life.
our final act of sxsw, and what a way to end it, was the always volatile les favy fav. renowned for their live show and their frontman, tim harrington's wild antics, the band stormed the stage, harrington in a tan poncho we were sure he was going to lose, and proceeded about his eccentric shenanigans. there wasn't a single prop harrington wouldn't use for our amusement, whether it was flailing a light fixture dangerously close over the heads of innocent onlookers, to playing tug of war with a rubber dildo, masking his eyes with duck tape or donning a beaver costume, one thing was certain: harrington was a reckless rock force to be reckoned with. his bandmates on the other hand acted as if nothing were happening about them, as thy simply dug harder into their instruments as their erratic dyano of a frontman debased himself for our amusement, but such is the les savy fav way. a bimply blowout way to end our final night at sxsw.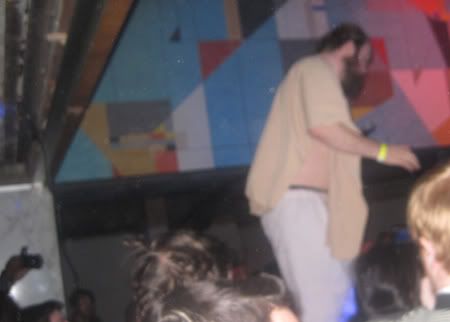 we were way too hammered to get anything better than this picture. and what better send off for weworemasks than a picture that is highly characteristic and accurate of our own personal vision?
on that note, till next year bitches.
luv u.
-sunbear and grizzly