mixtape: dj jazzy jeff + mick boogie – summertime (2010)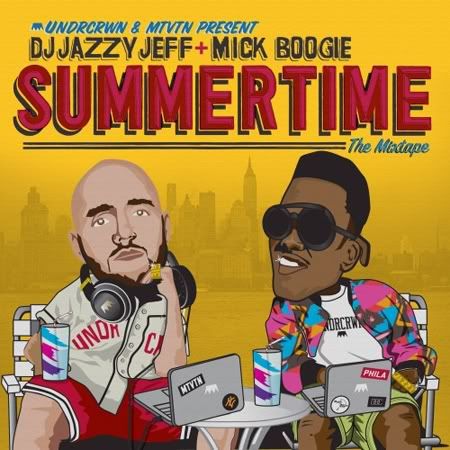 well this dropped this past weekend, and i was busy watching two frandz get married, so i definitely missed out on this gem. dj jazzy jeff and mick boogie have put together the end all/be all to summer mixtapes. this just makes me wanna throw a beer-be-que and throw this mix on for maximum 'good times' acheivement levels.
tracklist beneath the cut.
download:
dj jazzy jeff + mick boogie – summertime [MIXTAPE]
-grizzly
1. Summertime Intro
2. Kool & The Gang: Summer Madness (Live Version)
3. Kool & The Gang: Summer Madness
4. Quincy Jones: Summer In The City
5. Ahmad: Back In The Day
6. Ice Cube: It Was A Good Day
7. Roy Ayers f/ Mary J Blige: Everybody Loves The Sunshine
8. Pharcyde: Passin' Me By (Ffej Remix)
9. Jay-Z f/ Babyface: Sunshine
10. Ramsey Lewis: Sun Goddess
11. A Tribe Called Quest: Find A Way (Ffej String Edit)
12: Bush Babies f/ Mos Def: The Love Song
13. Jodeci: Get On Up
14. The Commodores: High On Sunshine
15. J Dilla f/ Dwele : Think Twice
16. Erick Sermon f/ Marvin Gaye: Music (Mick's Marvapella Edit)
17. Bernard Wright: Who Do You Love
18. LL Cool J: Loungin'
19. A Tribe Called Quest: Hot Sex
20. Main Source: Live At The BBQ
21. Nuyorican Soul: Nautilus
22. Pharcyde & Sublime: Summertime
23. Fresh Prince and Jazzy Jeff: Summertime Remix
24. Michael Jackson: I Can't Help It
25. De La Soul: Breakdawn
26. Musiq: Just Friends
27. Carl Thomas: Summer Rain
28. Faze-O: Riding High
29. Dionne Warwick: Walk On By
30. Skee-Lo: I Wish
31. Black Moon: Who Got The Props
32. Frankie Beverly and Maze: Before I Let Go
33. Nu Shooz: I Can't Wait
34. Montell Jordan: This Is How We Do It
35: The Roots f/ George Benson: Breezin'
36: Fresh Prince and Jazzy Jeff: Time To Chill
37. Biggie: Can't You See
38. James Brown: The Payback
39. En Vogue: My Lovin'
40. Bobby McFerrin: Sunshine Of My Life
41. Fifth Dimension: Let The Sun Shine In
42. Mos Def: Sunshine
43. Nine: Whatcha Want
44. Otis Redding: Sittin' On The Dock
45. 2Pac: I Get Around (Mick's String Edit)
46. Zapp: Computer Love (Terry's Mirage On The Water Mix)
47. Seals And Croft: Summer Breeze
48. Jay-Z: Dear Summer
49. Weldon Irvine: Morning Sunrise