album review: kanye west – my beautiful dark twisted fantasy (2010)
it's exactly what you're expecting, put into 800 words. hit the jump for the review.
-grizzly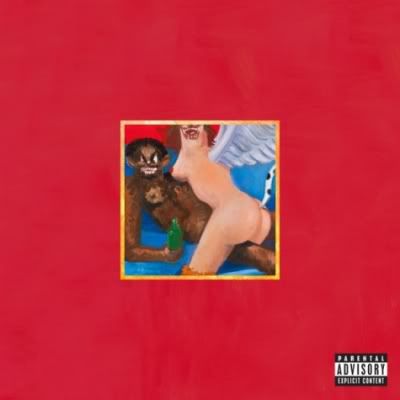 Artist: Kanye West
Album: My Beautiful Dark Twisted Fantasy
Record Label: Roc-a-Fella/Def Jam/G.O.O.D. Music
Release Date: November 22, 2010
Everything about Kanye West's journey to the limelight has been riddled with his visions and delusions in grandeur. His first performance back in the spotlight after the Taylor Swift VMA fiasco was atop a mountain while wearing the biggest chain this side of T-Pain's Big Ass Chain. His music videos had running times of 1:43 and 34:32 respectively, and both spoke at about the same volumes. His G.O.O.D. Friday initiative found the internet in disarray every weekend, for the latest and greatest in high profile collaborations. Sprinkle in his promotional glories (joining Twitter, his Silicon Valley appearances) and disasters (using Twitter, The Today Show), and you have one of the most invasive PR campaigns of the past decade.
My Beautiful Dark Twisted Fantasy is Kanye West's opus after that journey. On 808s and Heartbreak, he allowed himself to explore and dabble in a new arena of hip-hop and pop, and in a way, it was his most sophisticated musical conquest to date. The route to the follow-up was clearly paved with criticisms of Kanye West straying away from hip-hop (the 30 Seconds to Mars collaboration didn't help matters much), so his work was cut out for him. Good thing he reads the internet, right? My Beautiful Dark Twisted Fantasy is the convergence of all four of his previous albums and their individual influences. It's all here. The soulful leanings of his debut, the lush orchestration of Late Registration and the electro-pop leanings of Graduation are all omnipresent through each of the 13 tracks.
Keeping that in mind, the production on MBDTF is some of the most creatively unorthodox production West has ever released. Two minute guitar solos ("Devil in a New Dress"), syncopated claps as beats ("Power") and a song completely driven by an Aphex Twin sample ("Blame Game") display the 'sore thumbs' of the record. Even then, you still have some of the most complex drum and synthesizer programming he's ever pulled off on "All of the Lights," along with 8 of the album's 13 tracks clocking in at more than 5 minutes.
For the studio sessions on his previous efforts, West maintained full creative input and output, allowing very few collaborations when it came to both rapping and producing. This time around, he enlisted a who's who of A-list rappers and producers to be a part of this turning point in his career. On the production side of things, you have his mentor No I.D., comrades Swizz Beatz and Jeff Bhasker and newcomers RZA and Mike Dean. On the emcee side of things, where do you even begin? Cameo-wise, this is his most star-studded roster to date. His G.O.O.D. Music label is represented well with multiple features from Pusha T, Cyhi the Prynce and Kid Cudi, and then you have seasoned veterans such as Jay-Z, John Legend and Raekwon and their respective contributions. Throw in Rick Ross, Elton John, a Gil Scott-Heron outro, two separate tracks with Justin Vernon (of Bon Iver fame) and a show-stopping and scene-stealing Nicki Minaj appearance for good measure.
Lyrically, West is as good as he ever was during whatever particular phase you've ever been a fan of. It's the subject matter that's changed. Right off the bat, you notice two things; it's sexually obtuse and extremely hedonistic and self-involved. Both of which may be due to a creative spark and/or the fact that his mother's not around to hear him rap about anal gang-bangs, but that's neither here nor there. In his path, lies every single one of his peers. In "Gorgeous," he raps "Act like I ain't have the belt in two classes/I ain't got it?/I'm comin' after whoever, who has it?" – Further affirming his place in the top ranks of producing and rapping. This also ties in with the fact that he upstages 'big brother' Jay-Z twice, which is a true display of where the student finally becomes the teacher.
Kanye West's biggest downfall of My Beautiful Dark Twisted Fantasy will be writing a successor. At this point in time, the record plays as a greatest hits collection of his career thus far. It's hard to believe that fans of previous outings of will find little to love about this record. The phrase 'jerk-offs that never take work off' also goes hand in hand with the work ethic that the record displays. It is starved and works hard for your attention, and everything this album boasts is in complete hip-hop and pop music excess. The extremities, virtues and shortcomings alike make this West's most beautiful and repulsive album to date. After all of the promotion, G.O.O.D. Friday tracks and public mishaps, West has managed to serve up the pièce de résistance of his discography.
Grade: 9.4/10*
*i'm well aware of my personal bias, but: