show recap: theophilus london (december 3, 2010)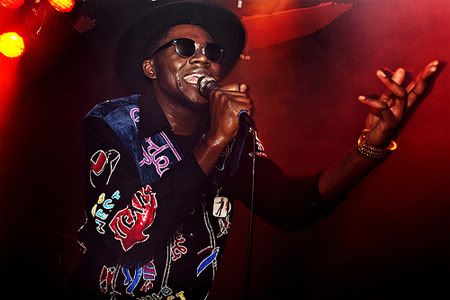 photo credit: weareyouneak
I haven't had the best luck seeing Theophilus London. The first time I had ever seen him perform was during the 2009 SXSW, having only heard a few songs prior to the performance. Immediately, I was won over and began following him closely. After having to miss the Houston stop of A-Trak's 10000 lb Hamburger Tour, he's yet to come by Houston.
This past SXSW, I had to miss his set due to unforeseen circumstances, which pretty much sucked. So right off the bat, I want to thank Lunaface and Hater Magazine for bringing this dude back to Houston. It's good to know that a. we can still get great shows and b. pack them with people so they come back. As an added bonus, local upstarts Brandon West and The Black Hats, along with Fat Tony were both slated to open the show.
Hit the jump for the recap, as well as five videos from Theophilus' set, including two new songs.
-grizzly

[vodpod id=Video.5051416&w=425&h=350&fv=%26rel%3D0%26border%3D0%26]
Fitzgeralds has always been a venue for punk rock, pop-punk, metal and shows of rock orientation. I had personally not been to the venue since early on in college, so it was a trip to see the newly renovated venue host a hip-hop show. I arrived at the venue at 11:00 p.m., which is clearly later than most shows, and that's a whole other story. I hadn't planned on catching Brandon West and The Black Hats' set, but I'm glad I did. I know very little about the band, other than the fact that they play a funk and soul-tinged brand of rock-n-roll, and whose origins are in Houston, TX. Their musical product was cohesive and clean, with a smooth performance that could possibly translate much better in a live setting than it does on record. Be on the lookout for more material and coverage on the band.
[vodpod id=Video.5051435&w=425&h=350&fv=%26rel%3D0%26border%3D0%26]
Fat Tony is no stranger to rockin' big crowds in his hometown. He hit the stage shortly after B-West, ready to showcase his brand new record, RABDARGAB. Usually a great performer, I can't but help complain about the bass levels during his set. Granted, he's still from the dirty south, where we like our bass loud enough to rattle trunks, but it might've been TOO high this time around. Regardless, Tony put a ton of energy into his set, rolling past crowd favorites like "Luv it Mayne" and "Nigga U Ain't Fat," both on the aforementioned album. Even more noteworthy was the exodus of about 50 people after Tony's set. That may not sound like much, but when the show has 250 people tops, it's noticeable. That might've been more so the fact that it was close to half past midnight, but we'll never know.
[vodpod id=Video.5051468&w=425&h=350&fv=%26rel%3D0%26border%3D0%26]
Finally, around 12:35, Theophilus London took the stage in a bedazzled Texas-themed jacket and matching hat. An odd pairing, but strangely fitting to Theophilus' Smiths-like mentality. Kicking off his set with not one, not two, not three, but FOUR new songs in a row, where the show finally got interesting. If you remember, the SXSW set was heavy in I Want You material, and the mixtape had yet to be released. This all might be in typical Theo-behavior, but we love him anyway.
[vodpod id=Video.5051765&w=425&h=350&fv=%26rel%3D0%26border%3D0%26]
Theophilus' set was as lively as it could've been, and equal parts chic. By this time, everyone was both drunk and tired, so after the new songs, London managed to get the crowd dancing in no time flat with a three-pronged attack that consisted of "Sorry to Interrupt," "Humdrum Town" and "Flying Overseas." My only complaint is that Solange wasn't here to collaborate on stage for the latter cut, as well as his set-closing remix of Sandcastles. Prior to the show, I had made bets with myself that we'd be seeing her and her wonderfully long legs, but were left disappointed in that department.
[vodpod id=Video.5051768&w=425&h=350&fv=%26rel%3D0%26border%3D0%26]
While his set was short, he managed to win over casual concert-goers and fans alike with his engaging set. Another downfall (or endearing quality, however you look at it) was the fact that Theophilus was his own DJ. Whether or not his DJ had fallen ill or not flown out for the show was to be determined, but London managed to walk the walk and talk the talk, switching his own tracks while managing to fluff the Houston crowd up. A more seamless set was to be desired, but London was poised and composed enough to pull it off. You can't help but be curious as to what he's gonna manage to release with major-labels backing him, but we're definitely excited.
[SETLISTS]
Theophilus London:
New Song
New Song
New Song
New Song
Sorry to Interrupt
Humdrum Town
Flying Overseas
Don't Be Afraid
Accept the New
TNT
I Want You
Grey X Sage
Sandcastles Remix
Fat Tony:
Rap Babies
Like Hell Yeah
Love Life
In Your Room
Luv It Mayne
Nigga You Ain't Fat
Home