album review: t.i. – no mercy (2010)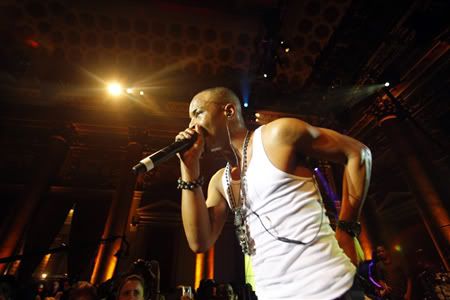 i'm not completely sure yet, but i'm positive this will be my last album review of this year. and even with that being said, i cranked this one out in about 40 minutes. i was really hoping tip delivered with this release, even though the man is a giant eff-up in the eyes of the law and his fans.
can't win em all! hit the jump for the review.
-grizzly
Artist: T.I.
Album: No Mercy
Release Date: December 7, 2010
Record Label: Grand Hustle/Atlantic
After being booked on weapons charges, T.I. was released from prison after a year in late March. Soon after, Clifford Harris would announce the release of King Uncaged, his triumphant follow-up to 2008's extremely successful and chart topping Paper Trail. Not even six months after his release, T.I. found himself in more trouble with drug charges and a breach on his probation – ultimately, another jail bid. In a natural succession of events, King Uncaged quickly became a distant, completely ironic memory and his project was in jeopardy. Always proving to be a resilient member of Hollywood, T.I. would soon announce the scrapping of the aforementioned project, as well as the announcement of No Mercy, which brings us up to date.
Right off the bat, the stigma and circumstances behind the release of this album are both unclear and of ill motivation. His follow-up to Paper Trail went from a celebratory statement of freedom to a morose statement of regret, which is evident with songs like the meditative lead-off single, "Get Back Up." At the time of the single's release, a devoted fan would more than likely expect more songs in the reflective vein of Paper Trail's "Dead and Gone" and "No Matter What."
This is where No Mercy becomes a bit misleading. The final product plays like two small EPs; one of them highly introspective and contemplative and the other is flashy and narcissistic. You have songs like "Castle Walls," a song that will see great success with Christina Aguilera on the hook and Alex Da Kid ("Love the Way You Lie," "Airplanes") behind the boards, and The Dream-aided title track, which might be the album's most pensive achievement. And on the other hand, several songs are vainly executed – namely tracks from the tail end of the album. Songs like "Everything on Me," which is a more vulgar and club-ready redux of "Whatever You Like," and "Poppin' Bottles," a track that boasts one of the worst Drake verses in recent memory, both manage to embrace his fortune and joy in lieu of his recent legal and personal battles, which would've made for a much more cohesive, personable and enjoyable record.
This is not to detract from the album's gems – as there are plenty. "Welcome to the World" and "That's All She Wrote" are marked as two of the best T.I.-affiliated collaborations in some time. The former is Kanye West-assisted and produced, and continues to float the streak of quality output on West's behalf. The latter has T.I. and Eminem trading barbs and verses with one another, and has what is quite possibly the album's most potent hook. Not to mention, this is the closest Eminem's come to reliving the show stealing glory of "Renegade." Additionally, beloved Houston rapper Scarface resurfaces to makes a noteworthy appearance on "How Life Changed," bringing T.I. back to the days of his southern leanings in Trap Muzik and Urban Legend.
In the end, No Mercy is far from the record it could've been. Prior to the release of the record, T.I. released singles and accompanying music videos for "Takers," "Ya Hear Me" and "Got Your Back," all of which could have found themselves a nice spot on the album. Prior to the album release, T.I. mentioned that the arsenal for his new album consisted of over 70 songs, yet the atrocious "Amazing" and "Lay Me Down" both found their way past the final cut. Considering the circumstances, it's hard not to wonder if the songs planned for the original incarnation ofKing Uncaged will end up hitting stores upon his release in October 2011. You know, as opposed to this highly bastardized replacement. Let's hope so.
Grade: 5.7/10