[archived // spotlight: air dubai]
the spotlight on air dubai is now archived. please hit the sidebar to get a hold of that page.

all photos are courtesy and copyright of emily driskill.
In honor of keeping things rolling, we've been invited into the world of Air Dubai, a seven-piece hip-hop/jazz/rock outfit out of the mountainous Denver, Colorado. We were introduced through our dear friend and photographer, Emily Driskill, and we've become fans ever since. I know what you're thinking. A hip-hop group with a full band, so it's gotta sound like The Roots or Gym Class Heroes. Not that you're completely wrong, but Air Dubai have a more melodic approach overall, with a strange foray into pop and jazz music.
The band is composed of vocalists Julian Thomas and Jon Shockness, guitarist Lawrence Grivich, keyboard/synths player Michael Ray, bassist Taylor Tait, trumpet player Wesley Watkins and rounded off with drummer Nick Spreigl. That's a bit long-winded, I know. We recently got the chance to speak with both Michael Ray and Julian Thomas about their brand new album, Wonder Age, among many other things. Definitely recommend you read the interview, download the album sampler and get acquainted as soon as possible.
—————————————————————————–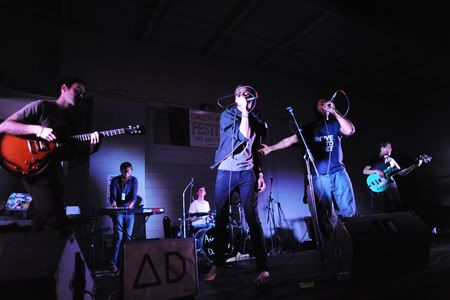 [Interview with Julian Thomas, vocals & Michael Ray, keys/synth]
Roshan Bhatt, weworemasks: I know this is a really generic and stupid question, but I'm curious as to where the
band name came from.
Julian Thomas: When I was nine, I stood next to Mickey Rooney while I was waiting in line for the bathroom at TGI Fridays in East Orange, NJ. After recognizing him as the Phantom of the Megaplex, we engaged in conversation. Though when he spoke
I literally did not understand a single word he said, except for "Air" and "Dubai". I think.
weworemasks: You're relatively new to the readers of weworemasks, how would you describe your overall sound?
JT: I would call it "Justin Timberlake's wet dream."
MR: Actually, it's more of a wet dream I had about Justin Timberlake.
weworemasks: [Laughs] Well, that's a good way to put it. You're on the cusp of releasing Wonder Age, the band's second LP. What are your most recent thoughts going into its release?
JT: Personally, I'm just ecstatic for people to hear it. Some of these songs we've been sitting on for over a year, so its definitely a huge monkey out of my bottle to actually have it released.
MR: There is definitely a lot of relief to be had being done with the album. I hope people are receptive to our music, whether it's positive or not.
weworemasks: The original idea of it was to be an EP, so during the writing process, what were some of the influences behind the apparent influx of material that would lead the EP into becoming an LP?
JT: We have a rock to thank for that. Andy Rok to be specific. He was the producer for Wonder Age and only hopped on to the project as we were nearing completion of the EP. It was his professional reasoning and Sour Patch kid hairstyle that helped us decide to go full-length.
MR: We decided to make this album in hopes of reaching a more national audience. The EP felt pretty rushed and switching to the full length really helped us explore who we were as a band.
weworemasks: Air Dubai began as a two piece outfit. What was the writing process like with seven people on board versus two?
JT: A pain in the ass. I'm not going to sugarcoat it, it got messy. When we first went in to write songs with the seven of us, it was a lot of bitching and not a lot of writing. But once we progressed more as a band and really toned our respective roles, the writing process actually became a lot of fun. With the two of us, our writing process was very productive but not very fun. I like it better this way.
weworemasks: Good to hear. I guess to add on to that, there are obvious reasons that go into adding a full band to a
hip-hop project. What were some of your main reasonings, and what did you hope to achieve?
JT: We really just wanted to reach a broader audience. Plus people are getting too comfortable with computers, I think. I didn't want Air Dubai to be another cookie-cutter group. So in the age where everyone is switching to computers, we thought we'd say "Fuck Steve Jobs" and go back to basics. Kind of like Christina Aguilera, except less whore-ish.
MR: I have an Apple computer. And I love Steve Jobs. And I have a Christina Aguilera "Back To Basics" tour shirt. Contradictions? Perhaps.
weworemasks: [Laughs] Smooth. You've played with everyone from Guru (Gang Starr) to Onerepublic to The Game. There definitely seems to be a crossover in crowds and genres; which crowd garnered the best reception for the band, in your opinion?
JT: I honestly don't really like playing with other hip-hop artists. People have this expectation of hip-hop, which is a vocalist and a dj. So when in the midst of computers you have a full-seven piece band, regardless of whether we're hip-hop or not, it doesn't fulfill expectations, and it's kind of strange, visually and sound-wise. My favorite gig was the OneRepublic one. Tweens are always so incredibly receptive to anything new.
MR: I honestly don't think we are as "hip-hop" as people make us out to be. We opened for Bone Thugs 'N Harmony which turned more into a fight for survival than an actual show.
weworemasks: A bit on topic, what are some bands or hip-hop artists you feel you draw influence from? I'm gonna go out on a limb here and take the roots out of the running, because I'm mean like that.
JT: I hate most hip-hop. So no worries there [Laughs]. Um, we're all huge fans of Phoenix. Like all the way back to United. So you can definitely hear that influence on Wonder Age. Otherwise, we each have our own musical spectrum and we incorporate whatever we like wherever we see fit.
MR: I think it's fairly obvious that our influences are here and there. We've got inclinations towards soul, jazz and post-punk guitar riffs. That's the beauty of "hip-hop," though. We aren't strapped to a specific genre. I personally draw inspiration from bands like Cold War Kids, Fleet Foxes, Foals and Yeasayer.
weworemasks: Just being from Denver, has having a lean in hip-hop been hard on the band? it doesn't seem like a city that has a blooming hip-hop climate.
JT: Yeah, hip-hop kind of sucks around here. Or so I hear. But we've been incredibly blessed by this town. We've never been ruled out of anything because of our "hip-hop lean" or whatever Fat Joe calls it. Alternatively, it has opened a lot of doors for us as well.
MR: We were just awarded Westword Magazine's "Best New Hip Hop Band" in 2010. Lawrence (our guitarist) and I had the privilege of accepting the award. There's nothing more lean than two 135-lb-white-kids.
weworemasks: Being that this is 'the internet generation,' do you feel your internet presence is bigger than your local following?
JT: The internet rules. No one can deny it. There are like a thousand times more Wikipedia entries than there are actual encyclopedia articles. So I view it like that. Its easy to click something on the internet. Its slightly more difficult to go out to a show. I don't know. Does that answer your question?
weworemasks: Ehhh, that works.
MR: I miss having a Xanga.
weworemasks: I may or may not have had one of those. Anyway, how do you think your band can adapt to the always changing climate? Have you ever thought about putting out mixtapes or free albums?
JT: We give away free shit all the time. We just put out all of our pre-Wonder Age music for free on our website. To me, at least, its much more important to have people listening to us than it is to get paid for it. I've always been pro-bono when it comes to our music. If someone asked me for it. I'd give it to them. If someone wants to pay for it. That's cool too.
MR: I think Pretty Lights is an excellent example of free music paying off. They gave away their first two albums for free and just recently sold out Red Rocks. That's nutty. I think we will always consider giving away free albums but I think mixtapes are cheating. It's kinda like coloring on top of art that's already been made.
weworemasks: Have you set any short-term goals for the band after the album's release? Long term?
JT: We're going to give Wonder Age some time to marinate and kick up some flavor, we're not going to pigeon-toe it. But then we plan on hitting the road, and then writing another one. And so it goes!
MR: It's been nice to have some down-time in the past month to write some new material. We all have had some percolating ideas that are just now been fleshed out by the band as a whole.
weworemasks: That's about it, any parting words for the readers of weworemasks?
JT: Yes.
MR: Man.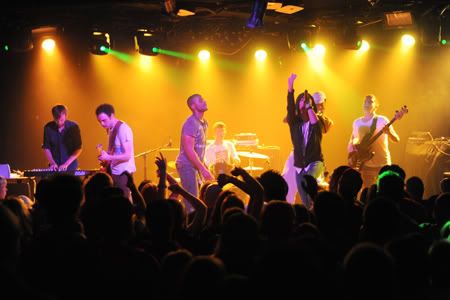 —————————————————————————–
[AUDIO]
air dubai has just released their album, wonder age, on october 5th. as a token of their appreciation, feel free to download this album sampler with three songs from the record. if you like what you hear, i strongly urge you buy the record.
tracklisting:
1. restless youth
2. weekends
3. anything at all
buy wonder age:
—————————————————————————–
[VISUAL]
—————————————————————————–
lastly, here's how to get in touch with air dubai:
all photos are courtesy and copyright of emily driskill.
—————————————————————————–
-grizzly