show recap: the get up kids/steel train/river city extension (january 21, 2011)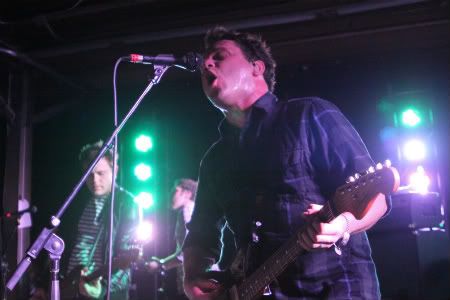 Last night's Get Up Kids show at Houston's Warehouse Live featured a revitalized kind of Kids, the same kids whose late-90's records shaped an angsty generation's outlook on music and its ideals; That the idea of a rockstar didn't belong exclusively to that era's rockstar. The quiet kid in class was brimming with buzzsaw riffs and bittersweet yet freewheeling lyrics. Many bands have since capitalized on the foundation that The Get Up Kids have built, most with more mainstream success than the modest following that their forefathers drew. But in the years that have passed since their trademark sound has been commercialized into a flashy caricature of its former self by rookie upstarts, the Kids have grown up, sharpened their songwriting craft, and setlled into an inevitable adult reality. A new chapter might have opened in these mid-thirtysomethings' lives, but after all these years, the kids are still alright.
hit the jump for the full review and a full video of the encore.
- sunbear
Entering Warehouse Live's modest Studio room, New Jersey's 8+ band–member deep River City Extenstion were exploding with unbridled energy. The jaunty choruses of their latest album …And the Unmistakable Man recall the orchestral-bombast of Neutral Milk Hotel and the sea-shanties of late Modest Mouse, and with all members on overdrive, the band was pulling off that sound effortlessly. So animated were the band that on their final song, they literally leapt off the stage and took to the crowd à la that other 8+ member band, but make no mistake due to comparison, The River City Extenstion are the real deal band that can deliver a hootenanny of a time.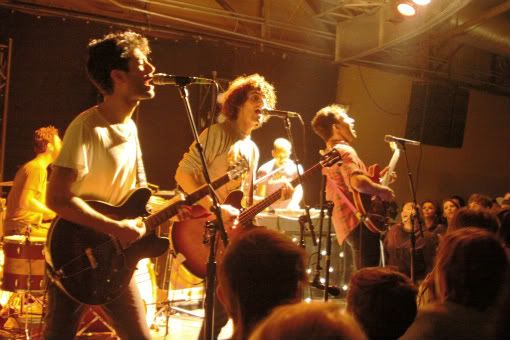 What more can we say about our friends in Steel Train that hasn't already been said? For one thing they released their most ambitious album to date, the self titled Steel Train. Once the oddball-out of a pop punk label roster, these guys have really come into their own and flourished as musicians. From the impetuousness of their lead off song "Turnpike Ghost," to the plaintive acapella melodies of the acoustic "Road Song," and the dazzling soundscapes of "Bullet," Steel Train display a natural affinity for leaping genres but keeping their sound wrangled into a definitive "Steel Train" sound.
The front of the stage looked like a firing squad of masterfully tuned vocalists. With all members joining in on harmonized vocal duties, and keyboardist Justin Huey 's generous use of organ and synth, the band's set was wall after wall of cascading sounds and high-end production. And there was a fair share of Steel Train shirt-sporting fans adoringly reciting the songs right back. These guys have built a new sound and with it gained new and devoted followers. We at weworemasks have been nothing but supportive of these guys and the've returned in in kind tenfold. Great guys, those Steel Trains.
Taking the stage to the ominous "Godzilla attack!!" tones of There Are Rules opener "Tithe," The Get Up Kids haven't lost a single step in their interim between albums. From last year's 10 year anniversary tour for Something to Write Home About to the band before me, riding high off the completion of a new album (their first in 7 years), the band was as commanding as they have ever been, with Matt Pryor's grating snarl leading the charge.
Keyboardist James Dewees physical absence didn't for a second mean his synth presence was unaccounted for. Keyboard heavy songs (and the new album is chock ful of 'em) like "Shatter Your Lungs" and "Automatic" were in the set courtesy of a great stand in key player, as well as classic TGUK material like "Shorty" and "Holiday."
The Kids are not ones to forgo their adolescent roots and kept the crowd happy with their mix of material from their catalogue. There was all sorts of feel-good camaraderie and good ol' fashioned moshing between the real kids in attendance (most sporting beards and aged looks), but if anyone was reliving their youth that night in the Studio it was certainly The Get Up Kids themselves. Pryor and guitarist Jim Suptic traded lines of 10 year old songs with all the urgency of a song written yesterday, smiling candidly to one another when they'd step back from the mic to let the crowd get a line or two in. You'd never know this band had seen troubled times and broken up due to misunderstandings and bruised egos. Everything about The Get Up Kids last night screamed chemistry.
It's a rare treat to see a band enjoy performing the same 10 year old songs as much as the people that grew up with those songs enjoy hearing them. We've grown up with The Get Up Kids and anything less than the same raucous exuberance that this band is known for would be unheard of. These guys attack with all the same ferocity they had when they were the poster children of an era and now with that hasn't waned with age or maturity, and the new album is a testament to that. To another 10 more years, Get Up Kids!
[VIDEO]
[vodpod id=Video.5411952&w=425&h=350&fv=]
—————————————
SETLISTS:
[Steel Train]
Turnpike Ghost
Touch Me Bad
Kill Monsters in the Rain
Children of the 90′s
Road Song
I Feel Weird
S.O.G. Burning in Hell
Bullet
[The Get Up Kids]
Tithe
Action & Action
The One You Want
Regent's Court
Automatic
Stay Gone
Shorty
Overdue
Shatter Your Lungs
I'm A Loner Dottie, A Rebel
Holy Roman
Rally 'Round the Fool
Campfire Kansas
No Love
Pararelevant
On a Wire
Keith Case
Encore:
Holiday
Don't Hate Me
I'll Catch You
Ten Minutes
——————————————
[CATCH THE REST OF THIS TOUR, COMING TO A CITY NEAR YOU (HOPEFULLY!)]
first leg:
January 23 The Loft Dallas, TX
January 25 Clubhouse Tempe, AZ
January 26 House Of Blues San Diego, CA
January 27 The Troubadour West Hollywood, CA
January 28 The Glass House Pomona, CA
January 29 Slim's San Francisco, CA
January 30 Bottom Of The Hill San Francisco, CA
February 1 Hawthorne Theater Portland, OR
February 2 Neumo's Seattle, WA
February 3 The Knitting Factory Boise, ID
February 4 Club Sound Salt Lake City, UT
February 5 Marquis Theater Denver, CO
second leg:
February 23 – Orlando, FL @ The Social
February 24 – Orlando, FL @ The Social
February 25 – St.Petersburg, FL @ State Theatre
February 26 – Athens, GA @ 40 Watt Club
February 27 – Carrboro, NC @ Cat's Cradle
March 1 – Washington, DC @ The Black Cat
March 2 – New York, NY @ Webster Hall
March 3 – Brooklyn, NY @ Music Hall of Williamsburg
March 4 – Philadelphia, PA @ Theatre of the Living Arts
March 5 – Philadelphia, PA @ Theatre of the Living Arts
March 6 – Boston, MA @ Paradise Rock Club
March 8 – Toronto, ON @ Phoenix Concert Theatre
March 9 – Cleveland Heights, OH @ Grog Shop
March 10 – Detroit, MI @ St. Andrews Hall
March 11 – Chicago, IL @ The Bottom Lounge
March 12 – Chicago, IL @ Lincoln Hall
March 13 – Lawrence, KS @ The Bottleneck