album review: louis c.k. – hilarious (2011)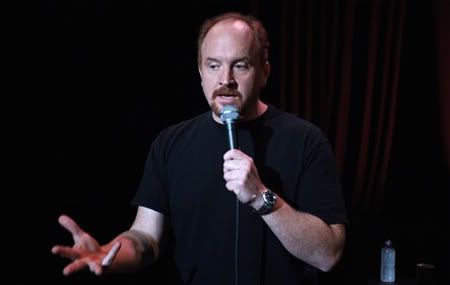 forgive me, this is my first review for a comedy album. after receiving an advance (that's no longer an advance), i finally managed to muster up the ability to try to knock this review out. louis ck's one of my favorite comedians, and he should be one of yours too. go watch all his youtube clips, netflix streams and his fx series, but not before you read my review first.
-grizzly
Artist: Louie C.K.
Album: Hilarious
Release Date: January 11, 2011
Label: Comedy Central
Sure, Louie's 2010 was perhaps his best year as a professional comedian. His FX Series Louie saw an untouched first season, and to rave reviews. He had a stint on Parks and Recreation, where his no-holds barred, soul-baring comedy took a backseat for an earnest, lovestruck character in Dave Sanderson. Louis embraces all of this on Hilarious, recorded on a 2008-09 tour that landed him the deal with FX to begin with.
Hilarious was recorded at The Pabst Theater in Milwaukee, which is kind of neat considering the number of mainstream comic routines that are recorded and released from The Pabst are close to none. Per usual, Louis ditched any and every joke featured on his previous specials; in this case, Chewed Up, to boast a set with brand new material. After getting positive reviews at Sundance, the movie was originally planned to be a theatrical release, but that theatrical run was extremely limited.
There are a few noteworthy changes though. You know all that self deprecating humor that he's always engaged in? He finally turns on the 'bitter old cynical man' act and gears it towards others ("Other People's Kids") and the world around him ("Dumb Thoughts"). Maybe this is all due to the fact that he finally understands his place in the world , and is firmly planting his feet into focusing his cynical qualms externally. Coming to grips and being comfortable with himself and his life situations (see: divorce) are done taking a toll on C.K.'s stand-ups.
On Hilarious, there is a clear stand out in "Cell Phones and Flying." Fans of CK will recognize it as a bit he debuted on Late Night with Conan O' Brien, which has since become one of his most discernible jokes. Our generation's inclination to be self-absorbed and ungrateful hits a sore spot for the comedian. "You're sitting in a chair…in the sky! You're like a Greek myth right now — The Wright Brothers would kick us all in the cunt right now if we knew," channels historical references of grand proportions.
Being single and 41 for Louis also has a new sexual freedom – or lack there of. We find that masturbating to Girls Gone Wild as a 41-year-old man just doesn't feel right ("Being Single Again"), as Louis becomes territorial of these ladies in a father-figure sort of way. "You irresponsible bitches, go back to school! What are you doing down there? There are two wars and a depression!" comes off as one of his most beautifully-executed jokes.
Although heavy in social commentary, Louis spares no spades for himself and the fluidity and dexterity of Hilarious is obvious. Louis' life has given him a refined and distinguished advantage on his other comedic peers. The divorces and children-centric anecdotes propel him in a light that's rare in a comedian, and that fervor is what sets himself apart, and will also be the reason that he'll remain one of our generation's best comedians.
Grade: 8.3/10