superbowl XLV [dallas, texas] (2011)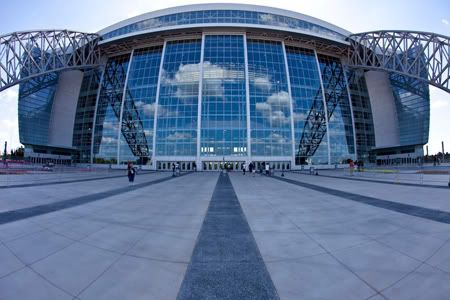 THE BIG GAME. Predictions and chatter under the jump.
-grizzly

Prediction: I'm going with Green Bay, as I have throughout this entire playoff series. The 2010 Packers are the epitome of how a team should play in the playoffs. I read a statistic that their 6 losses during the regular season involved them coming up short by a total of 20 points in all six games. It's clear that this is not a 10-6 team, as they're the first 6-seed to ever see the big game. Rodgers has been a monster in the off-season, and I'm sure he'll make some huge plays against a Pittsburgh defense who's had two incredibly tough post-season match ups.
Both teams are inclined and able to play in harsh weather climates, and both teams will be playing out of their element as they step inside Cowboys Stadium. In case you haven't noticed, that's a behemoth of a stadium. Should make for some great visuals throughout the course of the game. The halftime show WOULD be great, if it had nothing to do with the Black Eyed Peas. Back to the topic, The Steelers definitely have a veteran advantage, as this is Big Ben's third attempt at a ring. He knows how the game works and is probably feeling a lot less pressure than Aaron Rodgers. Rest assured, will the Steelers offense be ready for the relentless Packers defense?
Misc. Notes:
-Final score predictions: 21-16, Green Bay.
-Who the hell's gonna wear the yellow pants?
-Rodgers for MVP if the Pack wins, obviously.
-"Who gives a shit?" who the MVP is if the Steelers win.
-Can we handle Joe Buck for 4+ hours?
-How many times do you think we'll hear "Black and Yellow" on TV?
-Two part question: Part 1: What will the Black Eyed Peas play? Part 2: Fuck the Black Eyed Peas, are you gonna watch a DVR'd version of The Puppy Bowl?
-Super excited for the 2011-12 season. I know I've said this for the last three years, but the Texans are going to the fucking playoffs this year.
-Panda lives in Dallas, and will be hating his life due to the influx of populus in his city this weekend. This is just a reminder of how unfortunate it is. Houston sucked in 2004.
-Aside from March Madness, February-April is going to be terrible. Next stop: NBA Playoffs.
-When/if we figure out this re-launch, I am more than likely bringing my cousin on board to do a weekly/bi-weekly sports recap. It's gonna be awesome. No, he's not gonna be a "bear," just a "WWM Sports Correspondent" from Noah's Ark and shit. He can choose whatever animal he wants. Thinking of getting someone who does movies too. We'll see.
-grizzly