show recap: iamdonald tour (may 3, 2011)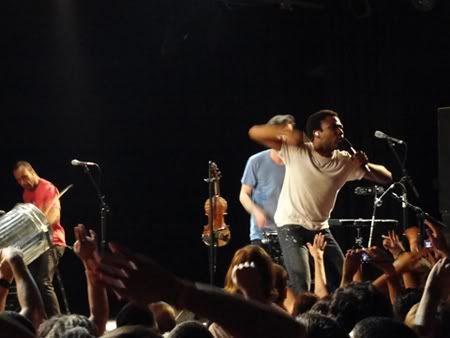 photo credit: weworemasks
As of sometime before last summer, I became the biggest Donald Glover fan. After catching some of his stand-up, becoming obsessed with Community and catching a whiff of Childish Gambino right before Culdesac came out, this Hollywood renaissance man hit the top of my list of 'rad dudes.' Suffice it to say, I was more than happy to find that his IAMDONALD tour was hitting Houston. I tried to get an interview, but it turns out his management only wanted to do interviews that run in print AND online. That being said, I gladly purchased a ticket to the show, for the first time in a long time, to catch the unique tour offering.
Hit the jump for the recap.
-grizzly

photo credit: weworemasks
Donald Glover hit the stage promptly at 9 p.m. in the same garb he wore in the "Freaks and Geeks" video, which was a pretty cool tribute. While the comedic portion of this show was a lot shorter than I had hoped, it was chock-full of great one-liners and bits about Justin Bieber. I'm not going to be 'that reviewer' who ruins all of his jokes, but one of my personal favorites was an extended anecdote about his experience meeting Reggie Bush. The story was focused on the fact that Glover had a pair of sunglasses that Bush kept wanting to borrow and eventually buy. I know it's not the most exciting story relay here, but hit this youtube clip for the entire bit.

photo credit: weworemasks
After a quick 30 minute comedy set, he received a video call from none other than James Murphy. This was the smoothest way of him telling us that he's friends with the elusive LCD Soundsystem, but the crowd's lack of response leads me to believe that no one outside of my circle of friends understood how 'cool' that makes one guy. Regardless, another video call from future Donald (who donned a hell of a moustache) claiming that Gambino's music is a nuisance that ruined society allowed Donald to leave the stage. While the band prepared for their performance, the crowd was treated to a video clip of present and future Donald discussing all things Gambino.

photo credit: weworemasks
Turns out, life is much worse without the music of Gambino, who soon hit the stage with a barrage of drummers. Somewhere between The Beets and Slipknot lies his backing band. Three drummers, violins, tambourines and a DJ all rounded it out for a very vast sound, last seen at a Lupe Fiasco hip-hop show. Like the Steppin Lasers tour, Glover's performance was more remniscient of a rock band than anything. Energetic and fierce, the set started with "Let Me Dope You" (seriously, just watch the video) and had the same furious momentum throughout the entire set.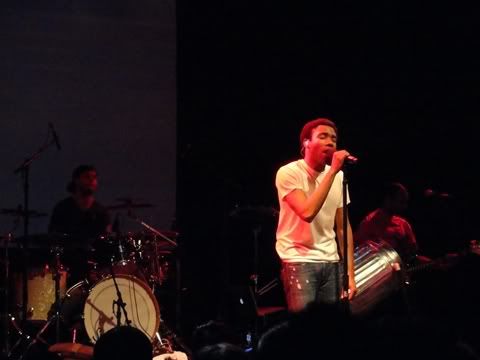 photo credit: weworemasks
I didn't doubt for a second that Childish Gambino would be a great live act, but it far exceeded any of my (and many of my friends) expectations. The band never stopped being on point, and Glover is commanding and has a dominating stage presence. One of the best moments of the show was a medley of his older songs, which included "Yes," "Bitch Look at Me Now," "Got This Money" and "I Be On That," which all went over very well with the crowd. The hour long set was definitely Culdesac heavy, as "Do Ya Like," "So Fly" and "Put it in My Video" went off without a hitch. And naturally, the EP's March release gave everyone the opportunity to catch every song on the EP in a live fashion.

photo credit: weworemasks
While Gambino was great and all, this show would've been nothing without the crowd. It's been a minute since I've seen a show with a crowd like the one Warehouse Live boasted on Tuesday night. Nevermind the fact that the show was originally planned for the Studio and was moved to an almost sold out Ballroom (the capacity is 3x the Studio), but it seemed as though everyone in the building belonged. Hell, Bun B even came out and showed support. The encore had the night's best moments. His drunken Thanksgiving song "The Longest Text Message" went over very well, as did the set-ending "Not Going Back." Most to all of the crowd was singing along and crowd participation was at an all-time high, which made everything seem cult-like. No one was obnoxious, there were no fights, just 1200 of Houston's nerdiest rap fans enjoying one show together.

photo credit: weworemasks
[SETLIST]
Let Me Dope You
Freaks and Geeks
So Fly
Do Ya Like
Bitch Look At Me Now
*Yes
*Got This Money
*I Be On That
Rolling in the Deep
My Shine
Put It In My Video
Lights Turned On
Be Alone
-
Bun B – Mo Milly
-
Encore:
The Longest Text Message
All of the Lights
Not Going Back
*Medley