album review: theophilus london – timez are weird these days (2011)
We've been covering Theophilus for a few years now. All three of us are glad that he's signed, making big moves and is finally putting out his debut LP. But really, all I want to say is 'Reviewz are weird these days.'
Hit the jump for the review, and go support this record, especially after he's given you three excellent mixtapes for free.
-grizzly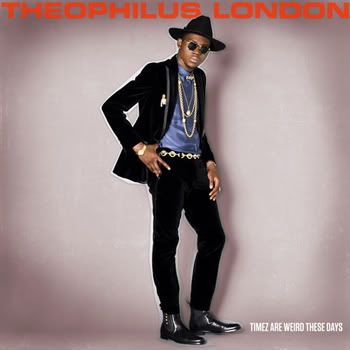 Artist: Theophilus London
Album: Timez Are Weird These Days
Release Date: July 19, 2011
Record Label: Warner Bros. Records
He's the kind of artist who included "Accoutrements by Theophilus London" in his liner notes. He's also the kind of artist whose best mixtapes had titles influenced by The Smiths and Marvin Gaye. Finding a place to fit in the mainstream probably hasn't been the easiest task for London, but the fact that he wants to be a household name says it all. After three mixtapes and a digital EP release that saw exponential popularity, London's debut LP, Timez Are Weird These Days, portrays the essence of his artistry and the glamour of that type of career.
"Last Name London" is easily the best formal introduction any new listener could've had. While it's not his personal best, it captures all the things long term fans love and the things new fans will embrace in less than four minutes. For lack of a better term, there's the classic Theophilus swag, an electronically-infused beat and of course, the rhymes that seem effortless by way of his delivery. Onward, the rest of Timez seems to pick up where Lovers Holiday left off. And for better or for worse, three of the EP's songs find their way onto the album. "Girls Girls $" recalls a rare ignorance in London's music (rounded out by a few too many mentions of "pussy on World Star"), the reemergence of the downtrodden and romantic "Wine and Chocolates" and spectacular single "Why Even Try" all fit nicely on Timez.
The rest of Timez sandwiches us between the unorthodox production of songs like "All Around the World" and "Lighthouse," and atmospheric, more textured numbers like "Love is Real" and "One Last Time." All the while, London refrains from the more stream of conscious musings of past mixtapes and finds himself comfortable within boundaries of concise and sleek rhymes that could land him on any number of those barely-relevant 'freshman lists.'
London's vast urban and European influences and eccentricities are what set him far apart from his peers. Production from TV on the Radio's Dave Sitek, Jocko and Santigold's John Hill are all unconventional choices for producers, especially for a hip-hop release on Warner Bros. Records. And while many rappers would jump at the opportunity to collaborate with one another, London enlists singer/songwriter Holly Miranda and Sara Quin of Tegan and Sara as the albums only features – and strictly hooks at that. Timez also has very few distractions; a rarity in debut albums lately. Keeping all of this in mind, it's no coincidence that the stellar album-closer is called "I Stand Alone." Despite clocking in at 37 minutes long, it's the same consistency and luster that keep the album both impressive and fulfilling, and above all, an excellent debut album.
Grade: 7.7/10