show recap: austin city limits festival [day three] (september 18, 2011)

photo credit: amicitas
A familiar Texas friend reared his sunny head over Zilker Park on Austin City Limits' final day. No it wasn't Win Butler, thought that did also happen. A jilted sun reappeared after two overcast days with scattered showers and for the first time over the three-day weekend it finally felt like an outdoor Texas festival. Regardless of the heat, Sunday saw the most over/well dressed musicians, risking heat stroke to maintain their dapper image and leave an impression on ACL's last day.
Recap after the jump:
-sunbear


photo credit: nathan malone
As I approached the AMD stage, where a giant banner hung for Mariachi El Bronx, i couldn't help but notice that the frontman (and entire band for that matter) of this genuine mariachi band looked strikingly familiar. Then it hit me like a ton of bricks: Mariachi El Bronx. Turns out the gringo Angelenos before me were the Mexican alter-ego of hardcore punk band The Bronx. Not that you'd ever know, as the guys were one hundred percent committed to making some of the most passionate, rousing mariachi the festival would hear. "Poverty's King," a song about "being poor and being happy" was warmly received by the crowd, who were probably feeling a bit on that side after dishing out the $185 for festival tickets.

photo credit: nathan malone
Taking a page from the Brian Wilson handbook on whimsical melodies and sweethearted instrumentation, Dale Earnhardt Jr. Jr., clad in matching checkered blazers (the first of many I'd see that day.), played a wistful set of indie pop that brought many a smile to the crowd, though much of that might have been the free popsicles the band handed out midway through. Performing songs from their album It's a Corporate World, as well as a cover of the Beach Boys' "God Only Knows," the boys were full of lighthearted energy as they took friendly jabs at each other about their "blog status," and the attractiveness of their drummer (he looked like Jesse Eisenberg).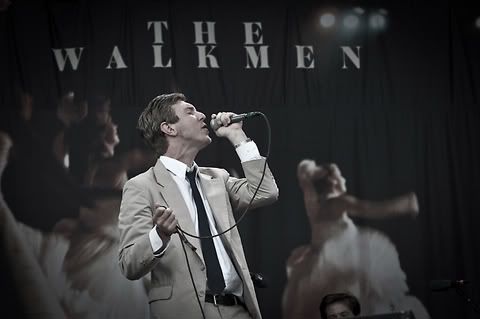 photo credit: hey reverb
"If I'd known it was going to be this hot, I would have worn my shorty-shorts" ribbed The Walkmen's Hamilton Leithauser, himself decked in a bone-colored two-piece suit. The band's set consisted mostly of the refined atmospherics of their latest Lisbon, as well as a few new jams from their forthcoming album. Of the rockin' variety, both "The Rat" and "The New Year" were played to a very warm crowd reception, who were feeling the heat of the sun's swelter. In fact, most of the band's set was spent with the crowd speculating "When's he gonna take that jacket off? It must be really hot." The answer: never.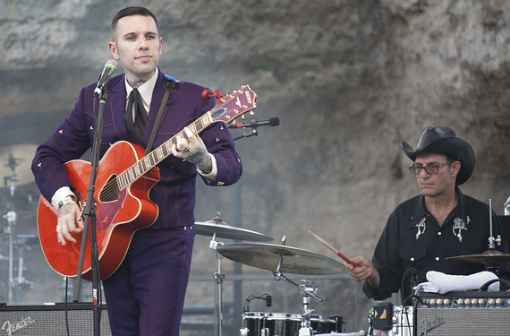 photo credit: KUT Austin
Nick 13, frontman of punk band Tiger Army, checked his creepers at the door, trading them in for country modesty and an acoustic. Performing songs from his just-released, self-titled album, Nick 13 evoked Roy Orbison on songs like "In the Orchard" and "Nashville Winter." Nobody was more gentlemanly than he, thanking the crowd profusely for sticking it out with him, baking in the sun.
Back on the Bud Light Stage, I caught Broken Social Scene during the opening portion of their set, laying down "Texico Bitches" and "7/4 Shoreline." For some reason, both Kevin Drew and and Jason Collett were sporting Pittsburgh Pirate caps. Also Lisa Lobsinger had really great, cartoonishly big hair.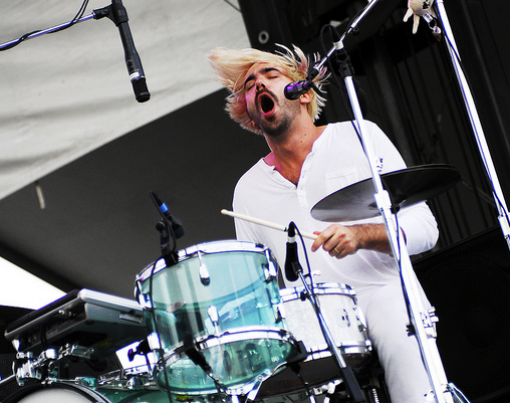 photo credit: nathan malone
Ryan Bingham, a born and raised Texan, famous for working with T. Bone Burnett on Crazy Heart and winning an Oscar, was over on the AMD stage dustin' it up with some real authentic Americana. Bingham's whisky-soaked voice and rugged good looks were enough to charm the pants off everyone in attendance, but his music, a very earthy melancholy kind of folk-blues was giving everyone the down-home treatment they were expecting from the rootsy-looking band.
Just off to the right on the Honda stage, Death From Above 1979 were set to start what was sure to be the day's sleaziest, most hedonistic dance party. After being made local-legends inciting a riot at this March's SXSW festival, the duo were back in Texas once more, much to the glee of many anticipating more of the same kind of free for all. Opening with You're a Woman, I'm a Machine leadoff "Turn it Out," DFA were a volatile assault on the senses: from JFK's grimy bass playing to Sebastien Grainger's frenzied drumming and distinct wail (and blonde hair. Did I mention blonde hair?), the duo excited the festival's only mosh pit. "What am I, a sadist or masochist? I don't know the difference, someone educate me." queried Grainger to his rabid fans. A little of both it seems.

photo credit: under the radar
In their time slot just before festival closers Arcade Fire, Seattle's Fleet Foxes were a mere amuse-bouche to the main event. Not that they weren't well received by the crowd, they were. The most adequate statement that comes to mind is that Fleet Foxes were the soothing, mellow calm before the storm. "English House" and "White Winter Hymnal" displayed the signature Appalachian folk harmonies the band are known for and was it ever pretty. The crowd had grown considerably during their set, staking out spots to catch Arcade Fire from, and by the looks of it, sizable enough to rival Stevie Wonder's draw.
Those not hard pressed to have a decent viewing area for the main stage were certainly drawn to the Goggle+ stage, where Australia's Empire of the Sun were dishing out 'weird' by x-power. With an spacey LCD backdrop, elaborate costumes and headdresses, and a lighting show to rival Kanye's Empire of the Sun were one hell of an ACL eyesore. Luke Steele channeled Prince as he sauntered around the stage, space-coat on, guitar in hand, singing along to the futuristic "Delta Bay." Dancers came out in a flurry of costumes, and props: everything from light-up guitars to swordfish masks were at their disposal, and never once did the glam-rock shock of Empire of the Sun wear off. T he crowd was a mixed bag, half of them confounded but most dancing to the familiar synth pop of the band's only album Walking on a Dream. It's as if we didn't know the degree of strange we had gotten into when we fell in love with their music back in 2008.

photo credit: hey reverb
What could be said about Arcade Fire's live show that wasn't already said (by me!) in our The Suburbs Tour recap? The band is simply magnificent in their delivery of the grandiose, theatrical songs that have propelled them to Grammy winning status. Win Butler for one remains a humble guy, constantly making nods towards the band's humble beginnings stating "I think of Austin as our hometown show," and noting that "This album's about growing up in the Woodlands" (wait a minute…).
Still, hometown ownerships aside, the band kept with the same format as their last tour, save for the surprise performance of the The Suburbs deluxe edition track "Speaking in Tongues." The anthemic "Wake Up" was brought up earlier in the queue than it's prior encore spot, and the two 'Cars' songs were played back to back. Even with the very small deviations from prior performances, the band still sounded as fresh, as invigorating as when i had seen them this past May (at their true homecoming show!). Everyone was caught in the moment watching Arcade Fire as the hometown heroes closed out the festival on a its highest and most inspired note.