album review: blink-182 – neighborhoods (2011)
Today was a good day to post the album review, because today's also the day we're catching blink-182's Houston stop of the Honda Civic Tour. And sure, we spent weekends of our time in much more hip locations such as ACL, but we're human, and we still grew up on these guys, right? In any case, this is one of the longest tenured bands, and I'm glad they're still making music. I do wish that they'd buckle down and get some adult haircuts though.
Album review's after the jump.
-grizzly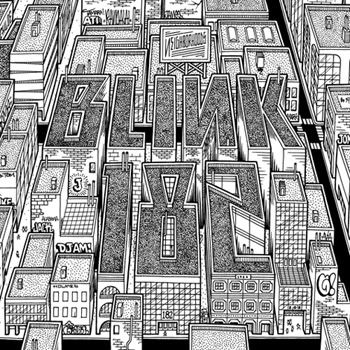 Artist: blink-182
Album: Neighborhoods
Release Date: September 27, 2011
Record Label: Geffen
Come November, it will have been 8 years since Blink-182 released their eponymous album – a polarizing album in sound, but a widely-praised album nonetheless. The band would then go on to announce an indefinite hiatus in 2005. And sure, their hiatus in 2005 was hardly a "hiatus," as we were met with several albums from Tom Delonge's ambitious project Angels and Airwaves, Mark Hoppus' Blink-182 rehash, Plus 44, and a wealth of hip-hop projects and remixes from Travis Barker. And while the circumstances that lead to the reunion of the band were bleak and grim, the band found solid ground in the fact that they all wanted to make music again.
Blink-182 is a seminal band for this particular genre. In the time that they've been gone, countless bands have come out of the woodwork to try and capitalize on the sound they helped build, pioneer and popularize since the early 90s. And sure, a few All Time Lows saw their share of spotlight, but the truth is that no one band really came close to capturing the golden pop-punk these Southern California boys released within Enema of the State and Take Off Your Pants and Jacket.
So upon their return, it seemed many had high hopes of the band getting back to their old sound and what got them so revered and praised in the first place. Instead, the band pulled up ideas and themes from the darker and more elusive self-titled record, including the overall tonality and emotion. Lead single "Up All Night" felt more AVA than Blink, and didn't go over as well with the fans as "Hearts All Gone," the beefy and energetic follow-up single. Regardless, the anticipation and expectations for the record never faltered.
It seems obvious that the band took elements from everything that each respective member did during their time off from blink-182, to muster up a sort of conglomerate of the byproducts. This is not necessarily a good thing, because the ambient and awkward leanings of Angels and Airwaves were all too overbearing, heard in songs like "Ghost on the Dance Floor" and the uninspired "Love is Dangerous." However, the band has never been more impressive instrumentally, and it's due to these same influences. For the first time since Travis Barker joined the band, bass and guitar parts are just as impressive as their drum backbones, and songs like "Kaleidoscope" and "Natives" are where the band showcases everything they were ever good at within a 4 minute timeframe.
And while it's good to have the band back, it seems that a lot of these songs just go by without anything really happening. Ideas and experiments on the self-titled album were refreshing, and bred a new, albeit short life into the group. The lack of interesting ideas and lyrical themes on Neighborhoods is what really affects the album's playability, as evident in "Snake Charmer" and "MH 4.18.2011," which seemed to have missed their landings completely. It doesn't seem that the band is headed out anytime soon either. They'll have plenty of time to get back on track, but for now, a slightly above-average offering seems to be the status quo.
Grade: 5.9/10