show recap: fun fun fun fest [day two] (november 5, 2011)

photos by a.j. gutierrez; above: Ra Ra Riot

With day one of Fun Fun Fun Fest in the can, Austinites once again braved the dust bowl that was Auditorium Shores, faces wrapped with bandanas to guard from the elements and with a hunger for more live music. From Swedish import Lykke Li to Austin backyarders Spoon, Saturday boasted one of the strongest lineups the festival has ever seen.
Hit the jump for the full recap.
– sunbear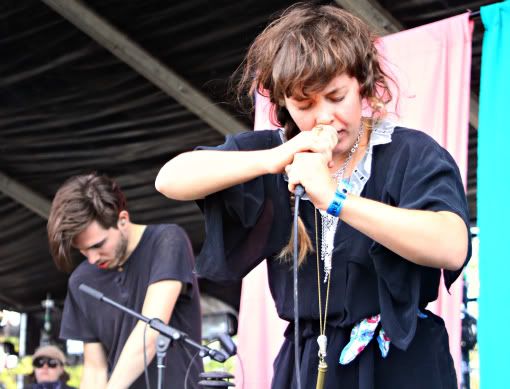 Purity Ring
Having just released their acclaimed latest album On The Water, Baltimore's Future Islands took the Orange Stage bright and early to great reception. Frontman Samuel T. Herring had everyone eating out the palm of his hand as he waffled between his vulnerable croon and his lion-throated growl. Odd combination maybe, but for a band that gorges on theatricality, the two extremes played exceptionally well.
Though just short of releasing their debut full length album, ethereal future pop duo Purity Ring had taken command of their Blue Stage audience with their unique musical instrument (think that screen saver with the forest of pipes that grows) and the ghostly vocals of Megan James. With James' separated yet sweet vocal delivery under heavy modulation by her band mate Corin Roddick, the duo quickly drew a sizable and diverse crowd, all captivated by the small band's innovative yet simple live show.

The Joy Formidable
Austin's own T-Bird and The Breaks fused hip-hop, do-wop, and New Orleans-style jams, into a crazy confection that brought the house down. From Tim Crane's blue-eyed swagger to the coordinated routines of the three lovely backup singers, everything about T-Bird's set seemed completely genuine despite the mashing of genres; a kind of funk that Austin could get down with.
The Welsh-raised, London-based rock trio of The Joy Formidable had the luxury of utilizing the Orange Stage's massive soundsystem and did they ever need it. The anthemic racket that these three made could have been heard from anywhere in the park, Matt Thomas's blast beat double pedals pounding the eardrums of everyone watching. Singer Ritzy Bryan could hardly contain her energy running around the stage shredding off-the-rail riffs on her Stratocaster. Two inflatable giant cat heads would inflate and dominate both sides of the stage during the band's last songs recalling the pigs of Pink Floyd, and deservedly so: The Joy Formidable rock just as hard.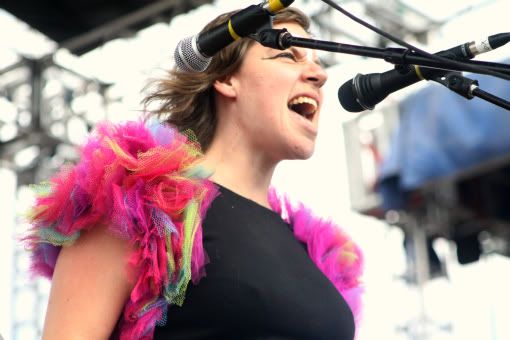 tUnE-YarDs
tUnE-YarDs's Merrill Garbus is an absolutely captivating performer. With just a drum machine and her ukelele, Garbus, looking shaman meets warrior with her magenta ruffled shoulder cuffs and slashes of tribal face paint, hit some impressive vocal runs, playful yet commanding as she commissioned a call-and-response with the massive Fun Fun Fun Fest crowd.
Much is made about how elegant and sophisticated Ra Ra Riot's music is for a band whose members are so young. Add to that the lighthearted exuberance the band exhibits live, tackling such lushly orchestrated music and you've got yourself one of the freshest acts of the festival. Performing songs from their latest album The Orchard, the band sounded absolutely effortless indulging their audience with such string-heavy songs as "Shadowcasting" and set closer "Boy." Also, you all know how I feel about cellist Alexandra Lawn …

Cold Cave
You've got to hand it to the guys of Cold Cave: wearing black leather in Texas is no picnic. But in keeping with their goth-wave image, the trio suited up, and performed a non-stop barrage of dancefloor-friendly songs that were as unrestrained in their New Order bleakness as they were rich in sonic electro textures.
Packed is an understatement in regards to the crowd Donald Glover aka Childish Gambino drew. Still shy of a proper album, Gambino's popularity relies solely on internet hype. Also, possibly the riskiest, high-concept television show of which Glover is of the ensemble. With the unhinged energy of a rapper possessed, Gambino erupted into his set, live band barely catching up, as he performed songs from his multiple mixtapes and upcoming debut, Camp.
The always bewitchingly provocative Lykke Li landed her Swedish pop act to the Orange Stage, which was draped in black silk. Utilizing more smoke machines than an Alice Cooper concert, Lykke Li firmly established a arcane atmosphere that tied in well with her intimate, nocturnal sound. Where once she sounded Kewpie-doll sweet on her debut album, her voice was powerful and fiercely aggressive, thundering throughout Auditorium Shores.
Bookending their appearance on the inaugural Fun Fun Fun Fest, hometown heroes Spoon closed out day two with an impressive set so solid you'd wonder how they didn't headline the entire ordeal. They are after all, friggin' Spoon. Britt Daniel sounded pitch perfect as he ran through 20+ songs from the band's entire catalogue only stopping once to exclaim "I'm pissed we have to play opposite the Damned." No one in your direct vicinity seems to be pissed you're playing at all, Mr. Daniel.