show recap: fun fun fun fest [day one] (november 4, 2011)

photos by a.j. gutierrez; above: Black Joe Lewis & The Honeybears

Austin, Texas's Fun Fun Fun Fest has come quite a long way from its humble beginnings six years ago. From its first year at Waterloo Park with a bill comprised heavily of local acts like Black Angels, Spoon and Ghostland Observatory, the festival has ballooned into a nationally recognized music-fest capable of reuniting acts like The Descendents, booking stadium sized bands like Slayer, and drawing crowds that would rival its big-brother festival Austin City Limits. Now with a new seaside home at Auditorium Shores, the sixth annual Fun Fun Fun Fest has its sights set higher than ever, with the most impressive bill its seen in years.
Hit the jump for the full recap.
– sunbear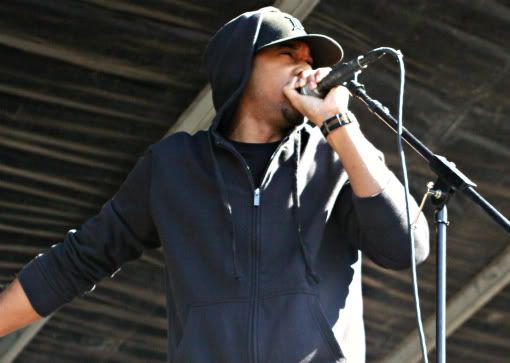 Black Milk
Up on the electro/hip-hop-centric Blue Stage, Fat Beats recording artist and producer Black Milk was starting the day early with some highly aggressive cuts from his album Album of the Year. Though better known for his production values, Black Milk is one commanding emcee, conducting his live band keeping them sounding razor sharp and polished.
On the massive Orange Stage, Heartless Bastards' Erika Wennerstrom was sporting two things: a big-ass hat, and a big-ass voice. The frontwoman for the blues bar-band has a thunderous voice that could shake the foundation of a house, and with her newly assembled Bastards (Wennerstrom is the sole original member), rocked the socks, and dust off one of the largest crowds of the early afternoon bands.

YACHT's Claire Evans
YACHT's Claire Evans is one eccentric and animated frontwoman. Eclipsing her bandmates with her platinum blonde hair, blindingly white dress, and oddball robot mannerisms, Evans's character-range from the roller-disco rock of "Utopia" to the incantations of "The Afterlife" was the highlight of YACHT's already engaging set.
From the whimsical electro frills over to the straight-ahead indie rock on the Orange Stage, Portland's The Thermals were complete unbridled energy. Somewhere in between Kathy Foster's infinite bunny hops, or Hutch Harris's overwhelming positivity, The Thermals put on one of the most lighthearted, yet noise-heavy set of the festival. On a humorous note, Foster took note of what seemed to be an Austin trend: "Beards and cigars? Indie-style is becoming like that uncle who you don't wanna sit in his lap"
Black Joe Lewis & The Honeybears are an Austin staple, a foundation even. Bringing the grit of rhythm & blues to the Orange Stage, Joe, with his lightning dueling guitars played with reckless abandon and a brassy three-piece horn section, tapped into the festival's hip-shaking old-school groove and stirred a serious soul-workout.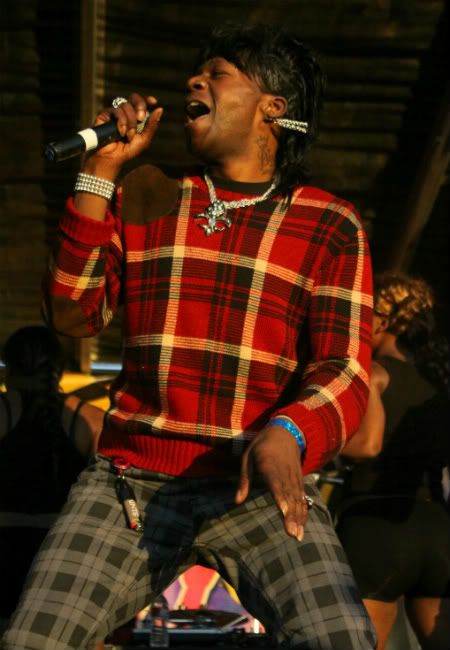 Big Freedia
Big Freedia The Queen Diva was exactly as expected: an azz shakin' good time. One quick roll-call of her "Shake Team," Big Freedia incited a riotous dance party of everyone itchin' to shake their ass and pull off some seriously salacious moves.
Will Sheff of Okkervil River was in fine form this day, teetering somewhere between being completely tanked and being a maniacal frontman for his literate folk-rock band. The band's ramshackle songs, like the new "Wake and Be Fine," and classic "Black", as bombastic as they sounded, were undercut by Sheff's antics, stumbling around the stage and ripping microphones from their stands. I'll never know what's going on in that guy's head, and I probably don't want to.
If you've heard the news, and it's nothing new or breaking, Danzig's Legacy set, which was one of the most anticipated of the festival by punk classicists everywhere, was marred by the goth rock icon's indignant attitude, subpar vocals, and a late start time which resulted into the plug being pulled one song into the Misfits portion of his set. Glenn even threw a temper tantrum and tried to incite a riot, so aggravated he was that he was cut off at the 10pm curfew. Needless to say, he came up short on that venture too, as the disappointed crowd meekly dissipated towards the festival exits. Maybe next time, Glenn, when the temperature's to your liking and your set begins on time.