show recap: fun fun fun fest [day three] (november 6, 2011)

photos by a.j. gutierrez; above: Ted Leo & The Pharmacists

Day Three of Fun Fun Fun Fest wraps up one of it's biggest years in its six-year existence with one of the most exceptional and legendary bands to grace our presence: Slayer. But not before Auditorium Shores is filled with electronic, indie, and punk acts to help stifle the brutal blow. Hit the jump to catch write-ups on everyone from Grimes, Ted Leo & The Pharmacists, Mates of State and of course, Slayer.
- sunbear


Lemuria
Lemuria's Sheena Ozzella has to be one of the happiest frontwoman I've seen in quite some time. The trio, who specializes in poppy punk ballads (think The Weakerthans meets The Breeders) were a cheery bunch, bantering back and forth between songs, Ozzella campaigning to have a Beyonce headlining set at next year's Fun Fun Fest. If only, Sheena.
An angsty emo band might seem pretty dated for a festival of this caliber, but Edinburgh, Scotland's We Were Promised Jetpacks are much more than bleeding heart post-punkers. Passionate and catchy anthems are the band's forte, heartily playing up the loud dynamics of their punchy songs. By the end of their marathon set, singer and guitarist Adam Thompson's face was flush with exhaustion.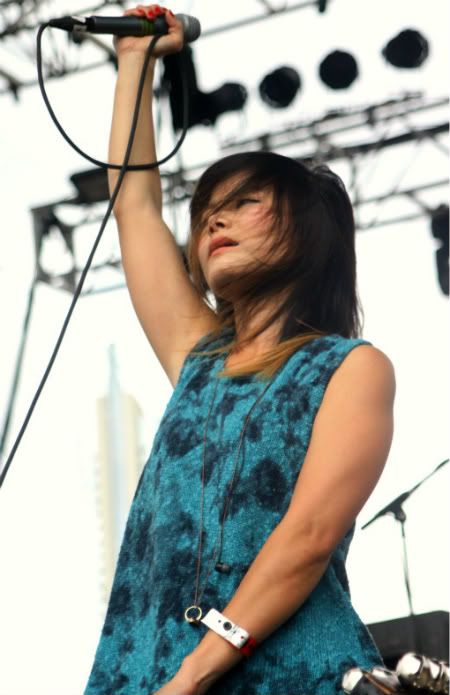 Asobi Seksu
Yuki Chikudate, lead singer and keyboardist for Asobi Seksu, might, on the surface, appear to be a fragile, tiny package., but the second the first song was counted off, she was a fury of head banging and shrill powerhouse vocals. The band's songs are sung alternately in Japanese and English, their guitar noise-driven shoegaze recalling My Bloody Valentine. The band even borrowed a song from The Jesus and Mary Chain, flipping "Never Understand" on its own ass and making it all their own.
Mates of State have an exhaustible amount of energy and spirit that they bring to their playing and singing. For over a decade, the husband wife team of Jason Hammel and Kori Gardner have been churning out lively, playful songs which made for a rollicking good time on the Orange stage. The band seemed to be having as fun a time as their audience performing songs from their six-album strong career.

Grimes
Grimes, the alias of Vancouver native Claire Boucher, played a stunning set that included an interpretive dancer on the Blue Stage. While Boucher layered samples and textures on her loop machine, cooing lyrics in a baby voice, her dancer, who appeared to be on acid, shed layer after layer or robe to the beat of Grimes' goth-electronica. The bewildering part was after so much clothing loss, he was never once naked.
Most DJ/electronica acts are a bore to watch, most being some guy behind a console hard at work on mixes with minimal movement. Flylo, however gets into his music and dances just as hard as his crowds do. It's almost as if he builds grooves for himself to move to and we just happen to be along for the ride.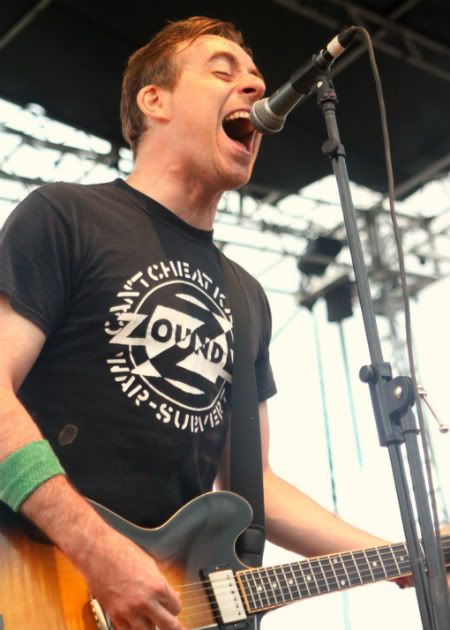 Ted Leo & The Pharmacists
Poor Ted Leo had to battle a cough throughout his punk-infused set on the Orange Stage. "I have a thing, and i just need to cough up…the thing," Leo declared before apologizing for Tom Waits-ing his way through "Me and Mia." Leo touched upon the Occupy Movement ("I encourage you to talk to someone who is out there doing it!"), before disappearing behind the stage, only to emerge in a sleeveless black shirt and Glenn Danzig wig to roaring approval by those who were cheated out of a Misfits set on Friday. Ted's got a sense of humor, but even better, a great Danzig impression, striking the singer's poses and mannerisms as he and his band, with Andy Nelson from Ceremony and Paint it Black on bass, ran through a blistering four song Misfits set including "Bullet" and "Where Eagles Dare." Where Danzig faltered, Ted Leo & The Pharmacists came to the rescue and saved punk-rock for Fun Fun Fun Fest.

Architecture in Helsinki
Architecture In Helsinki was all synth-smoothness and syncopated, jangling indie-pop in their slot following Teddy. The Melbourne band had a great sense of humor and fun about them as they brought their dancey musical arsenal to the indie-centric Orange Stage.
Finally, the headliners of the Festival, the Big One, Slayer took the stage, unveiled behind a tarp on to which pentagrams and the band's logo was projected. A blitzkrieg of brutality and heavy dose of their legendary catalogue, including "Hate Worldwide," "Angel of Death," and of course, "Raining Blood," were doled out by the heavy metal band, playing to what was arguably the largest crowd the festival had ever seen. The whole performance was as devastating as it was menacing. Red clouds billowed from the stage; Slayer's iconic iron eagles glared from their posts on the stage wings. Slayer annihilated the Orange Stage that closing night bringing a momentous close to what is sure to be one of Fun Fun Fun Fest's finest years.