show recap: morrissey (november 17th, 2011)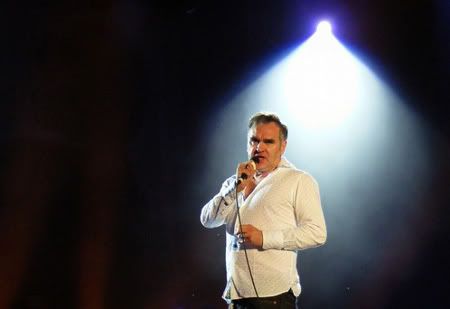 At 28 years old, seeing Morrissey live has always been at the top of my "must see" list, but the timing just never worked out, so you can bet 'excited' was an understatement when Morrissey and his gang came through Dallas last week. Hit the cut for a recap of the nights' event, that included opener Kristeen Young.
– panda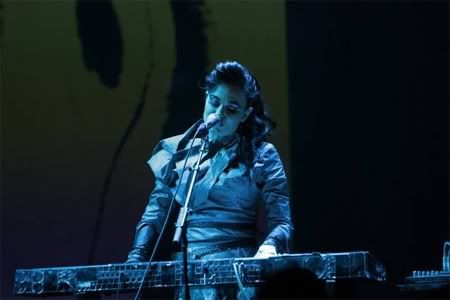 Photo courtesy of Jay Spear/NewsOK.
Kristeen Young opened up the night, performing solo vocal theatrics over heavy synths to a lukewarm crowd response. She's easily one of the better female vocalists I've ever seen live and could most likely do Gaga better than Gaga, if it weren't for her penchant for all things Amanda Palmer and Bordeaux. That and watching a person belt as loud as they can by themselves while playing the keyboard can overstay its welcome during an opening set.
[vodpod id=Video.15749593&w=425&h=350&fv=%26rel%3D0%26border%3D0%26]
"We came here, to occupy Dallas."
Topical and relevant opening words, and so Morrissey did as he took the stage of the small auditorium on the Southern Methodist University campus. Opening with "I Want The One I Can't Have" was a definite highlight of the night and a great kick off to a well rounded set that spanned the vast majority of Morrissey's back catalog. His charm and sense of humor were in tact, mostly using his wit on political puns. At this point in Morrissey's career, you kind of have to expect certain extreme highs and lows to accompany a night with the Moz. His political views (high), the PETA pamphlets being handed out in the lobby (low), and so on. During "Meat Is Murder", which was definitely the biggest musical peak of the evening, animal cruelty footage was shown on the wall behind the band. Luckily I was at an angle that made it easy to ignore.
Arriving before the show started, I couldn't help but notice how much older the crowd was than I expected. Smiths fans I'm assuming, but my biggest complaint of the night was the crowd around me and their complete lack of enthusiasm for seeing the Moz live. This continued throughout the course of the set, as Morrissey & co. went through a wide variety of tempo, which led to a lot of sitting for those in the balcony. I had a great view and the sound was perfect, but things definitely looked more lively on the ground.
[vodpod id=Video.15746572&w=425&h=350&fv=%26rel%3D0%26border%3D0%26]
After never having seen him live, I was curious about him and his pending ability to span so many years of music and pulling it off vocally. My fears were laid to rest early and never returned as the croon that has soundtracked so many lives sounded as golden as ever. Morrissey's current drummer was another highlight that I recommend paying attention to if you catch this tour. That is, when you aren't gawking at the fact that you're in the same room as Morrissey. The band, most of whom are probably an easy 20 years younger than Morrissey, were as precise as you would expect, which isn't surprising because I'd assume their respective hires come from a combination of Morrissey's perfectionism and the fact that they probably grew up listening to his music.
I won't list them out, but there are obvious songs one wants to hear when seeing Morrissey live. And for the most part, I couldn't have asked for much more. Being a huge fan of his later work, I was treated to plenty from his newer albums, and the other 99% of the crowd had plenty of his older work and The Smiths' catalog to revel in. At the end of the show, all controversy and opinion aside, I felt like I had just spent two hours watching a class act take the stage and be the man so many hold in such high respects. Incredible voice, charming bravado, and forever the entertainer, Morrissey gave an evening that I'm sure I'll be able to say twenty years from now was the greatest Thursday ever spent.
[SETLIST]
I Want the One I Can't Have
You Have Killed Me
You're the One For Me
Black Cloud
People Are the Same Everywhere
First of the Gang to Die
Maladjusted
Ouija Board, Ouija Board
Action is My Middle Name
Meat is Murder
Everyday is Like Sunday
Speedway
Throwing My Arms Around Paris
All the Lazy Dykes
Satellite of Love
Scandinavia
I Know It's Over
– panda