show recap: watch the throne (december 5, 2011)

photo credit: weworemasks
Fair warning: This review will hardly be objective. It's hard not to bask in the glow of two of my favorite emcees of all time. And all of you know the pedestal Yeezy gets around these bear parts. But in all seriousness, this was a historic tour. A mentor and a mentee, both of whom collaborated on a huge record and have worked together plenty of times in the past, were touring together. Nevermind the fact that the tickets were costly and the tours grossed around $1 million a night – this was the Karate Kid of hip-hop tours. And you know how badass Karate Kid is.
Review after the jump.
-grizzly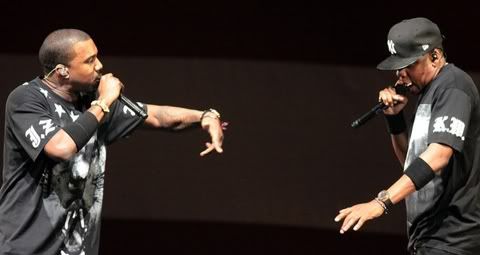 photo credit: nola.com
The single greatest gift these two behemoth rappers could give us besides the tour itself was the lack of an opening act. When it came down to it, were there really any acts worth forcing upon the crowd? Absolutely not. The downside? A long wait. Thankfully, the house DJs were there to play songs of a really specific set – they were all songs they had sampled in the past. A nice touch to say the least. At 9:20 p.m., (after a 7:30 advertised showtime) The Throne had hit the stage. A dimly lit stage played the bridge to "H.A.M." as Ye and Jay eased in to the track. And as boisterous as that track is, the energy never stopped flowing.
As far as the aesthetics go, what better way to present a tour of two of hip-hop's royalty than to give them their own stages? In the middle of the floor lay two giant boxed stages, comprised of LCD screens and illuminated images of various wildlife – typically influenced by their own respective (but grandiose) ways. And for as many times the two shared stages and songs throughout the night, the two artists remained in their own lane. Jay-Z remained a perfectionist of every kind. He rarely makes mistakes on stage, performing with a finesse that goes unmatched in hip-hop. He's a simple dresser: all black everything. Kanye West, an off-kilter (pun intended) fashion-forward rapper, donning a leather kilt, leggings, Yeezy 2 prototypes and a shirt of his own face. He is loud, obnoxious and never holds back from running across the stage. Between them, they have an immense collection of hits – a lot of which escapes you until you hear 20 of them in a row.

photo credit: nola.com
We've seen these two perform their own shows. We know what their discography is like. But seeing Jay perform "U Don't Know" and "Big Pimpin," and hearing 20,000 people singing the hooks to "Can't Tell Me Nothin" and "Touch the Sky" couldn't possibly grow stale anytime soon. And sure, huge and influential songs like "Heart of the City" and "Heard Em Say" were left off the setlist, but the other 30+ songs reminded us of why these two artists were here in the first place. They shared a mutual admiration and a bond that's hard to come by in hip-hop; among all of the beefs, beats and Bleeks. These are careers that interlace within each other, minding the fact that Jay signed Kanye and receives a high caliber of production in return.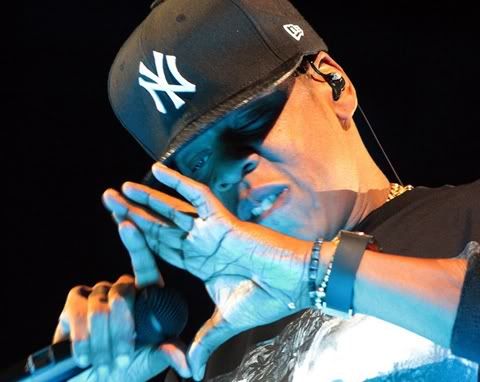 photo credit: nola.com
Nearly all of Watch the Throne was performed, with the exception of "Murder to Excellence," "Why I Love You" and the bonus tracks. There's a recurring joke that the duo performs "Niggas in Paris" an unnecessary amount of times – five in Houston, and never once did it get boring. Let's be honest, folks. They're just trying to get away with it because they can. For all intents and purposes, this was a celebration, and the showmanship was second to very few. From the KKK imagery during "No Church in the Wild," to the words "That Shit Cray" that were shown on the screen repeatedly during "Niggas in Paris," to combinations of dropped shadows, spotlights, lasers and pyrotechnics that were always on display – it was an over the top rap spectacle. And for good measure, the vast array of hits that were performed provided something for every age group and demographic that's ever enjoyed a song by either artist. A historic tour from a couple of historic artists.

photo credit: weworemasks [cell phone]
[SETLIST]
H.A.M.
Who Gon Stop Me?
Otis
Welcome to Jungle
Gotta Have It
Where I'm From
Jigga What, Jigga Who
Can't Tell Me Nothing
Flashing Lights
Jesus Walks
All Falls Down
Diamonds From Sierra Leone (Remix)
PSA (Interlude)
U Don't Know
Run This Town
Monster
Power + Remix
Made in America
New Day
Hard Knock Life
H to the IZZO
Empire State of Mind
Runaway
Heartless
Stronger
On to the Next One
Dirt Off Your Shoulder
I Just Wanna Love You
That's My Bitch
Good Life
Touch the Sky
All of the Lights
Big Pimpin'
Gold Digger
99 Problems
No Church in the Wild
Lift Off (Interlude)
Niggas in Paris x 3
–
Niggas in Paris x 2
[ed note: Sorry about the photos. I can't begin to tell you how shitty the collective internet's photo album is for this tour, and I'm positive these guys have a strict photo clause for every date. Shout out to our shitty cell phones and Nola.com for the pictures. Trust that they look exactly like they would've had they been taken in Houston, not New Orleans. Also, I waited an extra day to post the review because our Dallas wing hadn't seen the show yet, and I was avoiding spoiling anything for him.]