weworemasks presents: top 10 live shows [year-end lists] (2011)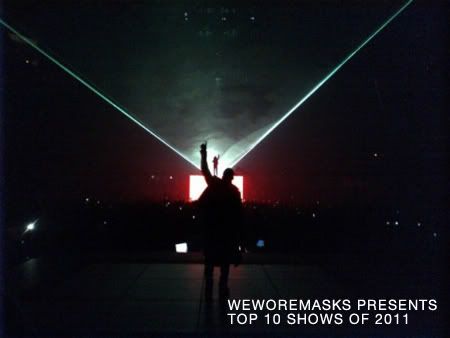 photo credit: bossip
Hello, folks. Gonna try to roll out a few more this week while we work on our year-end lists. Sunbear is going to do his best to get a list in before the end of the year (while spending two weeks at internet cafes in the Phillipines) and Panda is on a bender at a Day Spa somewhere in Arizona. But for now, you get my top 10 performances of 2011.
[ Previous Year-End Lists: Top 10 Disappointing Albums | Top 10 Worst Lil Wayne Lyrics ]
-grizzly


photo credit: the 88 miles west.
Honorable Mentions:
a. Thrice/Moving Mountains/La Dispute/O'Brother
House of Blues/Houston, TX
October 5, 2011
I know shows like Panic! at the Disco shouldn't be edging shows like this one out, but this was my 21st time seeing Thrice, and something super shitty happened after the show. [REVIEW]
b. Linkin Park
Toyota Center/Houston, TX
March 3, 2011
Yes, seriously. [REVIEW]
c. letlive.
Warehouse Live Studio/Houston, TX
August 4, 2011
This was the first time I had seen letlive. live and they personified "insanity." Can't wait to see them perform again.
Top 10 Performances of 2011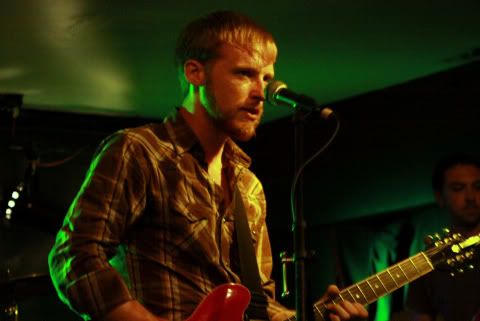 photo credit: weworemasks
10. Kevin Devine & The Goddamn Band
Openers: River City Extension, An Horse
Fitzgeralds/Houston, TX
March 20, 2011
Kevin Devine never disappoints (especially with his Goddamn Band), and his shows are never that surprising. It's basically ensuring a good time. Now – throw those Americana bastards River City Extension in the mix, and you have yourself a party. [REVIEW]

photo credit: weworemasks
9. City & Colour
House of Blues/Houston, TX
September 15, 2011
The day before ACL, I went out of my way (and solo, at that) to catch Dallas Green perform. Being "forever alone" kinda boosted this show to be on my list – I appreciated the hell out of it that much more. [REVIEW]

photo credit: weworemasks
8. Panic! At The Disco
Openers: fun.
House of Blues/Houston, TX
June 15, 2011
Not only did Panic! shed two members of the band, but they got even better live. I hadn't seen these guys since they had blown up back in 2005, but it was definitely great to see them perform so well, and under the umbrella of a pretty good new album. And bringing fun. along for the ride is guaranteeing a jolly time. [REVIEW]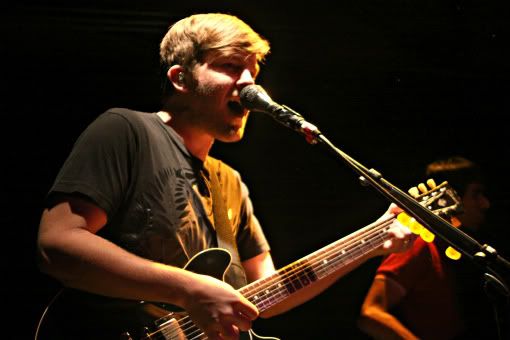 photo credit: weworemasks
7. Saves The Day/Bayside (Co-headline Tour)
Openers: I Am The Avalanche, Transit
Warehouse Live Studio/Houston, TX
Bands I've been listening to for years + a shit ton of my friends + booze = good times. It's a formula for success, really. All of the bands on the tour had seen their share of ins and outs in the music industry and all had new albums to showcase. And for once, all of the bands were good.

photo credit: weworemasks
6. RX Bandits (Farewell Tour)
Openers: Maps & Atlases, Zechs Marquise, Happy Body Slow Brain
While our friends over at Sargent House put together a beautiful tour, it was bittersweet, which is probably why I have it ranked as low as it is. I mean, RX Bandits at Fitzgeralds?! Too good to be true, right? The band set out on the tour with the pretense that it would be their last, and that's a shame – simply because they're one of the most consistently remarkable live acts around. They'll surely be missed, but hearing "Infection" and "Decrescendo" one more time softened the blow a little. [REVIEW]

photo credit: weworemasks
5. Coheed & Cambria (An Evening with Coheed & Cambria)
Warehouse Live/Houston, TX
April 12, 2011
Billed as "An Evening with Coheed and Cambria" wasn't as enticing as it sounds. Before you confuse yourself – I'm not huge on the past few Co/Ca albums. The main draw to this particular show was the fact that it was a 10th Anniversary Tour for Second Stage Turbine Blade, one of my favorite rock albums of all time. With an acoustic set to kick things off, Coheed slowly transitioned into a monster set, where they played SSTB front to back. Yes, that includes goddamn "Junesong Provision." For good measure, the band even threw in a greatest hits-esque encore. [REVIEW]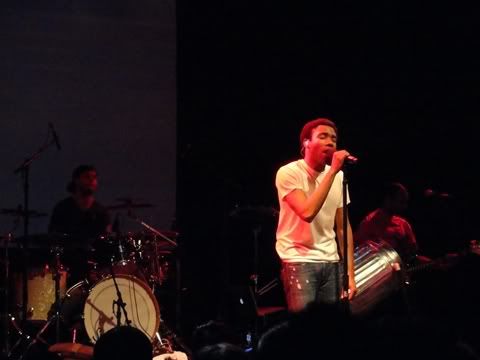 photo credit: weworemasks
4. Childish Gambino (IAMDONALD Tour)
Warehouse Live/Houston, TX
May 3, 2011
Donald Glover put together a good thing here. Fans of him found themselves trapped in a variety hour, as the renaissance man performed stand-up comedy for a half hour, incorporated some visual barbs and performed for an hour under his Childish Gambino moniker. It was definitely a unique experience, and that weighs heavy in its favor. Not to mention, his backing band is one of the best around. They had a dude just banging on trash cans. Winning. [REVIEW]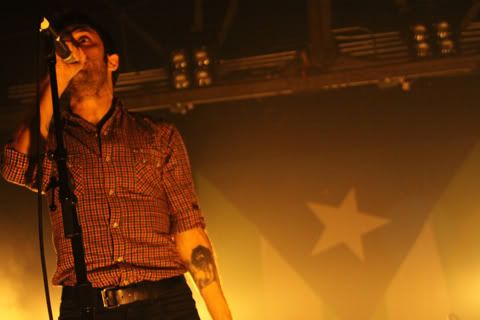 photo credit: weworemasks
3. Glassjaw
Openers: Tidal Arms
Warehouse Live/Houston, TX
February 20, 2011
Glassjaw came back to Houston, and I got stupid drunk and hung out with the entire weworemasks crew. Not to mention, Glassjaw had a 2-hour set, including an encore that consisted of the Colouring Book EP. Prior to the show, we had a fantastic interview with Tidal Arms, all of which contributed to one of the better live experiences. [REVIEW]

photo credit: 88 miles west.
2. Arcade Fire (The Suburbs Tour)
Openers: Explosions in the Sky
Cynthia Woods Mitchell Pavilion/Woodlands, TX
May 4, 2011
Arcade Fire released one of my favorite albums of 2010 in The Suburbs. What better way to commemorate the occasion with a "hometown" show in the town that the nostalgic album is about. This was my first time seeing the band, and they couldn't have been more impressive. A lengthy, nearly 2-hour setlist spanning the entire discography was quite the treat. And when does Explosions in the Sky ever play a subpar show? Never. [REVIEW]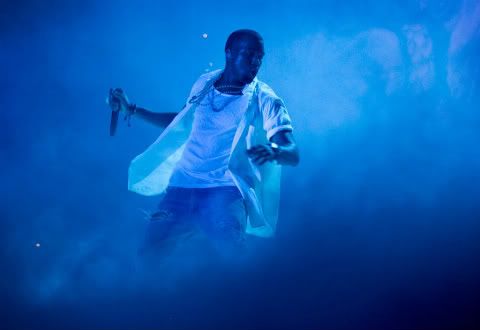 photo credit: austin statesman
1. Kanye West (Austin City Limits)
Zilker Park/Austin, TX
September 16, 2011
Watch the Throne Tour
Toyota Center/Houston, TX
December 5, 2011
You really shouldn't be surprised. Just be glad that I didn't use the top two spots for these shows. Seeing Kanye West solo is a spectacle and a half. His over-the-top, ballerina-infused set at ACL was a part of a relentless festival tour circuit – the only appropriate stage for the grandiose visions of My Beautiful Dark Twisted Fantasy. [REVIEW]
The Watch the Throne tour was no cake walk either. High-grossing and full of veteran swag – this was a historic tour, to say the least. Let's just hope there's a second album so we can get these two back out on the road again. [REVIEW]
As always, stay tuned for more.