weworemasks presents: the LOST songs of 2011 [year-end lists] (2011)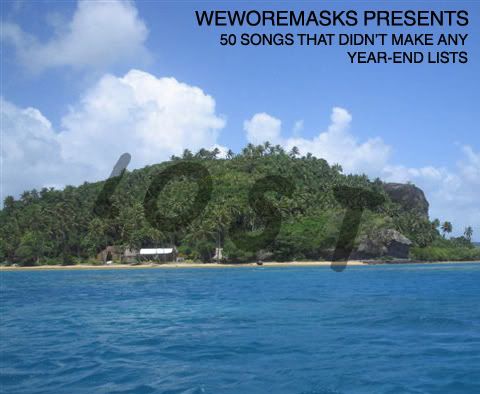 I know, I know. You folks are probably upset that I used this theme last year, but get used to it. I think this is one of the cooler ideas I've had, and I really love LOST – so here we go with the 2nd annual list. "The LOST Songs" is an alphabetical list of 50 great songs (in my opinion, of course) that didn't end up on any albums, EPs, mixtapes, etc. on my list this year. There were a lot of one-offs that deserve praise, and this is the platform. Below the jump, you'll find these 50 songs in five different .zip files, groups of ten. Worst case scenario, 50 shitty songs from a shitty blogger. Best case scenario? You come out with like 20 songs you didn't like, know or have before. And for a quick reference, here's last year's list. Hit the jump for 2011′s.
Also, we've created a Spotify playlist for the occasion.
[ Previous Year-End Lists: 2011 weworemasks.com Reader's Poll | Top Sports Moments of 2011 | Best Music Videos of 2011 | Top 10 Live Shows of 2011 | Top 10 Disappointing Albums | Top 10 Worst Lil Wayne Lyrics ]
-grizzly

50 Songs That Didn't Make Lists/The LOST Songs of 2011
[PART I]
August Burns Red – "Carpe Diem"
Bad Rabbits – "Human Nature" (Michael Jackson Cover)
Beirut – "Santa Fe"
Beyonce – "Party" featuring Andre 3000
Black Star – "Fix Up"
Blink-182 – "Natives"
Canary Dynasty – "Cocaine Dreams" featuring Roy English
Childish Gambino – "Break (All of the Lights)"
Chris Brown – "Look At Me Now" featuring Busta Rhymes & Lil Wayne
Cool Kids, The – "Penny Hardaway" featuring Ghostface Killah
[PART II]
Cut Copy – "Blink and You'll Miss a Revolution"
Das Racist – "Michael Jackson"
DJ Khaled – "I'm On One" featuring Drake, Rick Ross & Lil Wayne
Drake – "Club Paradise"
Eminem, Slaughterhouse, Yelawolf – "2.0 Boys"
Fleet Foxes – "Helplessness Blues"
Frank Ocean – "Thinking of You"
Freddie Gibbs & Madlib – "Thuggin'"
fun. – "We Are Young" featuring Janelle Monae
Gatsbys American Dream – "Shapiro/Untitled"
[PART III]
Gotye – "Somebody That I Used to Know" featuring Kimbra
J. Cole – "Return of Simba"
James Blake & Bon Iver – "Fall Creek Boys Choir"
Jay Electronica – "Call of Duty" featuring Mobb Deep
jj – "New Work"
Justice – "Civilization"
Lana Del Ray – "Blue Jeans"
Lil B – "Swag Jerry Rice"
Lil Wayne – "President Carter"
Lloyd – "Dedication to my Ex (Miss That)" featuring Andre 3000 & Lil Wayne
[PART IV]
LMFAO – "Party Rock Anthem"
Lupe Fiasco – "Till I Get There"
M83 – "Midnight City"
My Morning Jacket – "Circuital"
Nas – "Nasty"
Niceguys, The – "Ari Gold (Remix)" featuring Bun B
Panic! At the Disco – "C'mon (Fade)" featuring fun.
Patrick Stump – "Allie"
Radiohead – "Lotus Flower"
Random Axe – "The Hex"
[DOWNLOAD.]
[PART V]
Sade – "The Moon and the Sky (Remix)" featuring Jay-Z
Shad & Dallas Green – "Live Forever"
Skruncha-Roo – "Dear and I"
T.I. – "I'm Flexin'" featuring Big K.R.I.T.
Toro Y Moi – "New Beat"
Thurogood Wordsmith – "All Cried"
Weeknd, The – "Initiation"
Wonder Years, The – "Melrose Diner"
Young Jeezy – "F.A.M.E." featuring T.I.
Zac Brown Band – "Keep Me in Mind"
[DOWNLOAD.]
Enjoy all the free jams! Top 10 Memes of 2011 dropping Friday! I'm really excited, yall.
-grizzly