weworemasks presents: top memes of 2011 [year-end lists] (2011)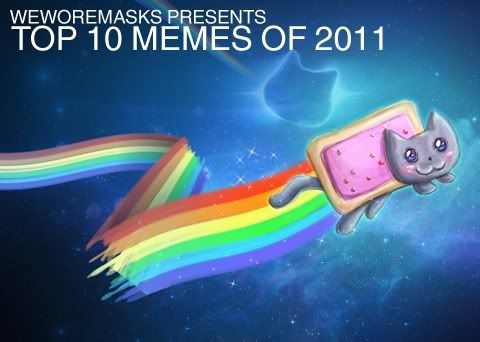 This particular post was fairly huge for the blog, and in the past year, it's infiltrated the top 20 most viewed pages on weworemasks.com. Granted, it's no 'Worst Weezy Lyrics' (that thing has blown up), but it's a lot of fun and I'll probably continue to do this as long as it's relevant. I'm guaranteeing good times here, but if there's any memes you feel I've missed, feel free to post your favorites in the comments, or ignore it and talk shit about it to your friends.
For this year's list, there's a catch. I've "hired" my good friend Roque Strew to be my meme consultant for each of my choices in the top 10. There, he'll be an analyst of my choices, asserting his opinion on each particular meme. The list is below the jump, and enjoy!
[ Previous Year-End Lists: The LOST Songs of 2011 | 2011 weworemasks.com Reader's Poll | Top Sports Moments of 2011 | Best Music Videos of 2011 | Top 10 Live Shows of 2011 | Top 10 Disappointing Albums | Top 10 Worst Lil Wayne Lyrics ]
-grizzly & roque strew
HONORABLE MENTION: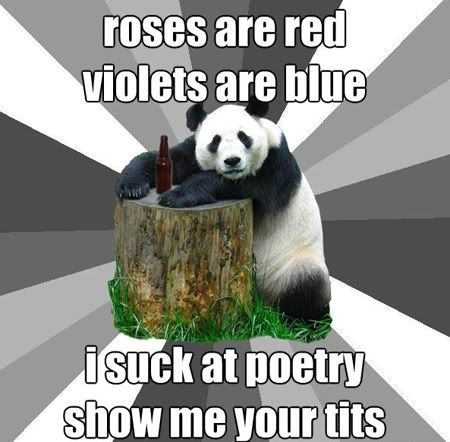 Pick-Up Line Panda
Grizzly: Now, there's an obvious reason why I picked this one as an entry on this year's list. This type of obscene and absurd humor is exactly the kind of shit that keeps our panda's jollies moving. That being said, this meme was quite inconsistent, which is why it didn't make the cut.
Roque, Meme Consultant: We live in the era of Neil Strauss' The Game and internet ads that claim to find "loopholes in female psychology." An era, in other words, of meticulously crafted strategies for sleazeballs. Pick-up Line Panda does not live in this era. Dude's Asian, obviously, so all it takes is that one bottle (of Tsingtao) to eliminate any desire to beat around the bush.
For more Pick-Up Panda, go here.
TOP TEN MEMES OF 2011:
10. Tebowing
Grizzly: Tim Tebow took the NFL by storm. Not because of his unadulterated talent, but because he's the son of God, sent to Earth to drop Bible bombs on all of the NFL's unsuspecting. After leading the Broncos to a close win in the waning moments against the NY Jets, Tim Tebow was seen praying on the sidelines – which soon became "Tebowing." It's definitely prompted it's fair share of mockery, but the tebowing homepage is the best of them all.
Roque, Meme Consultant: In the virginal vessel of Tim Tebow, God/Allah/Yahweh has placed all of his hopes for purifying humanity. Plan B is floods. Plan A is gridiron genuflection. Some members of Al-Qaeda and the Haqqani network who are living in the US, Sgt. Brody-style, do not believe in the separation of church and football set forth in the Constitution. It is believed that these people are behind the PR campaign called Tebowing.
For more Tebowing, go here.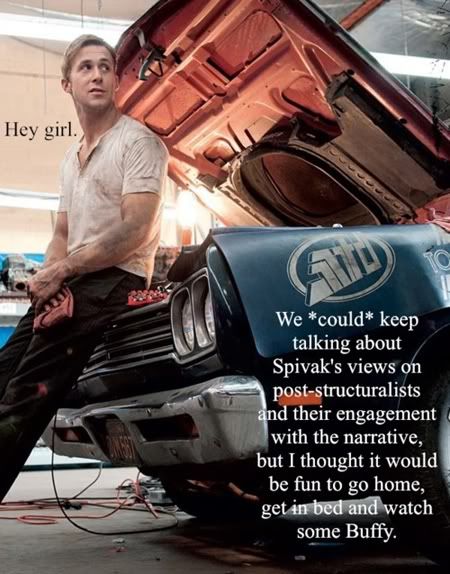 9. Feminist Ryan Gosling
Grizzly: Look, we all think Ryan Gosling's handsome. And this meme not only highlights it, but establishes his voice as the driving force. Can't you just hear him say the phrase "Hey Girl." without the slightest reservations? And the feminism? Love it.
Roque, Meme Consultant: Feminism's not going anywhere. But feminist theory has been dying a slow, deservedly violent death for decades. Luckily, the interwebs realized that all this peacocking Marxist/European nonsense can live on a new, better form: a source of lulz. This is much more useful to society. All it took was Gosling with his hey-girls, sentimental decency, and revealing tank tops to make us realize the comic potential.
For more Feminist Ryan Gosling, go here.
8. Rebecca Black
Grizzly: This one writes itself. I know the video got played out quickly, but any meme or graphic that dealt with Rebecca choosing seats, waiting for friends and so forth was quite excellent. Not to mention, she's been a pretty good sport about it and tried to release a few "serious" music videos to try and overshadow it. Good luck with that.
Roque, Meme Consultant: Ever since socialists won America the right to do nothing on weekends, we've taken Friday for granted. Admittedly, Ice Cube and Chris Tucker tried to rekindle our appreciation. Rebecca Black's matter-of-fact lyrics and alien voice not only invited us to reflect on the victories of organized labor, but also to reflect on the limits of Auto-Tune, orthodontics, and guest rappers.
To watch what started it all (again, hopefully), watch "Friday" here. For more meme-related lols, go here. Hell, do a google image search for "Rebecca Black gif" and enjoy.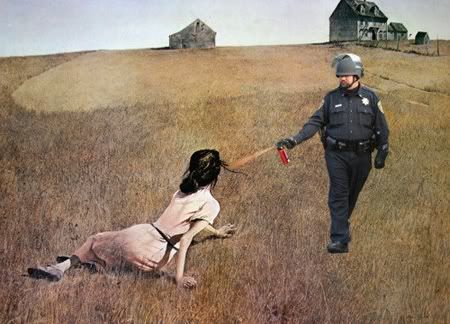 7. Pepper Spray Everything Cop
Grizzly: Pepper Spray Everything cop started amidst all this #occupy business going on. The meme itself is the only good to come out of such authoritative buffoonery. Glad that America prevails once again – turning tragedies to triumph.
Roque, Meme Consultant: Occupy Wall Street loves pepper spray cop. Because it's all drum circles and witty signs until a vegan lesbian gets pepper-sprayed. Then shit is officially real. And then it's ready to get laughed at. In short: yes, the 1% are probably behind the Pepper Spray Cop meme.
For more of the Pepper Spray cop, go here. You can catch the background information on the initial event as well.
6. Unimpressed Astronaut
Grizzly: This is a bit patriotic too, ain't it? What's better than the 'alleged' first man on the moon cutting down your first world problems in lieu of the great sacrifices him and his comrades made? We all love cynicism, and we all love America.
Roque, Meme Consultant: The idea here is a good one. Nothing you or the pantheon of elephant-people you worship will walk on the moon. But the execution has been so-so: too many of them have similar second lines. Which is why America is unimpressed with NASA and Houston didn't get a shuttle.
For more Unimpressed Astronaut, go here.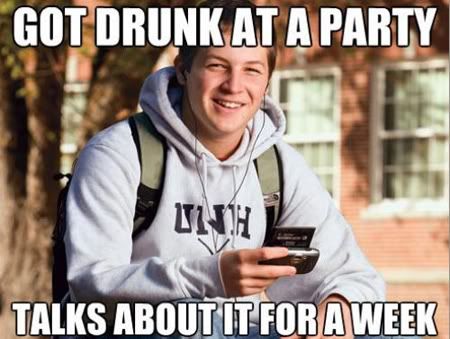 5. College Freshman/Uber-Frosh
Grizzly: For those of us that went to college, this resonates very deeply. We've all been there. I remember the week after I got drunk for the first time. Fairly certain I mentioned it to everyone, too. The spinoffs (mentioned below) deserve just as much praise too.
Roque, Meme Consultant: You knew this kid. He's seen all movies about college ever, but sadly those are the only movies he's seen. His mom bought him entire outfits from the Eddie Bauer Outlet and Costco and he never looked back. This kid—more chaste than Tebow, more annoying than Scumbag Steve—is a living, breathing refutation of higher education's ability to save our country.
For the best of College Freshman, go here. Semi-related: check out the spinoffs College Senior and Senior Freshman.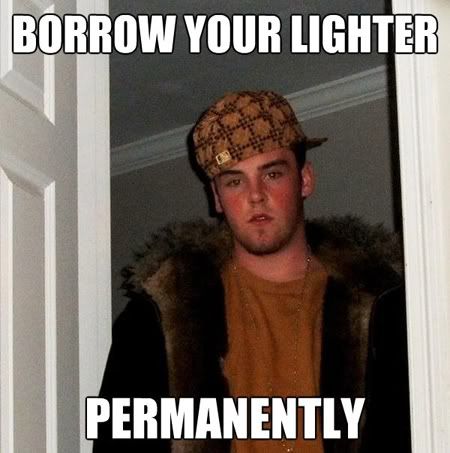 4. Scumbag Steve
Grizzly: Scumbag Steve is hilarious. What's even funnier is the endless possibility of spinoff from this particular meme. Photoshop the hat on Steve on any meme, and you can turn into a jerk too. But hey guys, be nice to Blake Boston. Hope you guys caught this excellent video interview.
Roque, Meme Consultant: Unfortunately you knew this kid, too. He means well, but yes, he does liberate all your lighters and borrow all of your everything all of the time. Your little brother probably bought a sack of oregano and pencil shavings from him. Maybe he even belonged to the cool clique in high school, but now he probably gives your parents so-so service at Applebee's to finance his addiction to painkillers.
For the best of Scumbag Steve, go here.
3. Watch the Cradle
Grizzly: I was turned onto this after Aziz Ansari kept reblogging the hell out of these. I love inappropriate memes (For the record, the Brazzers meme was in consideration for this list), so why not pair it up with a highly quotable record from 2011 that's one of my favorites?
Roque, Meme Consultant: The genius of Watch the Cradle is that it simultaneously (a) highlights the wall-to-wall humorless corny banality of Kanye's lyrics and (b) presents the transformative power of kids saying the darndest things.
For more Watch the Cradle, go here.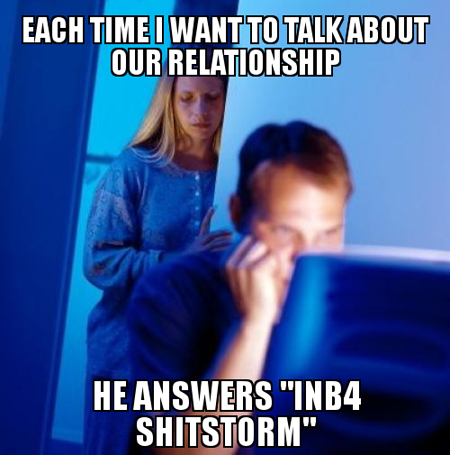 2. Internet Husband
Grizzly: Where's Xzibit?! Making a meme using other memes is an automatic recipe for success, valor and courage. Internet husband cares not for your spousal grievances. He will dismiss them in one fell swoop with a "pics or it didn't happen" or "inb4 the shitstorm." Do yourself a favor and go through all of these.
Roque, Meme Consultant: Internet Husband is the quintessential meme about memes. The meta-meme. The incepted, Xzibited Russian nesting-doll meme. Because as you sit back and take in its hilarious look at a lost social existence, you also stare into the abyss of meme addiction, and the abyss stares back into you.
For more Internet Husband, go here.
1. 60s Spiderman
Grizzly: Vintage/60s Spiderman has an obviously classic feel, but it's more than that. The nostalgia is great and all, but who would've thought this is how Spiderman fornicates with the sky, channels Tommy Wiseau, so on and so forth. Easily my favorite of the year.
Roque, Meme Consultant: The first hipster commandment is to "like their early stuff," but in the case of Spiderman, the early stuff is downright ridiculous. Luckily the second hipster commandment is to "like bad stuff ironically." Thus was it only a matter of time before Spiderman '67 and its impossibly bad animation, physics, and sense of human anatomy launched back into public consciousness.
Meme Consultant's last words: I think a few more memes deserve to be on this list. The Tea Party-looking taxidermist/resurrector Chuck Testa, the pair composed of First World Problems and its brutal counterpart Third World Success, Obama's Situation Room, the implant nightmares of the Bachmann and Buscemi eyes, and the inspired captions that belonged to Hipster Ariel. What should never be mentioned again: anything to do with Charlie Sheen, anything that involves strange poses in strange places whilst not making fun of Tebow.
For more of 60s Spiderman, go here. And here. And here too.
Guys, I can't wait till next year!!!!!!!!!!!!!!!!!!!!!!!
-grizzly & Roque Strew