show recap: big k.r.i.t. (february 22, 2012)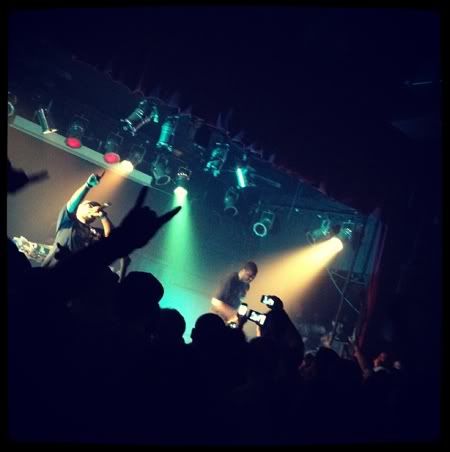 photo credit: grizzly's phone/instagram [forgot my camera at home]
After having caught onto Wuz Here sometime in 2010, my appreciation for K.R.I.T.'s vulnerable southern snarl was immediate. There's just something about the man that screams ingenuity and honesty. He's taken the absolute best (and believe me, there are only a few) things about southern rap music and ran with them, highlighting his ability to tell stories, producing incredible beats and turning heads all the while.
This show was supposed to be a release party for 4eva And a Day, his upcoming mixtape due out March 6th, but due to a push back (the original date was February 21st), K.R.I.T. kind of left himself in the dust. He had a slew of new songs to premiere and no one would know em – and surprisingly, Houston didn't seem to mind. Review after the jump.
-grizzly



photo credit: grizzly's phone/instagram [forgot my camera at home]
In typical Houston rap show fashion, there were to be about two too many openers. Thankfully, we managed to get out of all that, showing up just in time for local upstart Doughbeezy, who's rapping in support of his mixtape Reggie Bush & Kool-Aid," and his pending new release, BlueMania. His set was a little short, but he managed to get the crowd on his side, especially with the culmination of "Fuck You," for which he brought Killa Kyleon on stage for.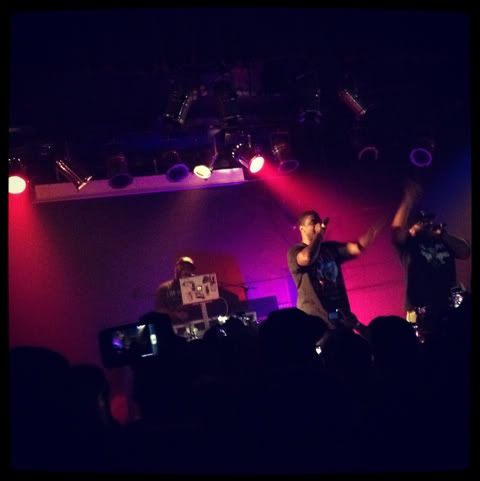 photo credit: grizzly's phone/instagram [forgot my camera at home]
Everyone was there for the Mississippi MC, though, and thankfully no one had to wait too long. At around 11:00 p.m. (early?!), K.R.I.T. hit the stage, wasting no time into letting the crowd get down to "Return of 4eva" and "Theme Song." K.R.I.T.'s demeanor was appreciative, and his stage presence too big for a stage like Fitzgeralds. There's a star here, as evident during performances of "Sookie Now" and "Rotatin," the latter of which got the entire venue to swing their imaginary steering wheels in unison.
Intermittently, K.R.I.T. made the unbearable nature of hearing new songs in a set completely bearable, never performing more than 1-2 verses from the 4eva and a Day material. Not to mention, there was a strong likelihood that he sandwiched it between two of his bigger, fan-favorited songs, making it hard to notice the transition in the first place. The crowd remained supportive throughout, throwing up their collective H's when Killa Kyleon came out for a thrilling performance of "Moon & Stars," and an even bigger performance of "Country Shit" with Houston's own Trill OG, Bun B.
Granted, there's only up from here for K.R.I.T. There's massive star potential, especially because his next single boasts lyrics like "Fuck these haters and fuck these hoes" – childish but endearing all the same. K.R.I.T. kept his wits about himself in check, closing his set with a downtrodden, crowd sing-a-long ("The Vent") — at a rap show. Read that again, folks. You ever heard 400 rap fans singing an outro together? Me neither. That whole "mainstream is cool, but in my heart forever underground" is the most accurate description of the rapper, and I have no doubts he'll continue to run with it.
[ed note: The only negative thing I'll say will be in footnote form. Where the hell was Chamillionaire and why didn't he perform "Time Machine"? And I was a little upset after not hearing "Highs & Lows," but I'll survive.]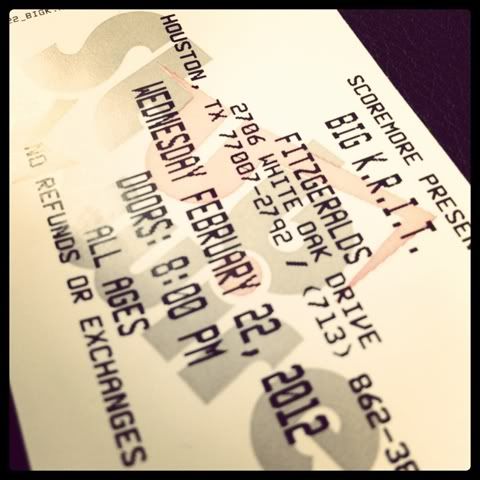 photo credit: grizzly's phone/instagram [forgot my camera at home]
[SETLIST]
Return of 4eva
Theme Song
New Song
New Song
Sookie Now
Just Touched Down
My Sub
Rotatin' [VIDEO.]
New Song
Money On the Floor
Moon & Stars [remix; featuring Killa Kyleon]
Glass House
Made A Lot
Hometown Hero
Country Shit (remix; featuring Bun B) [VIDEO]
Boobie Miles (New Song) [VIDEO.]
4Eva And A Day (New Song)
I Got This (New Song) [VIDEO.]
The Vent
[ed note: While I'm glad these videos are up, am I the only one who still wants to watch the show?]