show recap: A$AP rocky (february 26, 2012)

photo credit: marco torres/houston press
A$AP's blown up quite a bit, hasn't he? From being somewhat of an underdog at last year's CMJ Festival to opening up for Drake on the Club Paradise tour to headlining the Ballroom at Warehouse Live, his career's been fast-tracked, to say the least. Expectations were high, the show was sold out, and the rumors were buzzing.
Hit the jump for the recap.
-grizzly


photo credit: marco torres/houston press
Entrance into Warehouse Live was met with a cloud of weed smoke, two hours before A$AP even hit the stage. The crowd was YOUNG, and I'm not talking about young college students. The "all ages" tag brought the teenies out in full force, and this was a show of trends to say the least. I had put up a tweet about this, but I can't help to poke fun at the fact that some of the rappers around now (Notables: Big Sean, Wiz Khalifa) are style icons for these youths. Hopefully, they'll learn to pave their own way, but for now, they were here to attend the hottest show Houston's had to offer in months. OG RON C and DJ Candlestick spun. Elroy Boogie spun. And finally, the openers.
Uzoy hit the stage first, which was a pleasant surprise. The MC Lyte-light comparisons were in full swing as she ran through songs off of her mixtape, The [DEF]inition. We're definitely excited about what she's working on next. Ms. Uzoy's set was to be followed by the second Doughbeezy set of the week, following his impressive set at the Big K.R.I.T. hoopla at Fitzgeralds this past Wednesday night – and he didn't disappoint the second time around either.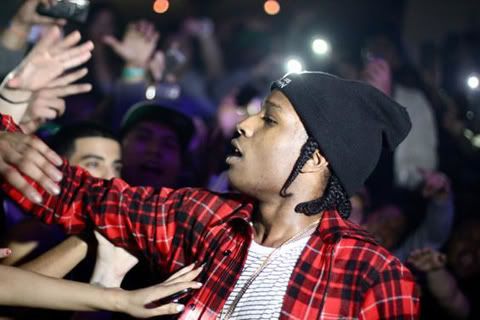 photo credit: marco torres/houston press
A$AP hit the stage with a song that wasn't "Palace," which makes no sense. How could you not kick your premiere in Houston with "Got damn, how real is this?" He had a lot of energy for a small guy, but this insufferable crowd made the show hard to enjoy fully. I'm five-eight, and couldn't see a thing from where I was at because everyone was using their cell phone cameras to film the entire show. Regardless, they found enough arm space to do Drake's dance from "The Motto" during "Wassup," singing along to every one of ASAP's words.

photo credit: marco torres/houston press
One thing I loved about A$AP's set: He didn't make a big deal out of the obligatory Bun B feature. Sure, it's commonplace when Bun hits the stage to perform one of his own songs, but the Trill OG gave the young MC a cosign for the ages, without so much as a hesitation. Good for Rocky. Getting told to "stay trill" is about as good as it gets from the crowned king of H-town. Peeling off layers of LiveLoveA$AP throughout his set, Rocky blazed through (heh) and performed everyone's favorite songs, including "Purple Swag," "Get Lit" (sans Fat Tony, we miss you man!) and "Brand New Guy."
The show culminated in one of the biggest shockers of the evening, a surprise appearance from Kendrick Lamar, who so eloquently engineered a crowd of a 1000+ to yell "Fuck Daht" in unison, while he performed "ADHD" on his off-date from Drake's Club Paradise tour. A show-stealing appearance, to say the least. After a LOUD performance of "Bass" and an ASAP Mob-assisted "Trilla," the show would end with a lively rendition of his new hit, "Pe$o," after which he invited all of Houston on stage to dance/mob with the honorary hometown hero until the lights came on and Warehouse Live kicked everyone out for taking this thing to the max. You remember that Girl Talk show from 2008? Yeah, it was kinda like that. Hey, that was at Warehouse Live too!
Notes:
- I was really tired. It probably hindered my enjoyment capacity. I found the energy to cook to a few songs, but outside of that, I was reaching.
- This was the worst rap crowd I've ever been a part of.
- Pretty sure a guy who came (see: RAN) in strapped was pulled out swiftly. God bless 5 Star Security. You guys did a hell of a job last night.
- 4 drunk sluts were carried out. 1 drunk slut laid down in her own vomit before she was carried out by security. It's a Sunday, folks. Even people without jobs can be responsible for their own actions.
- No more all ages rap shows. Scoremore has done an unbelievably awesome job bringing great young artists to Houston lately (seriously) but some of us gotta start acting properly.
- I realize I am complaining a lot about the crowd here, but I feel obligated considering the fact that I paid money for this show and felt a "threat level yellow"s worth of danger. The truth is, I ENJOYED the show. I just wish the crowd kept themselves in check a little more and acted a lot less reckless, so as to not ruin other people's times. Much love to Warehouse Live to keeping everything running smoothly.
[SETLIST]
Pretty Flacko
Wassup
Purple Swag
Get Throwed [Bun B]
Brand New Guy
Get Lit
Roll One Up
A.D.H.D. [Kendrick Lamar]
Bass
Trilla
Pe$o
-
Still Tippin [Slim Thug]