show recap: childish gambino (april 5, 2012)

photo credit: weworemasks
Donald Glover had to postpone the first three weeks of the Camp Gambino tour due to a broken foot, pushing the start date all the way to the Texas run, which included a stop at Houston's House of Blues. Having not seen any proper reviews for the tour, I wasn't sure what to expect. Was he going to possess the same energy and livelihood of his narcissistic, but fantastic IAMDONALD tour? (He did.) Would having an opener hinder his creativity? (It didn't.) Would Camp go over well live? (It did.) Will his broken foot affect his performance? (It didn't.)
Recap after the jump.
-grizzly



photo credit: weworemasks
While Danny Brown is musically entirely different from Childish Gambino, it's hard to believe there would be any other artists out there relevant and appropriate enough to open the show. Sure, his vulgar approach to sex and drugs split the crowd in half, but by the end of the set, it seemed a lot of the crowd finally understood what he was doing up there. As Danny jumped from end to end in his high-top neon sneakers, he acclimated viewers to his abrasive style with mentions of his Houston influences, as any good performer would do. Brown doesn't exactly care to be serious, as shout outs to Rico Suave and shaved female genitals were intertwined between performances of songs from his acclaimed XXX, including "Radio Song" and "Blunt After Blunt."

photo credit: weworemasks
The Camp Gambino tour felt like the polar opposite to what was expected from this tour. Glover kept the chatter minimal, which was a bit different from the last time he was here: joking with the crowd (even outside of his stand-up set) and bantering between songs. All of that was bypassed for a jam-packed hour and a half performance, perfectly blended seamlessly with picture perfect lighting and visuals on a giant backing LCD screen.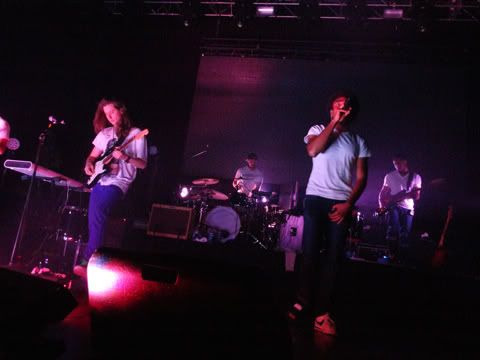 photo credit: weworemasks
Amidst performances of almost all of Camp, Culdesac was given a proper showcase. This wasn't expected from me personally, as I was expecting a strictly Camp and EP-heavy setlist, with maybe one throwback. EP only found its way into the set with an early performance of "Freaks and Geeks" and an encore-closing "Lights Turned On." One thing that was all but obvious: patrons of this particular show were "nu-Gambino," however, as a look of confusion fell over a good portion of the crowd during performances of "Difference" and "Fuck It All."

photo credit: weworemasks
It's hard to believe there's any review of a Gambino show without mention of his impeccable band, so here goes. Between right-hand man Ludwig Gorransen, a violinist and a trifecta of drummers, this is one of the most impressive "hip-hop" bands currently out there. There isn't a song on the setlist that wasn't roided up when backed by the band, which includes the awful "You See Me" and the fan-favorite "Heartbeat." Everything on Camp sounded better on stage, and most fans responded accordingly, projecting the same loud energy back to the front of the venue. The shoo-in highlight of the night came during "L.E.S.," Glover's ode to NYC's date culture, which was given extended intros and outros, as well as an entrancing video to boot. As the waning months of June and July near closer, everyone's going to come around on impressive tours, but Camp Gambino is definitely setting the tone for the rest of the summer.

photo credit: weworemasks
[SETLIST]
Outside
Firefly
Freaks and Geeks
So Fly
Do Ya Like
Backpackers
Difference
Fuck It All
I'm On It
It's On
All the Shine
L.E.S.
Letter Home
Heartbeat
You See Me
Bonfire
Sunrise
-
Twistclip Loop
Freestyle
Lights Turned On