mixtape: the game – california republic [NO DJ] (2012)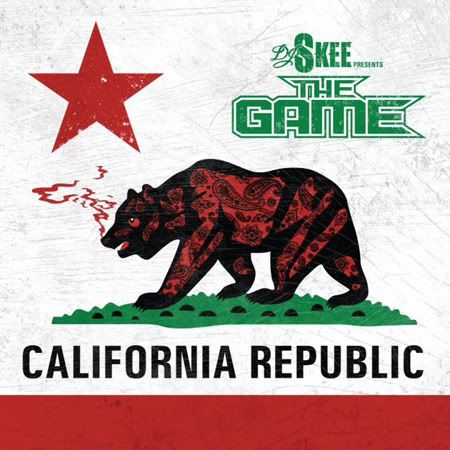 and just as soon as it got announced, the game's brand new mixtape drops. with skee's name attached to it, i can pretty much guarantee i won't download this until the "no dj" surfaces. hit the jump for the tracklisting and see ya when it's a no DJ!
WELL THAT WAS QUICK!
download:
the game – california republic [mixtape]
-grizzly

California Republic Tracklist:
01. God Speed (feat. Mele)
02. Red Bottom Boss (Rick Ross)
03. The Drill (fear. Ace Hood and Meek Mill)
04. Hit The J (feat. Lifestyle)
05. Mean Muffin (feat. 2 Chainz and French Montana)
06. Yonkers Freestyle Base (feat. Nobody)
07. Death Penalty (feat. Fabolous, Eric Bellinger, Slim Thug)
08. Bottles and Rocking J's (Remix) (feat DJ Khaled, Busta Rhymes, Rick Ross, Fabolous, Teyana Taylor)
09. Tonight (feat. Mele)
10. Greystone (feat. Fat Joe, Young Chris, Sam Hook)
11. Pussy Money Weed (feat. Kid Red, Lifestyle and Ben J)
12. Gone Ahead (feat. Sam Hook)
13. Now That I'm Paid (feat. Rick Ross and Mele)
14. Skate On (feat. Lupe Fiasco)
15. When My Niggas Come Home (feat. Pharrell and Snoop)
16. It Must be Tough (feat. Pharrell and Mysonne)
17.She Want To have My Baby (feat. Trey Songz)
18. Come Up (feat. Drake and Lifestyle)
19. Cats and Dogs (feat. Kobe)
20. The Logo (feat. Lifestyle, Cyssero, Mele)
21. The Best Revenge (feat. Lyfe Jennings and Denise Janae)
22. They Don't Want None (feat. Shyne and Pharrell)
23. Bills Is Padi (feat. Nipsey Hussle and Sam Hook)
24. Roll My Shit (feat. Snoop Dogg and Pharrell)