the week in sports: 5/7 – 5/13 (2012)
Just because our site is undergoing construction, doesn't mean we won't be keeping up with features like this one. Hit the jump for the breakdown of this week's biggest sports news. Oh, and if any moms read this blog, Happy (belated) Mother's Day!
-grizzly and vish bhatt (@thevhb)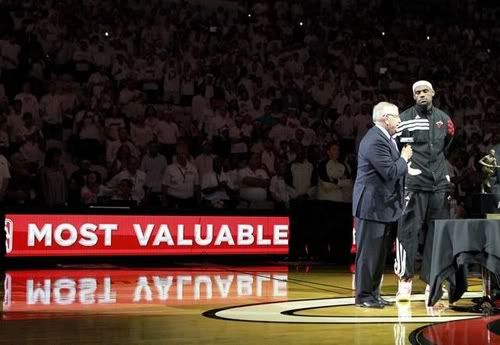 NBA News:
Lebron James will win his 3rd Most Valuable Player award in 4 years. He's in very good company. Props to Lebron, who would like to (see: needs to, for player validation) have a ring this year as well.
Kyrie Irving of the Cleveland Cavs will win the NBA Rookie of Year. Congrats to him on a great year.
In other Heat news, Chris Bosh left Game 1 against the Pacers Sunday afternoon with an abdominal strain. He had an MRI today, and will be sidelined indefinitely. A significant loss for the Heat.
Be sure to check out our Conference Semifinals analysis and predictions.
The #1 seed, San Antonio Spurs swept the Utah Jazz and will play the LA Clippers, who played the final game of Round 1 on Sunday.
What seemed to be just a dislocated Patella, Baron Davis got bad news following the Knicks' Game 4 victory. Davis rocked his knee (partial tear in patellar tendon, complete ACL and MCL tears). At 33, it will be interesting to see if see Baron Davis play again.
After losing game 1 of the series, the Indiana Pacers won 4 straight to knock out the Dwight-less Orlando Magic, winning their first playoff series since 2005. They lost their first playoff game against the Heat.
The Lakers and Clippers each advanced following thrilling Game 7s against the Nuggets and Grizzlies, respectively. If you're keeping track, the Staples Center will be very busy in the coming weeks, with the LA Kings (NHL), Clippers and Lakers all in the playoff race.
Other tidbits:
-Columbus, Ohio's mayor has openly campaigned to bring an NBA team to Columbus. Even though it probably won't happen, it'd be awesome if it did.
-During a post-game press conference, Chris Paul's kid does his imitation of the "Blake Face."
NHL Stanley Cup Playoffs:
The New York Rangers beat the Washington Capitals in game 7 to advance to play the Devils in what will be a great series. I believe the New York Rangers will beat the Devils in 7 games to face the Kings in the Stanley Cup Final.
The Phoenix Coyotes continue to surprise people, despite being the #3 seed. They beat the Predators in 5 and will play the Los Angeles Kings in the Western Conference Finals. The Kings won game 1 Sunday evening, and continue to build on their momentum this post-season. I think the Kings will beat the Coyotes in 6 to advance to Stanley Cup Final.
The New Jersey Devils advanced past the Philadelphia Flyers to reach the Eastern Conference Finals.
MLB News:
– Josh Hamilton of the Texas Rangers goes 5 for 5 with 4 HRs and 8 RBIs in a game Tuesday Night against the Orioles. He is still in beastmode.
– Guillermo Mota was suspended for 100 games after failing his second drug test. The San Francisco Giants is depleted even further in a time they don't need it to.
– Cole Hamels of the Philadelphia Phillies was suspended 5 games for admitting that he intentionally hit Bryce Harper . In other Bryce news, he gave himself 10 stitches after a temper tantrum thrown in the dugout, which ended in a bat bouncing off of a wall and popping him in the face. Yeah, seriously.
– Andy Pettitte started for the Yankees Sunday afternoon at the age of 39. He didn't get the win, but didn't look all that bad.
– Joey Votto had 3 HRs Sunday, including a walk-off Grand Slam.
Injuries:
– Matt Kemp left the game on Sunday with a hamstring injury. Could be a major blow to the Dodgers if he is out for an extended amount of time.
-The Washington Nationals' catcher, Wilson Ramos has a torn ACL and may be out for the entire season. Huge loss.
NFL News:
Wide Receiver great, Cris Carter said that he had put out "bounties" on defensive players (specifically Bill Romanowski) during his playing career and that he was not the only one to do so. Bill Romanowski then defended the claims made by Carter saying he never said such things. Somebody out there is trying to troll the hell out of Roger Goodell right now.
Soccer News:
Man City scored two goals in stoppage time to win their first EPL title since 1968.
PGA:
Matt Kuchar won the Players Championship posting a 13 under par to win by 2 strokes.
NCAA News:
-The Big East Commissioner, John Marinatto , resigned on Monday. It seems as though Marinatto was forced out by Big East teams' presidents, but Marinatto only said that "it was his time to step down and let someone else lead them to the next level."
-The NCAA is supposedly looking into one of the top recruits in the nation, Nerlens Noel, who has committed to going to Kentucky .
–VCU is the second school heading to the Atlantic 10 in 2013. Butler was the first to do so.
What to Watch this Week:
NHL Stanley Cup Playoffs:
Conference Finals: LA Kings vs Phoenix Coyotes and New Jersey Devils vs NY Rangers
NBA Playoffs:
Round 2 of the Playoffs is finally underway.
MLB:
3 game series: Baltimore Orioles at Washington Nationals
3 game series: St. Louis Cardinals at LA Dodgers
3 game series: Cincinnati Reds at New York Yankees
3 game series: Chicago White Sox at Chicago Cubs
Thanks for reading!
-grizzly and vish