show review: the cult + against me! (june 19, 2012)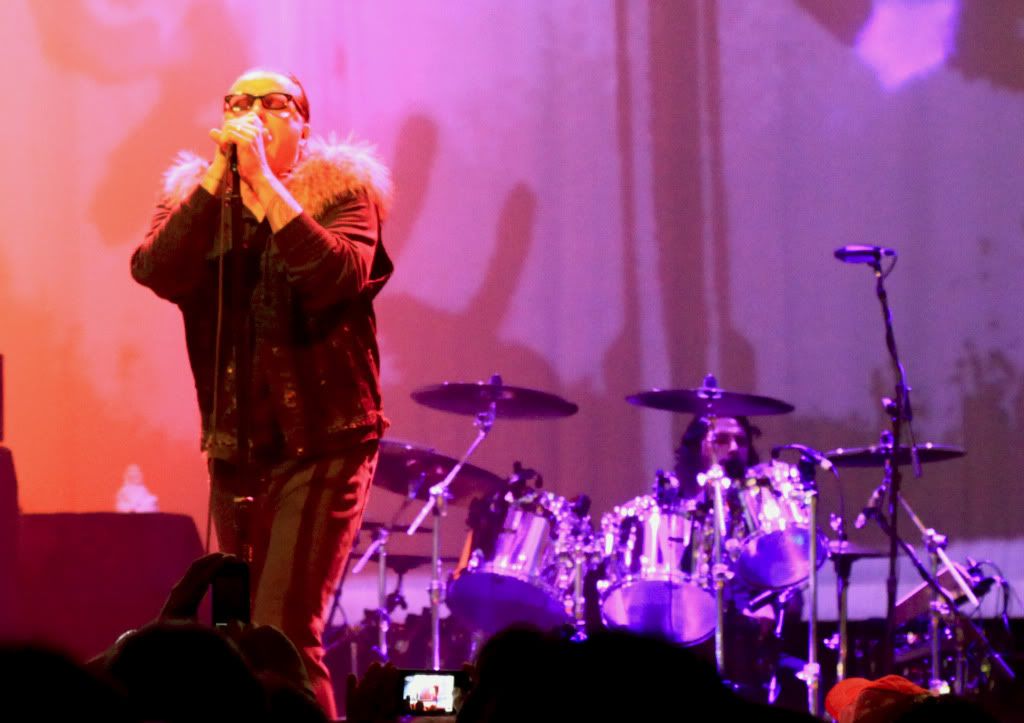 Last night's show at the House of Blues was a generational clash of the titans. In the direct support slot, playing as hard and fast as any former-anarcho-punk can was Against Me!, whose frontman Tom Gabel made a huge wave in the music scene by coming out as transgender and embracing her new female identity as Laura Jane Grace. The headliner of the night was the shamanistic, heavy metal revivalists The Cult, whose latest album Choice of Weapon is pedal to the metal packed with soaring choruses and hearty guitars.
The generational divide in the crowd could not have been any more palpable either, with the younger guns an organized chaos of pumping fists and black t-shirts, and the more "mature" masses a sloppy deluge of spilled beer, hootin' and hollerin', and an even ratio of Target-brand Merona dress shirts to vintage Rush tees. Bolstered by their favorite band's music roaring through the speakers at eardrum-shattering volumes, every one of all ages rocked out all the same.
hit the jump for the full recap.
– sunbear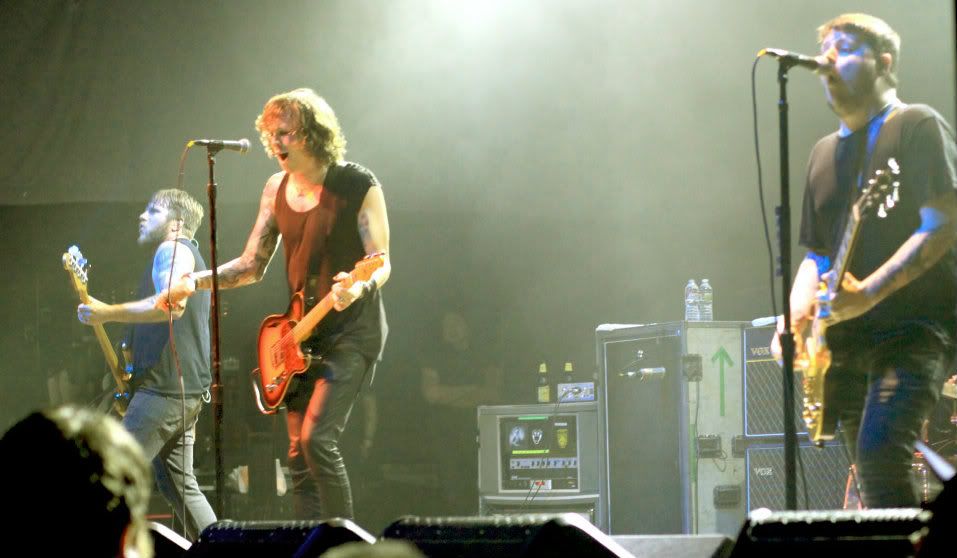 Hitting the ground running with a one-two punch of unreleased material from their upcoming album Transgender Dysphoria Blues, Against Me! were at their finest, which is to say, throat-wrenching, spitfireiest. Laura Jane Grace could be in a really vulnerable place in her life, undergoing hormone therapy and adjusting to the changes in her body, but onstage she is at her most confident, looking very comfortable in makeup, earrings and heels.
There's a few noticeable bodily tendencies that show off her new feminine side – hands finding her hips, or just her natural gait when she saunters around the stage (maybe the heels' doing), but what was erupting from Grace was classic Against Me! as the band roared though many back-catalogue favorites like "Turn Those Clapping Hands Into Balled Fists" and "The Ocean," the latter song taking on a whole new meaning with the new frontwoman.
I'm don't think any of The Cult's fans, most who undoubtedly have never heard of Against Me!, were prepared for the ferocity of the band and the die-hard sing-alongs they can orchestrate with songs like "Don't Lose Touch" and "Sink Florida Sink," but by the end of their manic set, all applause and respect for the band was well deserved and maybe even a few converts had been made.
Coming onto the stage behind schedule, and stirring the anticipation of the crowd, who only got even more anxious and drunk as they waited, The Cult's Billy Duffy kicked off the opening riffs of 1987's "Lil Devil" and opened the floodgates for the whole of House of Blues to get crazy rowdy.
Ian Astbury cast a mighty shadow from center stage, wearing black sunglasses and a furry coast that recalled Star Wars' Hoth-fashion. In full control of the crowd and charismatic as ever, he bellowed out many fan favorites and stirred in some Choice of Weapon material, hollering "Have you been living in a cave? We made our best album ever" before kicking into Weapons' "Lucifer."
Even if The Cult diehards were unfamiliar with their new music, you'd never know by how crazy everyone was going off. You know there's always "that guy" at concerts? The one so enthusiastic, who lets the music take over his body till he's ruptured off in a fit of spasms, though I'm sure to him it's "dancing?" That was everyone. So much so that security had to jump in during "Nirvana" to ease the commotion. Seriously, "Nirvava?" At least everyone was lively.
"Fire Woman" brought the house down, as well as did set closer "She Sells Sanctuary." Even the energy of the upstairs balcony caught the attention of Astbury, who was ribbing the crowd on their "good ol' boys" Texas enthusiasm. What can we say, Ian? We're a rowdy bunch, more so when you break out the Love material.
SETLISTS
AGAINST ME!
True Trans Soul
Transgender Dysphoria Blues
Don't Lose Touch
Turn Those Clapping Hands Into Balled Fists
I Was A Teenage Anarchist
White Crosses
Black Me Out
Thrash Unreal
Pretty Girls
The Ocean
Pints Of Guiness Make You Strong
Sink Florida Sink
THE CULT
Lil Devil
Honey From a Knife
Rain
Lucifer
Nirvana
Embers
Fire Woman
The Wolf
Rise
Phoenix
For the Animals
Wild Flower
She Sells Sanctuary
Love Removal Machine