show recap: vans warped tour (july 1, 2012)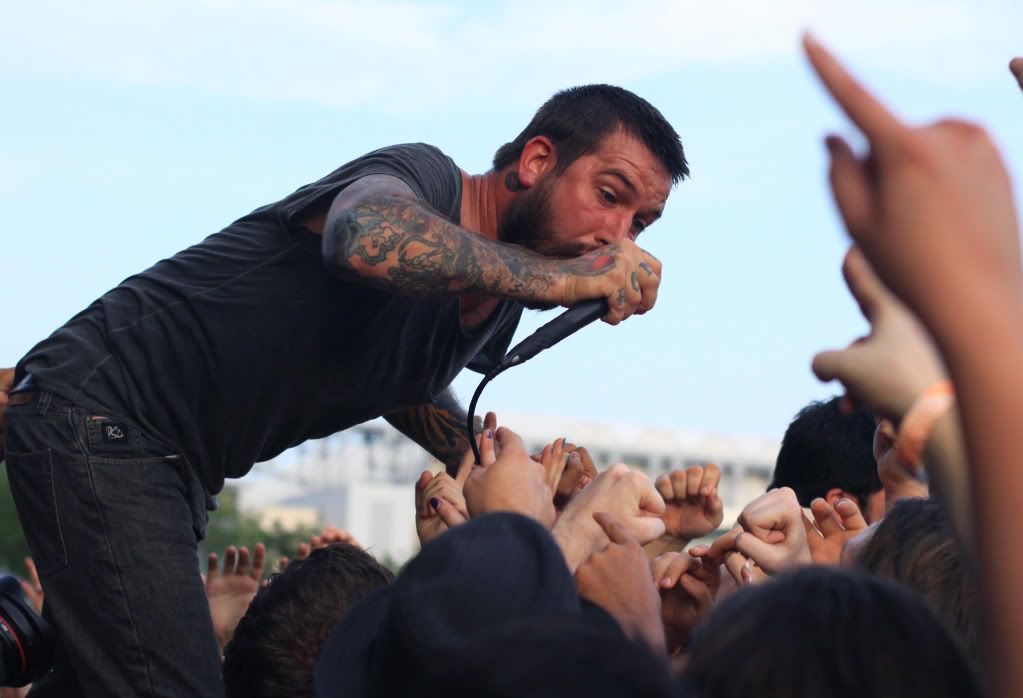 The Warped Tour is the longest running touring music festival in the world. And in it's 18th season, they're sticking to the formula that brought 'em this far. 2012 seemed to be the year that many bands of years' past had come back to the table to bring a day of rock and roll, skateboarding and outfits parents probably wouldn't approve of. Veteran acts like New Found Glory and Taking Back Sunday set out to share the stage with newer, younger bands like Breathe Carolina and We The Kings to cover a larger demographic than expected. The tour's Houston stop came on July 1, moving back to Reliant Park for the first time in six years.
Hit the jump for a slew of photos and a recap of the days events.
-grizzly


The day started off with a media tent blunder, which proved that finding a media tent for press check-in can be harder than it seems, especially when you're dealing with a confused and uninformative staff. The rain didn't help, either. Due to aforementioned blunder, we had to miss the ruckus known as Vinnie Caruana's I Am The Avalanche, to the disappointment of us. But the day kicked off with side-by-side sets from the energetic Four Year Strong, a band we're fairly infamiliar with, but a set we braved through.
Mall-rat favored All Time Low and Side One Dummy's Title Fight played near each other at the same time, proving for the day's first stark contrast. The poppy leanings of the group that made that "Dear Maria" song we secretly love so much shared split set time with the Pennsylvania punk outfit, as we mingled back and forth between the two while we awaited acts on our "must see" list.
Make Do and Mend dominated the Tilley Stage at 2:10 p.m., after catching a few song from Into It. Over It.'s set at the Acoustic Basement. The band's snarled rock n' roll won all of us over, as they played songs spanning their entire discography. Notables from the set included the newly-released "Disassemble" and End Measured Mile's closer "Night's the Only Time of Day," which both respectively got huge sing-a-longs from the rain-soaked crowd.
Being a bit older than the typical Warped Tour demographic, we found solace and shelter from the Acoustic Basement tent. The tent was set up by the talented Brian Marquis, who delivered a powerful acoustic presence, rounded out with a cover of Thrice's "Digging My Own Grave," among songs from his new EP.
Kristopher Roe of The Ataris took next billing, as the crowd hovered around the beloved frontman as her performed a slew of songs from the esteemed discography of The Ataris. Roe was in true form, bantering back and forth with the crowd as he took requests for songs like "So Long, Astoria" and "Your Boyfriend Sucks." The aging pop-punker in me loved every bit of Blue Skies that got shine, as if "San Dimas…" could ever get old.
Anthony Raneri had about an hour and a half before his set with "his side project**" Bayside, but he took to the Acoustic Basement tent with excitement and played a half an hour set of acoustic tracks. He took mainly requests, shying away from songs he'd play with Bayside shortly. The short, earnest frontman played equally earnest tracks like "Landing Feet First" and "Megan," both of which were crowd favorites.
[ed note: ** he joked about Bayside being his side project]
Back to the Tilley Stage we went, with promises of back to back sets from Polar Bear Club and Bayside. Polar Bear Club frontman Jimmy Stadt wasted no time jumping into the crowd and leading a chant into the NY post-hardcore band's "Bottled Wind" from their latest album Clash Battle Guilt Pride. Stadt kept the energy high, leading crowd chants and fist pumps for "Living Saints," his voice an impressively gravely bellow.
The punk-rock brotherhood mentality found its way back to the Warped Tour – a notion that was in full effect on the Tilley Stage. Which for the record, was definitely the "best" stage at Warped Tour. Considering the fact that the lineup consisted of bands that had toured together plenty in the past, there was a sense of camaraderie in the fact that members of Band A were on stage reppin' shirts from Band B and C. PBC's Stadt sported a Make Do And Mend tank, a look that was returned, vice-versa, by the MDAM boys in their PBC jerseys. Posi points for these guys, huh?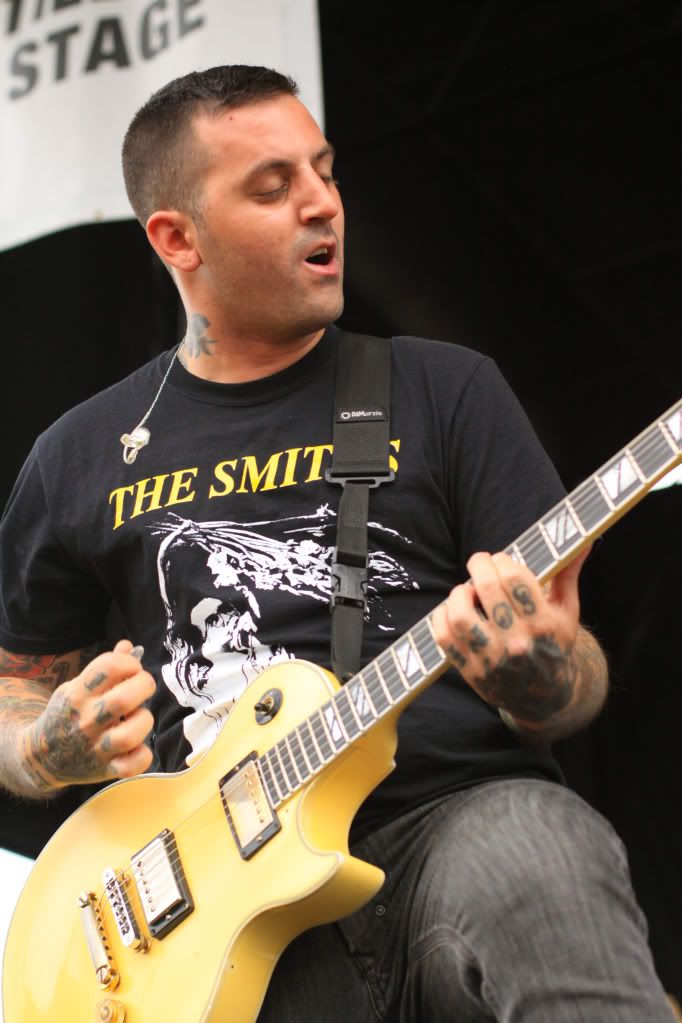 Bayside's full band set, while good, wasn't what it could've been. By the time 5:00 p.m. rolls around, festival go-ers were hot, bothered and tired and not in a good way. The band themselves even took a few shots at the crowd, saying they looked bored, but to minimal reaction. Granted, the Houston set was in full effect, but a band like Bayside thrives off of how much energy a crowd gives back to them, as evident in rushed versions of "Carry On" and "Already Gone." Granted, Anthony Raneri's acoustic set may have put a damper on his voice, but the band remains to be consistent and entertaining, no matter the situation.
Taking Back Sunday was a headlining act on the tour, and drew one of the largest crowds of the day at the Kia Soul Stage. The band's set time fell on the ass end of the day, making it easy to plan the day's end after Taking Back Sunday's promising set. The band bellowed through tracks from all records – a surprising stance for a newly-reformed version of the "original" incarnation of Taking Back Sunday. Forgoing songs from Tell All Your Friends for tracks from Louder Now seemed to be in vain, as John Nolan only seems out of place singing Fred's parts. Don't get me wrong, the band was good – but something was missing.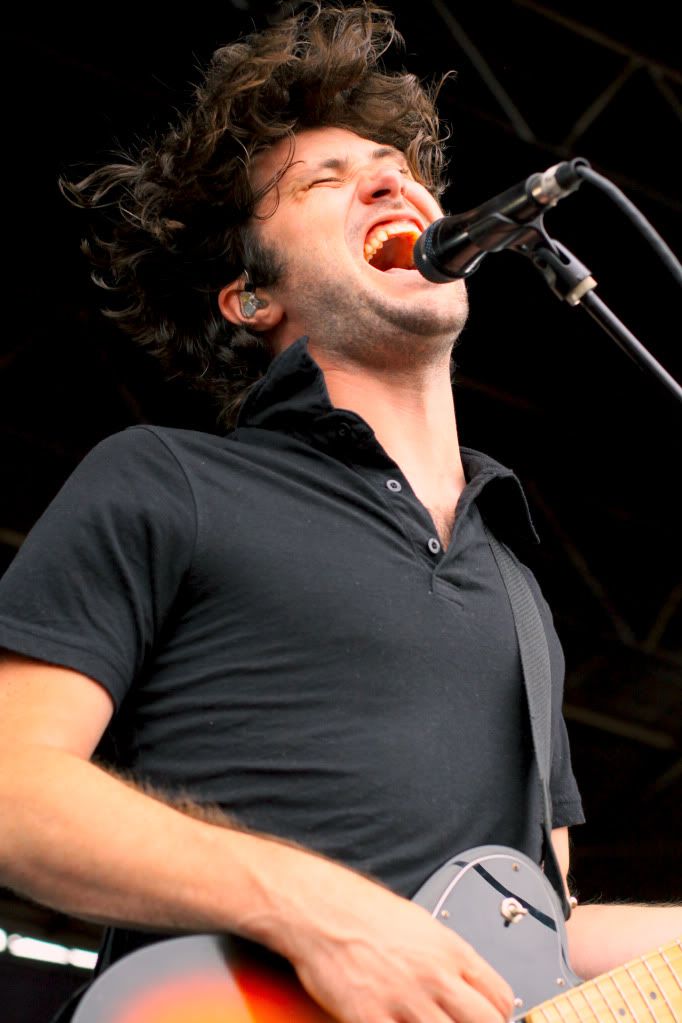 Adam Lazzara looked sluggish and tired, moving through the motions of a greatest hits setlist. During the New Again era of the band, the likes of Matt Fazzi and Matt Rubano had no choice but to play a greatest hits. John Nolan and Shaun Cooper have gone through two albums with Taking Back Sunday, but the band's newest album was missing from the setlist outside of two songs – conveniently singles. One thing worth mentioning, is that the "newer generation" of Taking Back Sunday fans are drawn to "MakeDamnSure" as opposed to the "Cute Without the E" leanings of year's past, a song that only drew a lukewarm response from the Warped crowd.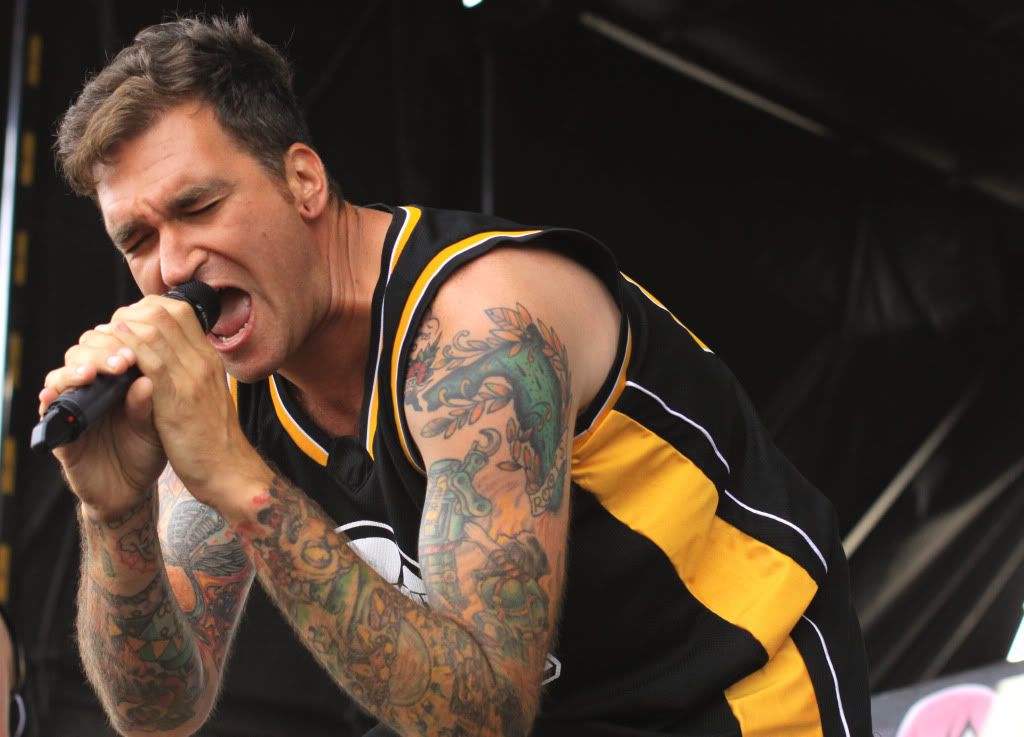 Us bears always have discussions about live acts. New Found Glory is always classified as one of those bands you can see at nearly any given point in any given venue – they're bound to deliver a fun set. And like Taking Back Sunday, the band has grown pretty complacent with setlists over the years, but they always bring out 100% energy. The graffiti-clad stage set up and the custom-made jerseys the band donned were a fantastic approach to aesthetics – an aspect of the band that has yet to be explored in full.
NFG flew through their 30 minute set, packing in performances of "Understatement" and "Hit or Miss" into faster, stronger and more compact versions of their recorded counterparts. The band mentioned that they hadn't been on the Warped Tour in five years, and it's definitely worth mentioning that they were missed. In their absence, the pop-punk climate has grown increasingly cheesy, as bands have meddled with the formular due to the EDM explosion. NFG subtracted the frills, added in a cover of Green Day's "Basket Case" and rocked out in an appreciated "easy-core" fashion.
Every Time I Die had promises of ending the day in a very, very loud fashion. A pair of earplugs that had been given to us in the photo pit hours earlier had never meant more – their set was played at a destructive decibel level. Opening up with "No Son of Mine" leads me to believe that no ETID set should be opened in any other fashion. The now-bearded Keith Buckley threw on a grimey shirt and took to the stage, leg up on the speaker and hurled out "Don't ever say rock n' roll" as one of the tour's true heavy acts. A band can have a breakdown, but it's not in the same vein of complexity, nor is it as relentless as ETID's frenetic brand of metal.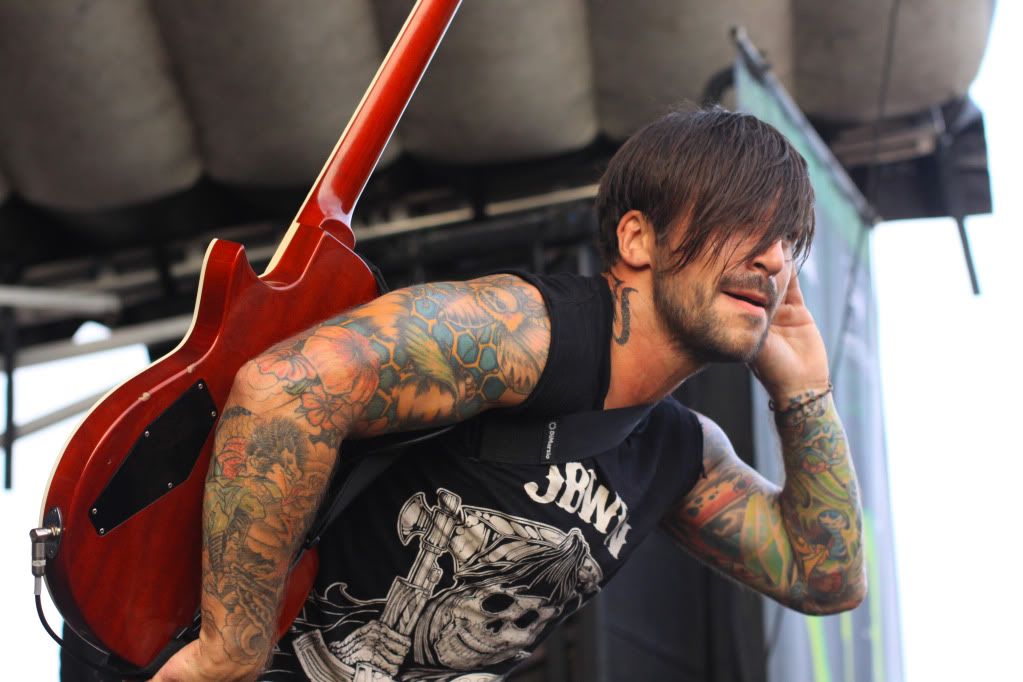 After headlining festivals and opening for Gwar in 2011, I was pretty surprised to see Every Time I Die on a side stage. Prior to the show, I wanted to give the folks behind this decision a proverbial slap to the face. As soon as the show started, I forgot how well ETID does in compromising positions. They took the smaller stage, made it their bitch and shredded through the likes "We'rewolf," "Kill the Music," and right on time – the set-ending "Ebolarama." The side-stage thing became a non-factor by set's end, as Jordan Buckley leaped into the crowd with his guitar in his hand, as the crowd allowed him to surf his way back to the band's merch booth, ending the set and our day on the best possible note for a Summer music festival.