show recap: mewithoutyou/kevin devine (august 4, 2012)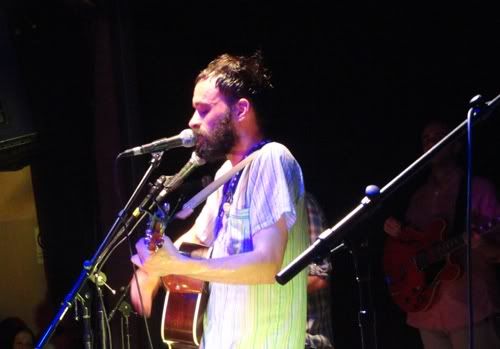 photo credit: weworemasks
The WWM frontier on shows has been slow as of late, so we jumped at the opportunity to catch a good lineup in mewithoutYou, whose supporting their brand new record Ten Stories, and our forever-buddy in Kevin Devine. The two have crossed paths before in the past, what with all the Brand New touring and all.
Not to mention, Warehouse Live's Studio provides an unmatched intimate show-going experience that seems few and far between these days. Hit the jump for the recap.
Oh, and please forgive the pictures. Spotlights everywhere and no photo pit.
-grizzly



photo credit: weworemasks
The night's openers were Buried Beds, a hearty Americana-influenced outfit out of Philadelphia, PA. Having not heard them before, their smooth, peppy pop-rock songs quickly won over Warehouse Live, currently in 'trickle-in crowd' mode. At the time, easy comparisons to River City Extension were made, if not only for the fact that they harbored a chamber-rock aspect, with violins, auxiliary percussion and dueling vocals. But their separation lied in the vocals, as the band played songs from their 2011 record, Tremble the Sails!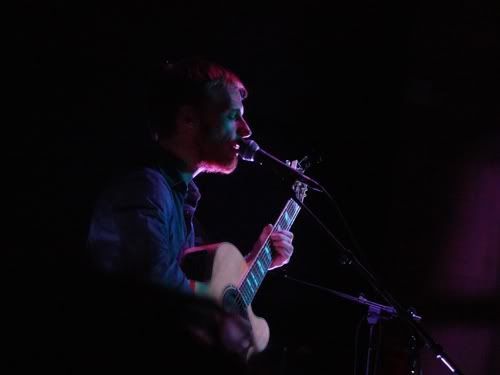 photo credit: weworemasks
It's been a good minute since we've last seen Kevin Devine sans the Goddamn Band, and it's clear as day that we missed the hell out of it. Kevin is always a top notch performer, band or not, but there's something about the vulnerability he bears on stage when it's just him, a guitar and his words. As he always does, Kevin played a wide variety of songs, spanning all of his albums. He's going to win you over with entirely acoustic renditions of "Between the Concrete and Clouds," just the same as he'll play a "cover" of a Bad Books track in "Mesa, AZ."
But Kevin's dexterity as a performer isn't just in the actual musicianship. Above all, he's just a nice guy who loves playing music. Longtime fans of Kevin found themselves happier than hell when he played old favorites like "Brooklyn Boy" and "Ballgame," the latter of which has every right to be an acoustic staple of his. But as he has since the release of Brother's Blood, he closed his set with the album's title track, a performance words on a website don't necessarily do justice to.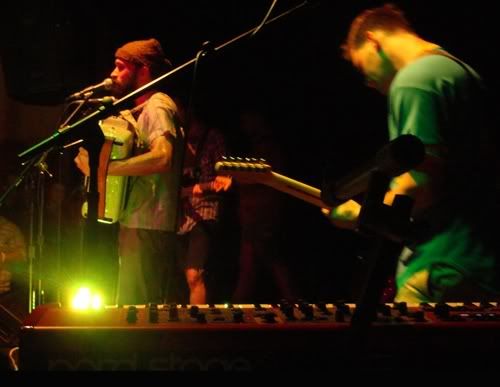 photo credit: weworemasks
After their own personal existential crises with religion on 2009′s It's All Crazy!…, I ended up taking a step back from mewithoutYou, which was convenient because of their own hiatus. However, 2012′s Ten Stories got me (and I'm sure many others) back on board with the band. Their first tour in support of the album didn't disappoint. While older material wasn't completely ignored, the bulk of the setlist was Ten Stories, seeing as how 7 of the album's 11 tracks were performed. Songs like "All Circles" came alive, and one of the main reasons was that the entire band was busy playing instruments.
For those who've seen mewithoutYou in the past, you're surely familiar with the 'in-tune to nature' cross this band has always wanted to bear. They were one of the first touring bands using a van run completely on vegetable oil, as Aaron Weiss draped himself with flowers, garlands, and the band played on a grassy carpet like-object for years. Take all that out and throw a shit ton of guitars and an accordian into Weiss' hands, and you have the current incarnation.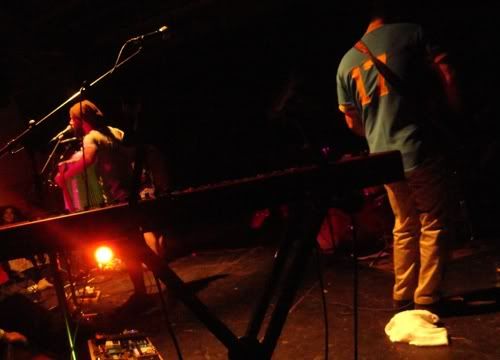 photo credit: weworemasks
The band zipped through their set, slightly over an hour long in length. Fans of the older material found themselves in the crosshairs of excellent setlist choices in "Tie Me Up! Untie Me!," "Wolf Am I!" and a personal favorite in "Paper Hanger." Drummer Rickie Mazzota plays with such effortlessness and ease that it's hard to imagine how complex these drum patterns really are. Weiss, in all his sweat and passion flails around stage the same way he crouches out of plain view behind the drummer – always the showman. The band's tighter on stage than they've ever been, coming in to their own as a full-on, celebrated veteran rock band.

photo credit: weworemasks
[SETLISTS]
mewithoutYou:
January 1979
February 1878
Tie Me Up! Untie Me!
The Angel of Death Came to David's Room
Elephant in the Dock
Nine Stories
Yellow Spider
Paper Hanger
The King Beetle on a Coconut Estate
Wolf Am I! (and Shadow)
Cardiff Giant
Allah, Allah, Allah
Bear's Vision of St. Agnes
All Circles
-
In a Sweater Poorly Knit
Kevin Devine:
Between the Concrete and Clouds
Off Screen
Mesa, AZ (Bad Books)
Brooklyn Boy
Another Bag of Bones
Carnival
She Stayed as Steam
Ballgame
Brother's Blood