show recap: converge (november 3, 2012)

photo credit: weworemasks
After plans of seeing Converge perform at Austin's Fun Fun Fun Fest fell through, our contingency plan was put in place. And it wasn't too shabby – seeing a band we've been a fan of for years perform in an intimate setting (Fitzgeralds, Houston, TX) to a dedicated fan base sounded like a pretty good way to spend a Saturday night. Converge was on a full scale headline tour with Miami's Torche and Norwegian metal outfit Kvelertak, supporting their brand-spankin' new album All We Love We Leave Behind, which is a follow-up to 2009's Axe to Fall. The band hasn't hit Houston since 2009, and the thrill of seeing them for the first time is enough to build anticipation for what ended up being one of the best shows we've seen all year.
Hit the jump for the recap.
-grizzly



photo credit: weworemasks
The initial impression that Converge would be inhabiting the upstairs portion was quickly thwarted upon arrival of the venue. The band would be taking over the even more intimate downstairs venue, a room that holds no more than 200. Fans of the Salem outfit packed the walls, with enough wailing, air guitar and headbanging to fill anyone's monthly quota.
Given that we were posted up sidestage, we had the full onslaught of the dramatics as well: Converge stopped a song midway to tell the Fitzgeralds staff that despite their mutual respect, no stagediver or crowdsurfer was to be stopped. A perennial rock and roll moment, if we've ever seen one. The set had plenty of jams that spanned the entire Converge discography, but the fanbase was immediately roped in with set opener "Concubine" and was eating out of the palm of Jacob Bannon's hand by "Aimless Arrow."
The sauna-like conditions of Fitzgerald's left everyone in a cloud of their own body odor and sweat, but no one seemed to mind. It was a nod to the nostalgic leaning of many of the attendee's past, where we spent the better part of our youth sweating at shows similar to this. Converge displayed manic and frantic energy and intensity and instilled it in everyone, while the band pummelled through 22 songs. Jacob Bannon was a man possessed, thrashing about the stage and commanding the crowd for the hour and a half set, and Kurt Ballou played two guitarists worth of riffs, while bassist Nate Newton and drummer Ben Koller showed no signs of wear.

photo credit: weworemasks
The setlist was obviously heavy in material from All We Love We Leave Behind, and songs like "Sadness Comes Home" and "A Glacial Pace" were brought to life on the stage. Fans of yester-Converge were treated to plenty of classics in "Cutter," "Dark Horse" and "Bitter and Then Some" made their way through the club's PA. In the encore, the crowd was even treated to a back to back of You Fail Me's 1-2 punch of "First Light" and "Last Light," which sent plenty of folks home in a destructive awe and appreciation for one of the pioneers of American hardcore music.
Norwegian metal outfit Kvelertak didn't cater to the US demographic, thrashing through their opening set in their native language, with their full six-piece ensemble on a stage that shouldn't hold more than five. Torche brought their sludgy jamboree of an album in Harmonicraft to play direct support to Converge's entire US tour, and that proved to be a great idea. The album was self-produced by the band, but mixed by – guess who? Kurt Ballou of Converge. Sludgy on wax, but nothing but good times on the stage, as the band exuded pure glee and excitement, and looked to be having a great time on stage – which seems to have been the sentiment for the better bulk of the venue.
[SETLIST]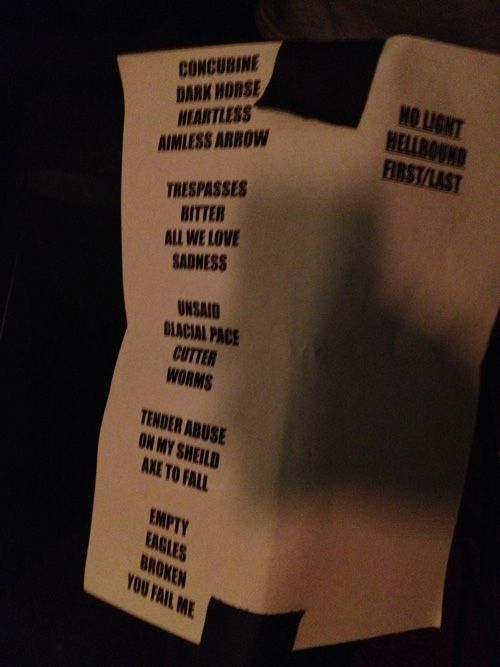 photo credit: weworemasks