weworemasks presents: the best of television in 2012 [year-end lists]
This one's pretty self-explanatory. I watch a butt load of TV and this is a list reflecting my favorite seasons of Television in 2012. I also threw in my biggest disappointments for good measure. Don't worry – there are no spoilers in this post.
Obviously, this is just my list, because Panda's off watching the Celtics on NBAtv's game replays and Sunbear is trotting about Doctor Who Christmas specials and The X Factor.
-grizzly
Previous Year-End Lists: The Best of Sports on the Internet in 2012 | The Best Memes of 2012 | The Best Music Videos of 2012 | The Best Mixtapes of 2012
10. 30 Rock, NBC
Now in its final season (and with the 6th season ending earlier this year), 30 Rock has been firing on all punches. A few of those middle seasons (i.e. 4 and 5) got a little too jokey for my tastes, but it seems like the writers have their heads back on straight, and seem to be writing this show out properly. It'll be sad once this show is off the air for good. The show's final five episodes will air in January 2013.
Best Episode: "Mazel Tov, Dummies!"
9. Homeland, SHO
Homeland followed its superb Emmy winning pilot season with a bit of an underwhelming sophomore season, but that doesn't mean it wasn't great TV. While the plot got a bit outlandish for many critics, most stayed on board due to the fantastic writing and acting on the parts of Claire Danes and Damian Lewis. Following the 2nd season's finale, the show's third season is primed to be more successful and back to the basics of what made season 1 so perfect. But Dear God, less Carrie cry face next season please.
Best Episode: "Q & A"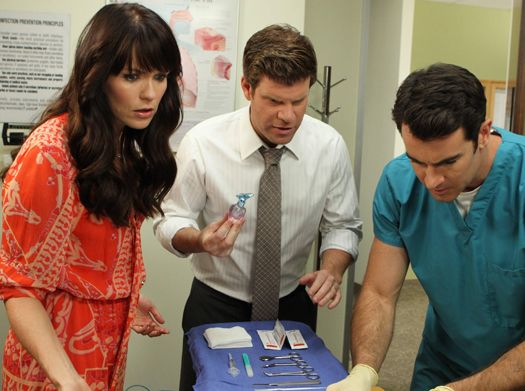 8. The League, FX
The League is consistent and awesome, and has the plus sides of mixing two of my favorite things together: football and shit talking your closest friends. Sure, it's not as funny as it used to be, but I'll never not tune in. Especially if Ruxin and Rafi are involved.
Best Episode: "The Hoodie"
7. Mad Men, AMC
Mad Men returned from its writer strike hiatus with a strong 5th season. Plenty of great developments, as well as the excellent writing, acting and wardrobe that you've been accustomed to for the past five Emmy winning years. Also, what promises to be another great sixth and penultimate season. Show Creator Matthew Weiner has always mentioned that barring a 7th season, it would be the last.
Best Episode: "The Other Woman"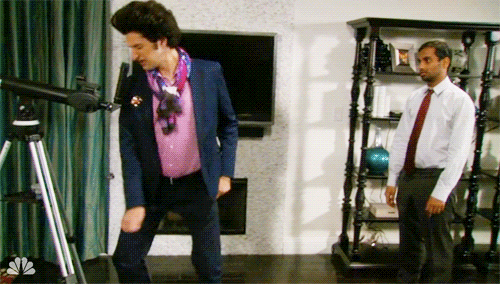 6. Parks and Recreation, NBC
While the writers of Parks and Rec are making a mockery of Nick Offerman's extraordinary character in Ron Swanson, the rest of the cast is moving along quite well, minus the under-utilization of Jean Ralphio. April and Andy continue to be the anti-Jim and Pam (The Office) and move into bigger parts of our hearts with each episode, while Leslie and Ben are slowly coming to take that spot. And man, "Halloween Surprise" brought the pissing tears back.
Best Episode: "Halloween Surprise"
5. Community, NBC
Getting more and more feels by the day, as the end of one of TV's least-watched sitcoms draws nearer. And while the fourth season's premiere (February 7, 2013 for now) is still in limbo, we still have the memories of the extremely quirky and outright 'double u tee eff' moments of season 3 to hold us over until that fateful day comes (October 19th, anyone?). There's no other show out there that would manage to squeeze episodes that were predominantly 8-bit, faux documentaries, Law and Order mocks and much more into the confines of one season, and that's why we all love this show. Now, off to listen to Michael Haggins' "Daybreak."
Best Episode: "Remedial Chaos Theory" (Hey, I made a costume out of the Darkest Timeline and Britta made us fall in love with her)
4. Sons of Anarchy, FX
I was late getting into SOA, but after a nudge from a few friends and cousins, I flew through the first four seasons in time to watch season 5 on Television, joining in the week to week festivities. Running through a series that quickly tends to blur the lines between all the seasons, but it was easy to discern the strength of season 1 over the mess of season 4. Thankfully, season 5 buckled down and put together its best season since its pilot, throwing a few emotional wrenches in all of our bikes along the way.
Best Episode: "Darthy"
3. Louie, FX
The single greatest thing about Louie is that he doesn't care about what he puts in shows. That of course meaning, he's bound by no rules or boundaries, as FX lets him run free with his own show. Hell, the guy's taking a year off and will wait until 2014 to put out season 4, despite season 3 being his highest rated season. This whole thing culminated when I got the chance to see Louis CK perform stand up back in October, so there's that too. And this isn't even a comedy anymore!
Best Episode: "Late Show Part 1," "Late Show Part 2," "Late Show Part 3" (Ok, I cheated)
2. Breaking Bad, AMC
Before its airing, Season 5 was split into two seasons at eight episodes each. Sure, this was a complete money move on AMC's part, largely due to the unbelievable popularity the show's gotten in the last year or so. But also, it's just mega-dramatic. Now, after 8 episodes and a HUGE finale development, the home stretch of Vince Gilligan's powerhouse is set up for plenty of shit to hit plenty of fans.
Best Episode: "Buyout"
1. Happy Endings
This show is just an unlimited amount of great. 3 seasons in, there's minimal drama and tension and there really is no real point to the show. Its aimless plot allows complete freedom and nearly every episode to stand on its own as a 30 minute comedic powerhouse, and I have no problem with that. Penny Hartz is my god damned hero, and the rest of the cast isn't too shabby either.
Best Episode: "Secrets and Limos" (I would come to find out that an ex-Community writer wrote this episode, mind blown)
Honorable Mentions
a. It's Always Sunny in Philadelphia
b. Wilfred
c. Archer
I'm kinda surprised that these are all FX shows, but here goes: Sunny is pretty great overall, but the season with Fat Mac was a bit underwhelming. And it's no secret that it's kind of plateau'd in the amount of "lols" an episode can bring, considering we just headed deep into season 8 territory. Wilfred was one of my favorite shows last year, but season 2 fell flat in plenty of places – also it was a bit dark for my likings (contradictory considering I fucking loved Louie). Archer is just a casualty of not making the list, so FY.
Biggest Disappointments:
a. How I Met Your Mother
I've been a huge apologist for this show, letting my love for Ted and Robin (separately, unrelated) get in the way of many of the terrible episodes of season's past. I'm not one to give up on a 22 minute comedy easily, but season 7 and 8 have pushed fans to the limit. Lily and Marshall continue to be on screen nuisances and Barney is a shell of what he used to be. But whatever, I'm still watching.
b. Modern Family
They're letting their eccentric characters run a little too wild. Too much Cam – annoying. Too much Manny – very annoying. The show needs to get back to being an ensemble comedy before this gets any more out of hand.
c. Dexter
This show isn't technically a disappointment considering how god awful seasons 5 and 6 were, but 7 gets on here for a specific reason. It started off better than the last five seasons of Dexter. Yes, seriously. There was a lot of promise but then a few dead bad guys later, we're back into the same waters that made Dexter shitty in the first place. Ughs all around.
Thanks for reading!
-grizzly