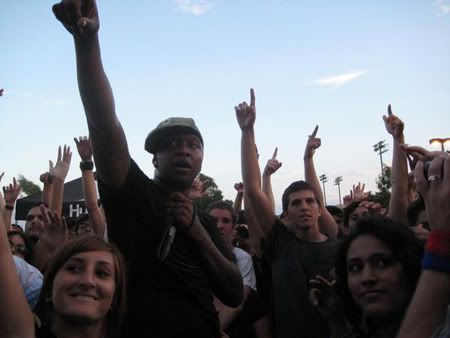 part II in the warped tour interview series (i just made that up) belongs to p.o.s., whose album never better has yet to leave my headphones since february. i didn't get to catch his entire set (for shame) due to the fucking warped tour scheduling p.o.s. and thrice at the same time. considering i've seen thrice 16 times, i should've probably watched all of stef's set, but i just couldn't bring myself to let thrice play a set from the other side of the complex without me there.
in any case, mike damante took care of this one as well (just like the bayside one posted below). pos is always a great interview, as you may or may not have read from our sxsw interview. in part of this interview, he touches base on the influx of shitty bands on the warped tour — you know, brokencyde and millionaires. it's a must-read.
hit the jump to read the interview, and to watch a video of p.o.s. performing "goodbye" amidst his fans. the videos a bit shaky, but it was in the middle of the crowd, so whatever.
-grizzly c/o mike d.