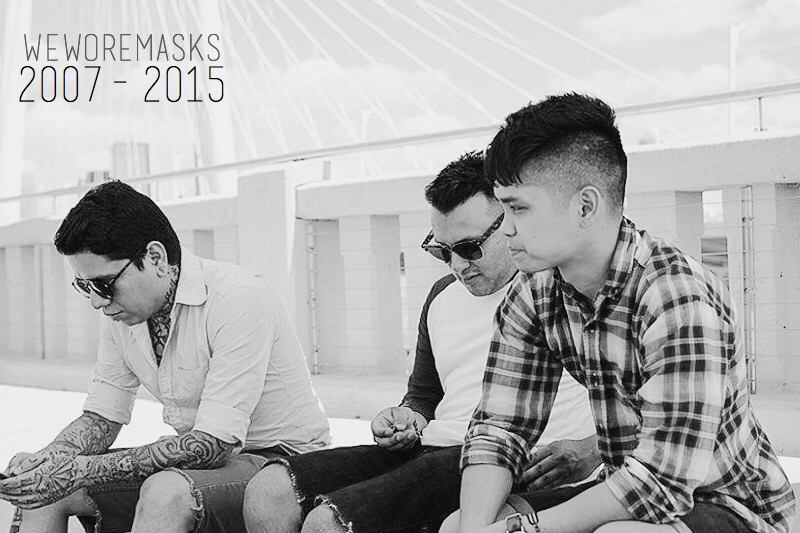 We started this blog in 2007, illegally, posting full leaks of albums and mixtapes, curating what we loved most to a crowd we didn't know was there. We used aliases because of the aforementioned legal ramifications, eventually turning into a legitimate blog with well-thought out write-ups and a promotion of the widest variety of music seen on the web. And you know what? The diversity of weworemasks was always something that stood out, not to mention existed long before these big name sites finally came around to spreading love to all genres of music and culture.
But yeah, we haven't been busy with this site in over a year. To be frank, we only kept it this past year so we can get our press access to the festivals for one more year (Shouts out to Free Press, ACL, Fun Fun Fun Fest, . We've long since checked out – we haven't even done a show review since this time last year.
But we all loved our time with this site. All of the shows, the mixtapes, the events, the invites and free shit. But it's time to dissolve this blog into a web memory.
I got a list of thank yous (below the jump), because we made a ton of friends, collaborated with a ton of incredible artists and had a ton of fun.
See ya around.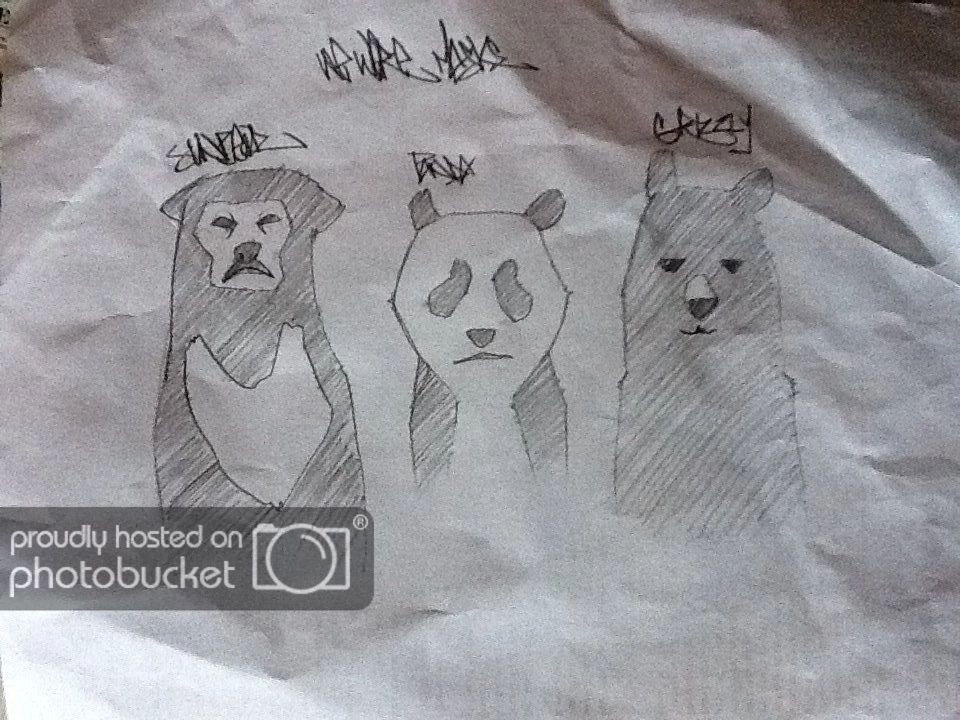 -Roshan (grizzly) c/o weworemasks


We've got a lot of people to thank, as we've kept quite busy over the years, so BEAR (sorry) with us:
The Niceguys – We've always worked closely with these guys, and I still keep up with the members on a regular basis. I'd hope these guys have it in them to release another album, as The Show and James Kelley are two superb ones. Regardless, Yves always takes care of the homies – whether it's feeding shots at Avant Garden, tossin' us gear or letting me hear new music before it drops and giving us the premieres. We even managed to have a professional relationship and get a press release or two out with my name on it. Free & Todd, two of the best producers I've ever heard, keep doing what yall do. Candlestick is the real deal. Oh and thanks for shouting us out on stage at the Wale and J. Cole shows back in the day.
Fat Tony – From the day you handed me music at the University of Houston, we became homies. You're a point of pride for a lot of Houstonians, taking your unique sound across the coast to LA, reppin' the H all along. Keep doing the damn thing.
Dustin Cavazos – one of the most genuine and hardworking musicians I've ever met. You recorded a live performance video just for us and have always said nice things about us in public forums, so I know it's real.
Big Sean – the most humble rapper I've ever met, and for giving me the "coolest famous person story" I have. And you signed an access pass with "weworemasks, boi" so there's that.
Hollywood Floss, Hash Brown and the rest of T.H.E.M. – Yall always showed love, and hopefully we did the same for you. One of the most talented crews in the H.
Mark Drew – I've known you since you were a little bitch ass kid, and now you're working your ass off and making quality music for yourself, and even premiered your first album with us. I'm happy to have been a part of your journey. But you still a bitch.
Kyle Pedersen/Anxious P – We met through this website, you interviewed me for your's (that was my first and only good interview, FYI) and you ended up making me post your music even though you sus. Our friendship will continue to live through memes (shout out Pepe and Sad Jordan) and shitting on each other's pro sports teams.
Local dudes: Roosh Williams, Kyle Hubbard, Lee Lonn, Nick Greer, James Kelley, Thurogood, Tubo (Danny Ocean), HD and the rest of the Wire Roadcrew.
Greg Noire – You came to me somehow with beats (which were quite good) and ended up becoming one of the best photographers I've ever seen.
Todd Spoth – Another amazing photographer, but also a true homie because I've always said you can't trust anybody who didn't used to be a scene kid.
Josh Cornejo – For filming that entire SXSW for us, and especially THIS VIDEO.
Steve Marez – we became friends online because you were a huge fan of our website. You made the efforts to get to know me, and you were an extremely talented musician that was gone far too soon. RIP Tuna.
Quest (@YesIAmQuest) – You said our fucking name on a song. That was surreal. Glad to be a part of your journey.
Jazz Cartier – You were a 17 year old kid when you e-mailed us in 2011. Now you're doing big things, getting the recognition you were always on your way to get.
Raz Simone – You've always showed love. Appreciate it.
B.o.B. – Before the sell out, Bobby Ray was a real ass dude and you gave us our favorite "rapper" interview.
Lil B the Based God and Riff Raff for following us on Twitter even before y'all got d-list famous and started cursing famous sports players.
Every Time I Die – for being the best fucking band ever and telling us you read our website, not just for shits and giggles. Oh and for the grape vodka sodas and every show y'all played that I've forgotten.
The Cambiata – RIP yall, you were our first spotlighted band and put together a teaser EP just for us
Mikey/Air Dubai – we had a good time 3 years in a row at SXSW. The hiatus was bad news, bears.
Jarrod Gorbel – Thanks for telling us and "breaking" the news that The Honorary Title was calling it quits. We were sad to see you go, happy for all the hits.
Dan Gleason – You've been in a ton of good bands (Shout out to Winston Audio, Death on Two Wheels, All Get Out & Grouplove) and have always taken care of your homies and made incorrect NBA predictions.
Glassjaw – You emailed us once. That was real cool.
Thrice – Thanks for so many great interviews, you are my actual favorite band. Happy you're back.
Other favorite interviews: P.O.S. (in austin during SXSW), As Tall as Lions (you gave us road beers), River City Extension (we had a 45 minute conversation about Springsteen), Kevin Devine (nicest and most earnest dude ever), RX Bandits (you may or may not have smoked me out), Steel Train (our first and last video interview)
Linkin Park – Thanks for being the first arena rock band to ask us to cover your show (TWICE!). They were both pretty great.
Kenny/The Starting Line – At your farewell show, you helped me rack up an $85 bar tab and we got pretty wasted.
Greg Dunn/Moving Mountains – You gave me a box of irregularly printed Moving Mountains tees to give to people at your Walters show.
Peter Toh – You hooked Jerome up fat, and him and I are probably the only fans of the Stryder I know personally. Hope you're still making music!
Local bands: Wild Moccasins, The TonTons, The Suffers, Los Skarnales and so many more.
Everyone at every record label or PR company we've ever worked with: Micheleat Epitaph Records, Tiffani/Caroline at Warner Bros, Cathy Pellow at Sargent House, Jamie at SideOneDummy, Katy at (formerly) Vagrant, Jordan at Atlantic, Jeremiah at Favorite Gentleman, Amy at LiveNation, Brigitte at Free Press (what a fest we have now!), C3/Transmission Events because Fun Fun Fun Fest is the best festival in Texas, Libbey Coffey at Warped Tour, Jim Merlis, Gary Strack and Tito Belis.
Everyone who let me write for them: Kathy I. and Alex at AllHipHop for letting me write reviews, get canned and continuing to keep up with your boy on social media, Lueda at absolutepunk for being the sweetest human alive and cooking for us when you visited Houston, (other APers who I worked with in any capacity: Adam, Adrian, Scotty Weebs, Paul Tao, Jason Tate, Drew B, Keagan, Linda)
Miguel at Warehouse Live for making sure I never pay for a show or a drink as long as it's at Warehouse Live — and for being my unofficial guardian during such shows. Eddie, Royce, Fernando, Paige, y'all too.
Fitzgeralds and Walters for being real ass venues, Mary Janes – I wish I got to cover shows here (RIP), Boondocks for the $1 wells during the happy hours we partook in before every show during college, Becca at Woodrows on White Oak for the adult pregames.
All of our friends who contributed: Mike Damante (unofficially the Polar Bear, the forgotten weworemasks member) for being a homie since college (what up 'Soundcheck' – the greatest column of all time), Matthew Cooper for the shots (not the pictures) and the shots (the pictures), Nisha Bhatt for the photoshop work, Joshua Fortuna for that logo up top, Gabriel Clarke for writing up that review about The Cambiata's last show for us.
Ultimate and huge thanks to my cousin Vishal Bhatt – for doing the sports recap RELIGIOUSLY for the past few years. You brought in a whole new demographic of readers, and made it OK for me to mouth off about sports on our Twitter account. All of that was the shit. Most importantly, go Bucks.
Other publications: Brandon/Day and a Dream (my favorite Texas site – and best in Houston by far), Craig (formerly HPRocksOff), Breakfast on Tour, Bedwetting Cosmonaut because he quit his blog early and I wish I did too, Stereogum, Hypetrak and Consequence of Sound – I couldn't have stolen my content from better sites
Shout out to Space City Rock for stealing our content, causing the blog war and the Ls we sent your way during said war.
Anyone either of us took as a +1 because we couldn't attend, anyone who invited us to a show that we didn't show up to because we were pieces of shit, anyone who sent us music, whether we listened to it, posted it or not. It's amazing that people cared about our opinions and wanted us to promote them.
To conclude this long-winded and self-indulgent post, I appreciate and thank everyone who ever read this website. If you commented on our show reviews, read our album reviews, disagreed with our sports opinions or even if you just stopped by to steal an mp3, thanks for a good run.
Maybe we'll try to make some T-shirts soon.
Peace, Love & Light —
Roshan, Henry & Alexander.